Replies to this thread:
More by AX
What people are reading
Subscribers
[Please view other pages to see the rest of the postings. Total posts: 126]

[VIEWED 14935 TIMES]

SAVE!

for ease of future access.
The postings in this thread span 7 pages,
go to PAGE 1
.
This page is only showing last 20 replies
Posted on 07-01-04 10:16 PM
Reply
[Subscribe]
Login in to Rate this Post: 0

?

eight and half lead. playing for 2nd place?
The postings in this thread span 7 pages,
go to PAGE 1
.
This page is only showing last 20 replies
Posted on 11-19-04 12:54 PM
Reply
[Subscribe]
Login in to Rate this Post: 0

?

AX, I think it is money,more than anything else, that draws players to Yankeeland. Everyone knows that the Boss can pay like no other team, so if a player wants to get the max amount, he either goes to Yankee or makes a big news flash about how the Yankees are interested in him. This way, any team that wants that player has to propose a deal that at least comes to close matching the perceived Yankee's offer. Take Pedro's case for instance. Despite what he might say now, there is no way Pedro would prefer to play for Yanks. He knows most Yankee fans (I saw a poll saying 70% +) don't want him to wear the pinstripes. However, he has to enter this "dance" to squeeze out the most he can get from be it Sox or any other team. Also, don't forget, the Boss also has an incentive in meeting Pedro even if he has no intention of signing him. He would want Sox to spend all the $$ on this guy so Sox can't pay other players. B_D. p.s. Pedro's follow up meeting with Sox at Tampa this week was pre-arranged, before me bet the Boss. Pedro was just tightening the screw on Sox Brass by meeting "the enemy" before meeting them. Gotta hand it to Pete. He is pretty damn smart.
Posted on 11-19-04 1:19 PM
Reply
[Subscribe]
Login in to Rate this Post: 0

?

B_D Thanks for sharing the info. BOSS doesn't meet with everybody and doesn't negotiate the deal, unless he is really serious about it, eg: deal with Sheffield last year and with Boomer few years ago. It's really interesting what BOSS is going do. He doesn't hesitate to pay if he likes the player. I hope this is not the case here with Pedro. No offense to Pedro and his fans, he used to be a dominant pitcher but not anymore. He is a #2 at his best. I hope you are right about Pedro and him trying to get more money from Red Sox. Have Red SOx upped their offer from 2 to 3/4 years??? I want to see Big Unit - MUSS - Milton - Leiter - el Duque/leiber Yankees rotation next year. No need to sign big bat, Yankees will have better offens next year with healthy Jason Giambi. I don't mind seeing Alfonso Soriano playing with Yankees again, he makes only 7-8 mil a year and is a terrific lead off hitter with speed that Yankees lacked this season.
Posted on 11-19-04 3:54 PM
Reply
[Subscribe]
Login in to Rate this Post: 0

?

TRADE TALKS;;;;;;;;;;; Oh COME ON the BIG apple... this and that. THat's nothing new. THE BIG UNIT didn't sign with the Yankees during this year's MID-season. IF he signs with the yankeess then that should be at least $16 million. I know Yankees wants all the best players available. OH well... who doesn't? It's the MONEY that counts. I have been of the opinion that Pedro should be a SOX for life. However, I do agree with MR. AX regarding the fact that... HIS best years are behind him. This doesn't undermine his strengths. HE can still win 17-19 games for any teams for at least next 3 seasons. But teams will hesitate to pay him the same CASH they pay for their #1 guy. Well, pedro might not be #1 starer for Yankees or sox.. but he still can be # 1 for lots of other teams. Again, how many of them can afford to have him?? I am hopeful that Pavano will give THE SOX his top priority. Not that he doesn't (because of SCHilling). Again, this guy will certainly test the SOX's bank. He knows what Schilling is getting paid and what Pedro has demanded.. so HE is gonna be HEADs up. If we can keep Pedro here and sign Pavano... I believe even with losing Lowe, Cabrera, Kapler... we can win another World series. After Pedro/Pavano.. Varitek should be the top priority. He is second to none in the business. I know SOx had offered some $7 MIll/year contract to the Oalkand's catcher.. yet that's just the initiative. Lowe is a pitcher I had been liking for last 3 seasons. After saving some 45+ games as a closer, he jumped to the #2 positiong in the rotation. He won more games than Pedro did... He had his ups and downs but at the end he proved out to be a winner. I like him in the rotation because he brings a new variety. Pedro and Schilling's fast balls, Wakefield's knuckleballs anD lowe's groundballs had been really good combosss.. it will be sad to see him go. And those infielders they are superb. I just hope THEO doesn't disappoint the RED SOX nation by NOT upgrading LINEUPS... What about NOmar??? GO SOX GO jai NEpal
Posted on 01-04-05 8:24 AM
Reply
[Subscribe]
Login in to Rate this Post: 0

?

Welcome back TINO?... You belong to the Yankees. He was the fan favorite first baseman during his stay from 1996-2001. He helped to win four World Series championships in six seasons in New York. He was a solid replacement for soon going to be Hall of Famer Matingly (current hitting coach) with solid stats and his leadership skills were unmatchable. He was a close ally of Derek Jeter. He was let go after 01 season, Boss wanted to replace him with the biggest present on that year free agency, Jason Giambi. Last Saturday, Yankees re-signed him to a one-year contract with an option for 2006 worth $3 million guaranteed. Tino will have different assignment this time around. He is singed to backup Jason Giambi, if Jason is not going to be able to play (trade/injury), Tino will fill the position. Tino is not the same hitter as he was but with the Yankees lineup he will get a ball to hit and will have more than 100 RBI season (if plays full time). Tino batted .262 with 23 homers and 76 RBI last year with Devil Rays. He was one of my favorite non Yankees farm products (another being Paul O?Neill) I really didn?t like the signing of Jason Giambi to replace Tino. Even after his poor performance at plate, I thought Tino was doing great job, his main asset was his leadership skills and a clubhouse aura. Everyone on the team respected him and liked him and his work habits were beyond question. When Yankees needed him, he delivered. I still remember that Hallowen day, when Tino Martinez belted the 2 run HR to tie on the 9th with 3-1 down on the series during 01 series with Diamondbacks. Later Derek Jeter hit HR on the 10th to win the game. Next day Scott Broscious belted another HR in similar situation. It all started with Tino, eventually they lost the series with Louis Gonzalez blooper in the 9th. I am sure Yankees brasses must be thinking hard now after the revelation of Giambi?s admission of taking Steroids. I hope Tino has few years left to service Yankees and retires as a Yankees. The other thing that will seem strange to Martinez when he returns to the Stadium's home clubhouse is that the Yanks have not won a championship since he left.. Yankees doesn?t have same clubhouse chemistry after the departures of Martinez and retired teammates like Paul O'Neill, Scott Brosius. Yankees have been signing great players (Mussina, Giambi, Vazquez) every year but they come up short in October. I hope Tino will bring back the magic in the locker room and brings another championship to the best baseball city in the world, NEW YORK.
Posted on 01-04-05 1:57 PM
Reply
[Subscribe]
Login in to Rate this Post: 0

?

Yankees have almost revamped their pitching rotation. The deal with Diamondbacks for Big Unit seems to be done deal. If so Yankees will have the best starting rotation (big three from A's is gone so is Pedro from Red Sox). They had pretty good batting lineup last eyar, so i don't think anything needs to be changed. Cairo is replaced by veteran Womack at 2nd base and Tino Martinez would do better job at 1b/DH position. Alot of it will depend on Giambi's health. I am one of the Yankees who think the star loaded offense is good to win another championship. We don't need Beltrans and Delgados new contract. If they need to get someone, I would like to see Soriano back.
2004 --------------------------------------------------- 2005
Pitching rotation 1. Mike Mussina------------------------------------------ 1. Randy Johnson 2. Kevin Brown ------------------------------------------ 2. Mike Mussina 3. Javier Vazquez----------------------------------------3. Carl Pavano 4. John Leiber --------------------------------------------4. Jared Wright 5. Orlando Hernandez -----------------------------------5. Kevin Brown 6. Jose Contreras/Estaban Loaiza----------------------6. Brad Halsey/Alex Graman Bullpen 1. Tom Gordon --------------------------------------------1. Tom Gordon 2. Paul Qunatrill -------------------------------------------2. Mike Stanton 3. Felix Heredia -------------------------------------------3. Felix Rodriguez 4. Tanyon Sturtze ----------------------------------------4. Steve Karsay 5. Mariano Rivera (closer) -------------------------------5. Mariano Rivera (still the closer) Batting Lineup 1. Derek Jeter ---------------------------------------- 1. Tony Womack 2. Alex Rodriguez ------------------------------------ 2. Derek Jeter 3. Gary Sheffield --------------------------------------3. Alex Rodriguez 4. Hideki Matsui ---------------------------------------4. Gary Sheffield 5. Bernie Williams -------------------------------------5. Hideki Matsui 6. Jorge Posada --------------------------------------6. Bernie Williams 7. Kenny Lofton/Ruben Sierra ----------------------7. Jason Giambi 8. John Olerud/Giami ---------------------------------8. Jorge Posada 9. Miguel Cairo ----------------------------------------9. Tino Martinez Bench: 1. Enrique Wilson -------------------------------------1. Bubba Crosy 2. Kenny Lofton ---------------------------------------2. John Flaherty 3. Tony Clark 4. Bubba Crosby 5. John Flaherty
Posted on 01-04-05 4:04 PM
Reply
[Subscribe]
Login in to Rate this Post: 0

?

Hey AX: Thanks Pal for the Update of Yankee Circle.... I agree, the return of Soriano, he was the most underdog of Yankees History. Why not Soriano??? Why Tino??? Randy will be the valuable asset... A Rod really disappointed us last year and so do obese Giambi... Godzilla, Jeter, Bernie are quite satisfactory..... I always admire Posada, true athelete. Way to go for Yankees and Yankees Die Hard Fan- AX and VR.... Saadurbaad to AX for such a lovely insight.... Pheri Vaytaula...!!!
Posted on 01-05-05 9:29 AM
Reply
[Subscribe]
Login in to Rate this Post: 0

?

Welcome VR. This is the place to be if you are yankees fan. You get the info here that you can't get in NY tabliods (post, daily news ) :p I really liked Sori when he was with the team. he is the kinda player you want as a leadoff hitter. DJ is doing great job as a leadoff hitter, but he is really a #2 hitter. He commands around $8 mil his year, that could be the another erason Tino is with the team and Sori isn't. I hear Soriano is available if Yankees wants, if womack doesn't do better job, we can always get him during the season paying money to money strapped Texas Rangers ;) Beliee me pal, AROD will have a monster season coming year, he needs to prove the world, why he is paid $25 mil a year..... Hope to see more Yankees fans in this forum.
Posted on 01-05-05 11:01 AM
Reply
[Subscribe]
Login in to Rate this Post: 0

?

As for the Yankees news? AX ? Halsey is no longer on the team. He got traded for the Big Unit deal They won?t get Soriano (if they did he would play center field) because to get someone you got to give someone. Rangers want young pitching. And the Yankee don?t have anyone to give?believe me their minor system is the worst (also traded away everyone) Halsey, Grahman , Duncan?.etc all suck (except Ming, he was hurt) Yankees always overate and campaign to market their prospects. Eg. Milton, J.Rivera, N.Johnson?.. Dioneer Navarro has ONE big year in class A ball. Before that he didn?t do anything. The Yanks presents him as blue chip b/c is a switch hitter but his defense is bad and has no power. My other ripe is about Jaret Wright He has one good year and the yanks give him all that money. Plus he got shelled in the playoffs this year. I would have gotten Perez, a lefty or even Wade Miller. A big mistake here?..forget about Beltran, they should get Santana next year!!!
Posted on 01-05-05 11:54 AM
Reply
[Subscribe]
Login in to Rate this Post: 0

?

For the Red Sox Nation--- Kevin Millar is such an A-hole How does your team tolerate such an idiot? Last Night on TV, I saw an interview of Kevin Millar by Tom Arnold. Millar refer to his wife as a MILF?called Schilling chubby and out of shape and David Wells even more out shape. Then as a surprise Wells is on the phone line. Millar says to him that this year the whole team is going to grown their hair long. Are you going join in? (Wells is bald). He makes fun of Doug Mientkiewicz by asking Tom if he can spell it. Also, I remember last year when the catcher Mirabelli said that they are not using the phrase ?cowboy up?. In response Millar says does anyone know who Mirabelli is ? Does he play for the Red Sox. Damn?it has been 4 years since the Yankees won the World Series and 1 year since we went to the World Series. I am beginning to understand what the Red Sox went through ;)
Posted on 01-06-05 8:16 PM
Reply
[Subscribe]
Login in to Rate this Post: 0

?

brainiac thanks for the update. i can?t believe what you said about Millar, he is not as good of a player he was. He is a marginal defensive player; I think that one of the 1st baseman (Doug M or Millar) would be traded before the start of the season. 4 years of agony, finally 05 will be the year Yankees will win 27th championship ;) another excuse for me to travel to NYC during October :)
Posted on 01-06-05 8:29 PM
Reply
[Subscribe]
Login in to Rate this Post: 0

?

As a Yankees fan I am static to hear about the Randy Johnson and I am sure all of the Yankees fans all over the world feels the same way. He is the player Yankees been eyeing for soooo long. I believe it was 98 (???) we almost had him and last year as well. He is the kind of pitcher Yankees lacked last year. Not to anything away from Moose (he is awesome pitcher) I always thought he is #2 guy. I am already excited about the next season and already ordering YES channel ;) with the totally revamped starting rotation, it must be the best rotation in the league. Big Unit ? Moose ? Pavano ? Wright ? Kevin Brown are Starting Pitcher?s Dream Team :=) get ready Posada and Flaherty. Randy what would be your NO? don?t be asking 51 from Bernie, I want that no to be retired when Bernie leave the game for good. I hope this was the last move Yankees brasses are thinking of. I don?t want to see any change on the offense. If Giambi can?t play whiles on the season, Tino can fill the void or they can trade during the season. I don?t like the idea of tinkering offense too much. SO much of Beltran and his 100 Million tag, we don?t need him. Expect for AROD to have a monster season. I am sure he must training hard down south in Florida, he had sub par 1st season with Yankees. DJ2 will have fabulous no as #2 hitter and Sheffield would have better season as well since he would be fully healthy.
Proud to be a Yankees fan.
Posted on 01-12-05 8:04 AM
Reply
[Subscribe]
Login in to Rate this Post: 0

?

Puerto Rican Carlos Beltran, the most coveted free agent in this year free agency, is near certain to sign with the NY Metropolitans. He signed for $119 Mil over 7 years. His amazing performance during the series with St Louis grabbed everybody attention. He played the leading role for Houston Astros? playoff appearance. He belted 38 HR and scored 121 runs and stole the base 42 times with .267 hitting average playing for KC Royals (69 games) and Houston Astros (90 games). He has been playing fulltime for 5 years in the major league and following is the comparison with other premier players: Players------------------------Game---Runs------Hits---------HR-----RBI------SB------avg Carlos Beltran (17 mil)------145-----101---------162---------24------94------32-----.280 Vladimir Guerrero (11 Mil) 148-----102---------185---------36-----109------22-----.331 Alex Rodriguez (21.7 mil) ---158-----126---------183---------47-----127-----17-----.304 Miguel Tejada (9 mil) --------162-----105---------183---------31-----123------8------.287 Derek Jeter (18.6 mil) --------146-----110---------185---------17------70-----23-----.313 DJ and AROD signed their contract when the salary was inflated. Even one dimensional player like Manny Ramirez was getting $20 Mil per year contract. Last few years, the salary has gone down, Vladimir signed affordable $11 mil per year and Tejada signed lesser contract a year before Guerrero. I am sure my frens back in Forest Hills and Rego Park are enjoying the new look of their beloved NY METROPOLITANS. I wonder what made Mr. Wilpon to be this generous to open his wallet. Was he always like this and the problem was the Doubleday or it?s Omar Minaya?s vision or they got insight form ex Yankees Willie Randolph, the new manager of the METS or the YES influence???
Posted on 01-12-05 10:18 AM
Reply
[Subscribe]
Login in to Rate this Post: 0

?

NY Yankees signed the Randy ?Big Unit? Johnson. The Yanks acquired Big Unit for Javier Vazquez, Dioner Navarro and Brad Halsey and cash. This is the pitcher Yankees wanting for long time (since 1995???) If there were not grudges between Boss and horrid owner from Diamondbacks (rem Boomer saga???), Yankees would have gotten him last summer. He got 2 year extension for waiving his no trade clause. I know it?s little hard to digest giving 2 year extension for 41 years old, but the stature of player like him doesn?t come easy. He is the 1st ballot hall of fame players with 5-time Cy Young award winner and 1 of 5 (?) pitchers to pitch no hitter and perfect game. He is among the most intimidating pitchers ever (ask Larry Walker, St. Louis Outfielder). He has impressive record of 246-128 and impressive 3.06 lifetime ERA. He started his major league at Montreal, and blossomed at Seattle, Houston and Arizona in his 17 major league seasons. He struck out more than 300 batters for each season from 1998-2002. Last year he was 16-14 with a 2.60 ERA, he pitched 245 innings, walked only 44 and struck out 290. More on Randy Johnson http://www.baseballlibrary.com/baseballlibrary/ballplayers/J/Johnson_Randy.stm go YANKEES go
Posted on 01-25-05 12:41 PM
Reply
[Subscribe]
Login in to Rate this Post: 0

?

most improved teams during the off season 1. Arizona Diamondbacks: Russ Ortiz (SP), Javier Vasquez (SP), Shawn Estes (SP), Shawn Green (outfield), Troy Glaus (3rd base), Tony Clark(1st base/DH), 2. NY Mets: Kris Benson (SP), Pedro Martinez(SP), Carlos Beltran (outfield), Andres Galaragga (1st base/PH) 3. Seattle Mariners: Adrian Beltre (3rd base), Pokey Reese (SS), Richie Sexon (1st base), 4. NY Yankees: Karl Pavano (SP), Randy Johnson(SP), Jaret Wright(SP), Tino Martinez (1st base/DH) 5. Atlanta Braves: Brian Jordan (outfield), Raul Mondesi (outfield), Tim Hudson(SP) others: San Francisco Giants, Anaheim Angels, Chicago White Sox, players still available: Andy Ashby, Ramiro Mendoza, David Segui, Magglio Ordonez, Carlos Delgado, john olerud, hideo nomo, barry larkin, pedro astacio, Jeromy Burnitez, Scott Erickson(comeback player of the year???)
Posted on 02-03-05 10:10 AM
Reply
[Subscribe]
Login in to Rate this Post: 0

?

Sosa signed with Baltimore Oriles and Baltimore seems to have very good offensive team now. I have gathered stats for 5 best offensive players for each team and averaged it. who do you think has the best lineup in the AL East now? Sammy Sosa is going to have better nos since he is moving to batting frenly place in camden yards and It would be interesting how reneteria is goign to perform with his new team Boston Red Sox. I don't think there is any AL lineup in other division who can match these three teams. Baltimore Orioles - Melvin Mora, Miguel Tejada, Sammy Sosa, Rafael Palmerio, Javier Lopez Boston Red Sox - Johnny Damon, Manny Ramirez, David Ortiz, Edgar Renteria, Jason Veritek New York Yankees - Derek Jeter, Alex Rodriguez, Gary Shefflied, Hideki Matsui, Jorge Posada
Posted on 02-03-05 10:21 AM
Reply
[Subscribe]
Login in to Rate this Post: 0

?

AX, the resident jock at Sajha....saw you with that FCUK shirt in the Photo Gallery section....chatting up the babes, eh!
Posted on 02-03-05 6:08 PM
Reply
[Subscribe]
Login in to Rate this Post: 0

?

Very interesting stats on the big 3. But the Orioles great hitting even if they had murder's row can't save their season with their horrendous pitching. Sorry DC area but you'll still have two big time losers in the Orioles and Nationals
Posted on 02-25-05 11:26 PM
Reply
[Subscribe]
Login in to Rate this Post: 0

?

Bostonians, can any of you please post the pics when the fleet center is named Derek Jeter Center for a day? I would be very greatful. yiiiippppie, baseball season is around the corner. how is your team and prospects players doing in spring training? I would love to hear about them. I would write more about Padres, Angels and Dodgers later. any Nationals fans???
Posted on 03-24-05 1:28 PM
Reply
[Subscribe]
Login in to Rate this Post: 0

?

You love them or not, baseball is all about Yankees. Article from sportingnews.com
Damn! It's the Yankees
It's no fun picking the Yankees. When a team outspends its nearest competitor by some $70 million, or whatever the ungodly sum will be this season, that team not only should win the World Series, it also should inspire books, movies and songs. These soulless Yankees mercenaries won't do that, unless some Hollywood type writes Enemies in the Infield, the story of third baseman Alex Rodriguez and shortstop Derek Jeter, or "The Balco Blues," some alternative band record with separate verses dedicated to Jason Giambi and Gary Sheffield. Heck, it's not even smart picking the Yankees, at least not lately. For four straight years now, Darth Steinbrenner has failed to win the Series -- quite a trick, considering The Boss has spent enough during that period to fund an invasion of South America. This season could end in a fifth straight disappointment -- half a decade of futility! -- given the strength of the Red Sox and Angels in the American League and the Cardinals and Giants in the N.L. Who knows? Maybe the Twins finally will upset the Yankees in the first round or a team even more astonishing than the 2003 Marlins will win it all. But then, you wouldn't predict any of that. The Yankees' trade for a certain 6-10 lefthander -- combined with signing free-agent righthanders Carl Pavano and Jaret Wright -- makes it smart to predict they will win the World Series. Commissioner Bud Selig will need to restrain himself when the Yankees win it all, presenting Steinbrenner with the Series trophy before handing him a luxury tax bill and shouting, "Pay up!" Yes, I'm picking the Yankees. I don't love their outfield defense, especially with Bernie Williams, 36, back in center. I doubt that all three of their older starting pitchers -- Randy Johnson (41), Kevin Brown (40) and Mike Mussina (36) -- will stay healthy. The lineup also is old -- every regular will be 30-something after A-Rod reaches that age on July 27 -- and team chemistry is more uncertain than ever. Questions, questions -- every team has 'em. The Yankees buy answers the way Wheel of Fortune contestants buy vowels. Yet, for all their star power, the reason I'm picking them might surprise you. It isn't Johnson, who could win 22 games if he stays healthy. It isn't the offense, which again should challenge the Red Sox's as the game's best. It isn't even the likelihood that the Yankees will address any holes that require attention before the July 31 non-waiver trading deadline. Believe it or not, I'm picking the Yankees because of two pitchers who received free-agent contracts that many deemed excessive, two pitchers who must confront the ghosts of those who failed before them, from Ed Whitson to Kenny Rogers to Hideki Irabu, Jeff Weaver to Jose Contreras to Javier Vazquez. I'm picking the Yankees because they've gone back to their late-1990s formula of winning with starting pitching. I'm picking them because of Pavano and Wright. General managers normally can't wait to talk up their offseason acquisitions. Yankees general manager Brian Cashman knows better; even A-Rod, one of the game's best all-around players, struggled after joining the Yankees. Thus, Cashman declines to gush over Pavano, who left the Marlins for a four-year contract worth just under $40 million, and Wright, who left the Braves for a three-year, $21 million deal. "Making the adjustment to the New York scene has proven over the years to be rather difficult," Cashman says. "I'm not going to make the mistake of publicly saying, 'These guys can do it.' We're all just going to have to wait and see how it plays out." Pavano and Wright, both righthanded, both 29, suffer from the same rap: Each has had only one healthy, effective season -- last season, when each was headed toward the free-agent market. Moving from the N.L. to the A.L., each now must face lineups in which the designated hitter bats for the pitcher. The relentless 1-to-9 bashing by the league's best offenses has drained many an A.L. starter. Wright, like Johnson, has pitched in the A.L. before. Pavano has faced A.L. lineups in interleague and post-season play. But couple the change in leagues with the change in environments -- Pavano thrived in a low-intensity market with the Marlins, and Wright benefited from the expertise of Braves manager Bobby Cox and pitching coach Leo Mazzone -- and Cashman's reservations are well-founded. Pavano and Wright, however, are different from many of the Yankees' notorious pitching flops. Both have conquered adversity, overcoming significant injuries. Both have succeeded under pressure, even producing impressive postseason performances against the Yankees. And, last but not least, both have embraced this challenge, choosing to pitch for the Yankees. "With what we've been through, it takes a while to shed back the layers and get to the true layer," Pavano says. There is also this: Pavano and Wright will benefit from Johnson carrying the burden of a No. 1 starter and Mussina being the presumptive No. 2. The two newcomers would fill those slots for most other teams. Pavano produced 23 quality starts last season, the same number as N.L. Cy Young winner Roger Clemens, and Wright finished with 22. Pavano ranked among the league's top seven in lowest walk rate and home run rate. Wright had the lowest home run rate in the N.L. The question of whether they can pitch as well in New York won't be answered immediately; Vazquez made the All-Star team last season, then unraveled. But Pavano, a native of Southington, Conn., told his agent, Scott Shapiro, that if he chose another team over the Yankees, he probably would regret it for the rest of his life. Hardly the words of a coward. Pavano's desire to seize the moment is understandable, considering he missed more than a year because of an elbow injury that required surgery in 2000. As his health slowly improved, so did his confidence. Pavano invites contact now instead of trying to avoid it. He also is a student of the game, much like Clemens and Curt Schilling, using phrases such as "repetition of delivery" and "control of the strike zone" when talking to reporters. His training regimen, varied and intense, includes yoga. Wright had a more auspicious start to his career, starting Game 7 of the 1997 World Series for the Indians at age 21. But he was derailed by shoulder surgery in 2000 and again in '01, and the threat to his career sobered him. Wright admits the Yankees wouldn't have been the best fit for him when he was younger and something of a party animal. His lifestyle now is more sedate. He got married last year, and his wife, Julie, recently gave birth to their first child. "New York is a tough place, but I think he's grown up enough to where he can handle it," says Wright's father, Clyde, a former major league pitcher. "Going through two shoulder surgeries and not playing -- that's the toughest thing he's ever going to have to handle. He was thinking, 'Maybe I'm through.' " In Atlanta, Mazzone taught Wright the virtue of throwing at less than 100 percent effort, and Wright used the advice to resurrect his career. He will need to remain mindful of not overthrowing in pressure situations. The Braves grew alarmed in Game 1 of last year's Division Series when Wright, pitching with a sore right foot, was throwing 97 mph in the first inning. Pavano, too, needs to stay the course. "You get put in a situation, and certain people will change," says Wayne Rosenthal, the Marlins' pitching coach for most of 2003 and '04. "Last year, he pitched his game. Even when he didn't have his best stuff, he still pitched. If he can do it without looking at the right field wall (in Yankee Stadium) against lefthanded hitters, let his defense take over again, he'll be fine." Ask Whitson, ask Contreras, ask any past Yankee flop -- it's easier said than done. The difference with Pavano and Wright is that they developed a certain toughness while recovering from their injuries -- a toughness that Yankees manager Joe Torre believes will help them handle New York. "You're dealing with your career and understanding that patience is a virtue," Torre says. "To me, the fact that they wanted to come here and that they're excited about being here -- and the things they had to fight through -- that's pretty good training for them." To understand how the Yankees became the first team in major league history to lose a postseason series after leading three games to none, go back to their 19-8 triumph over the Red Sox in Game 3 of last year's ALCS. Brown lasted only two innings in that game, taxing his bullpen on a night in which only mop-up work should have been required. The Yankees never recovered. Their bullpen appears deeper now, but the trick for the Yankees will be forming a quality bridge to their late-inning duo of righthanders Tom Gordon and Mariano Rivera. Righthander Paul Quantrill and lefthander Mike Stanton are fading, and righthander Felix Rodriguez might not be consistent enough to gain Torre's trust. The upgrades in the rotation should help, however, enabling Torre to use the bullpen more sparingly. The Yankees ranked fifth in the A.L. in relief innings last season. Quantrill, Gordon and Rivera were third, fourth and tied for 12th in the A.L. Injuries, of course, would alter the equation -- righthander Tanyon Sturtze will be the first option if one of the starters gets hurt, followed by Class AAA righty Chien-Ming Wang. But only a series of unfortunate events would put Torre in a similar position to the one he was in during Game 7 against the Red Sox, when he faced the no-win choice of using Brown or Vazquez. Forced by luxury tax concerns to choose between the short-term benefit of Johnson or the long-term impact of center fielder Carlos Beltran, the Yankees went for Johnson. The Red Sox, too, kept their rotation strong, despite losing righthanders Pedro Martinez and Derek Lowe as free agents. Once righties Curt Schilling and Wade Miller are healthy, the Sox will have six capable starters. But the Yankees came within three outs of sweeping the Red Sox last October, and now New York has Johnson, plus Pavano, plus Wright. The Angels, a formidable club, would need to add a top-of-the-rotation starter to reach the Series; their ace, righthander Bartolo Colon, would be the Yankees' No. 4 starter. The Twins, led by lefty Johan Santana, might be a more serious threat, especially if Joe Mauer and Justin Morneau emerge as dominant sluggers. But of the N.L. contenders, only the Cubs could pitch with the Yankees, and Chicago already is dealing with injuries. The Cardinals wilted against the Red Sox in last year's Series. The Giants, my pick to win the N.L. assuming Barry Bonds' knee problems don't linger, could give the Yankees trouble. Damn Yankees. I hate picking 'em. I see no other choice. Senior writer Ken Rosenthal covers baseball for Sporting News. Email him at kenrosenthal@sportingnews.com.
Posted on 03-24-05 10:29 PM
Reply
[Subscribe]
Login in to Rate this Post: 0

?

?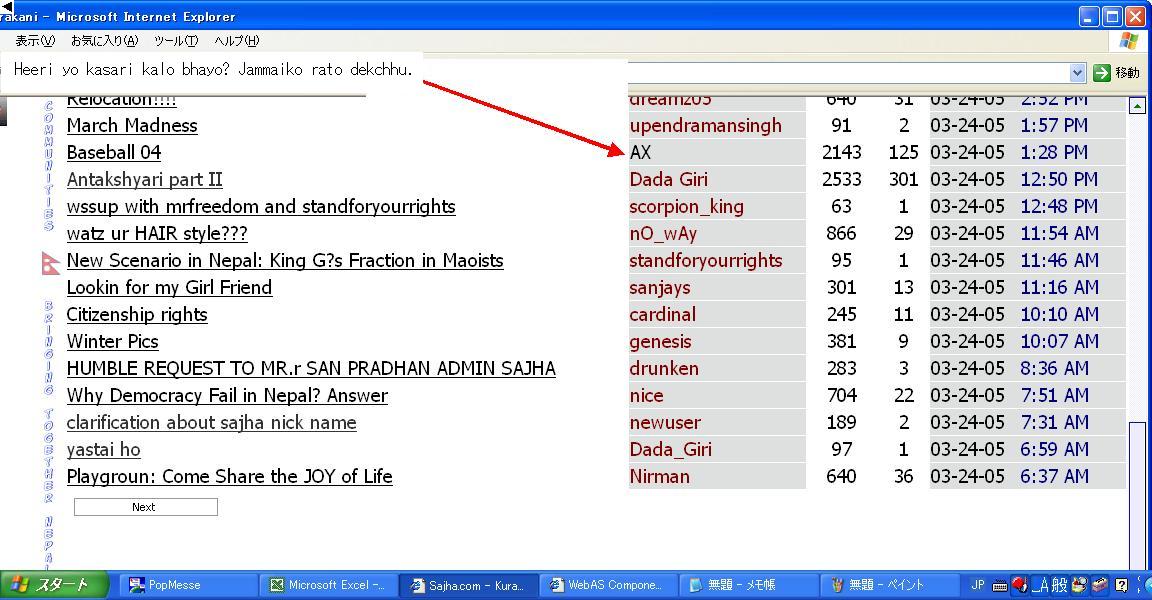 ---
Please Log in! to be able to reply! If you don't have a login, please register here.
Within last 365 days
Recommended Popular Threads
Controvertial Threads

TRUMP 2016!!! Here is why?
Returning to Nepal
महानियिका प्रियंका कार्कीजीलाइ खुल्ला पत्र !
भाउजु आउनु भाकी छिन रे नि !
~चौतारी १९९~
हाकिमनी संग- आज सुक्रबार -३
पिन्कुको नया काले हस्पि नाक चुचेय भाते भतुवा
Looking for Potential Match
Mnang, Mustang Treking and Our Engagement
chat girl -आजो सुक्रबार-२
Indian Worker Attitude
Wedding Costs in Nepal ? Party, Band Baaja !!!!???
Learning computer programming
प्रियंका कार्की फोटो अबलम भाग २ , ३ जून २०१६ copyright @पुन्टर
Looking for a man
अनभिज्ञ तिमी
वाह ! मन्त्री ज्यु वाह !
प्रियंका .का. लै चिठी भाग १
Four Characters and My Funeral
हाम्रो #Quarantine समयको सदुपयोग

Don't apply Canada Immigration through COLIN R. SINGER
Funny jokes
Presidential rights to assassination rights?
Former U.S. President Bill Clinton in Nepal
Build the Wall-MAGA
~चौतारी १९९~
महानियिका प्रियंका कार्कीजीलाइ खुल्ला पत्र !
TRUMP 2016!!! Here is why?
NOTE: The opinions here represent the opinions of the individual posters, and not of Sajha.com. It is not possible for sajha.com to monitor all the postings, since sajha.com merely seeks to provide a cyber location for discussing ideas and concerns related to Nepal and the Nepalis. Please send an email to admin@sajha.com using a valid email address if you want any posting to be considered for deletion. Your request will be handled on a one to one basis. Sajha.com is a service please don't abuse it. - Thanks.