[VIEWED 40335 TIMES]

SAVE!

for ease of future access.
Posted on 08-14-12 2:57 PM
Reply
[Subscribe]
Login in to Rate this Post: 2

?

Liked by
This is what happened:
The event centre was only booked till midnite..... It was a university event centre and they can not open pass their building closing time... However, the program started almost around 10pm when it was supposed to start at seven..... Yes three hours late......
The introduction round of the girls was great.... I was impressed with the quality of the contestants this year......
After that, that had few performances by Nalina Chitrakar, om bikram Bista....and then made the girls walk the ramp in UFO outfits and AGAIN walk the ramp with a light calling it a peace round ....., then top ten were announced and question answer round started
Clearly there were few contestant that had stood out from the very beginning of the show.. Even though I didn't know any contestant personally... I could sense the strongest contenders from the very beginning
Among the top ten question answer, the answers that stood out to me was
Aastha shrestha.. She got lucky she used the same answer that she used in her introduction which didn't reflect any new views about her.... But she said it well so I was content with her answer.
Sadikshya Silwal....,She was very articulate with her answer. The diff between mother and motherland... Nicely done!
srajeena joshi She was asked her recent accomplishment and she talked about her Americorps experience f.. Shortly, sweetly and to the point. She was the one contestant that didn't blabber unnecessary stuff on stage.
Barsha Moktan....she was asked about what would she choose feeding 1000 people or creating 1000 jobs.... She wittingly replied creating 1000 jobs..... Her explanation was clever and ended a little off but it was still good.
So all the audience are waiting for the top 5 announcement and all of a sudden the host comes and shares that they will decide the winner now...as they are running our of time...
We were so shocked.... How can you decide the winner without having a common question asked to everyone and examine their intellectualism on a common question.
You can not expect the answer of how would u develop your nation vs tell me the most beautiful part of your body's answer to be on the same level of intellectualism.... Then how can you chose a winner?
And then the winner was announced ... Second runner up... The girl could even answer the question .... She was asked her agenda to promote tourism/ Nepali culture.... She just blabbered and didn't answer the question at all
Let me not even talk about the first runner up.... She was an even bigger shock to me...
And then the winner was announced astha shrestha. ... Well she did gave her answer beautifully and I had predicted her to be on top 5 but using the same answer from her introduction... She didn't show any diversity and depth in her knowledge.... Not a winner at all.... But still she made sense than the other girls...
Well I truly feel sorry for the other girls who were clearly more deserving!
Also, I am sure people can see in the video ( if they upload it without editing) how the girls were literally dragged on to the stage as they were running out of time... Also I heard when people went and talked to the CEO of the program to inform of the unfairness, the guy just ran away in the middle of thconversation... Shame on you Amit Shah!
Also i heard the contestants complaining that there were guys who kept on entering the girls changing room asking them to leave as the building is closing... There were few girls who were half naked.... Totally disrespectful... After confirming with few other contestant they said it was true... Again... shame on you Miss Nepal USA!!!!
Also, the program had started late last year as well and ended around 2 am... If they had learned from their previous experience, they should have started the program on time or at least find a hall that would allow them to open even pass the designated time with additional money provided..
Also if you guys didn't had time... You guys could have taken the UFO and peace walk away... And given the time for the contestant and it is about them not UFO or peace walk..,( I have to say peace walk was beautiful and different...so was UFO walk... But with not having time... That was something the program could have done without)
Also, I heard the girls were asked to pay/ raise 1000 sponsorship fee for the program.... Few girls are international students as well... I am an international student and I understand how hard it is to get $1000 and also to take a week off to participate in the event.... If the girls are doing so much.... The organizers should have respected them by at least organizing the show more efficiently and giving them a full, fair platform....
But clearly NOT.... Shame on you miss Nepal USA! You guys only think about making money and not about these girls who came there with a lot of hopes and dreams...also all after this, instead of writing an apology to the audience and the contestant... You guys advertise it a a successful event.... Shame on you!
I will post the link of the video, once I find it... But I am 100percent sure they will do a major editing on the video.....as it will be too embarrassing to show the world....
A message to the contestants... I know a lot of girls mentioned you were there to promote a better Nepal... I highly encourage you all to protest against this injustice and the organizers who were clearly unfair and money minded people... So that in future no one gets cheated off... In this way you can help you country and future Nepali contestant...good luck!
Posted on 08-15-12 7:54 PM
[Snapshot: 3928]
Reply
[Subscribe]
Login in to Rate this Post: 0

?

I am so glad to find this post. I was at the event too. I was SHOCKED! the winners , the program and everything was a pure disspointment. SHUT THIS SHOW DOWN SERIOUSLY!
Posted on 08-16-12 12:39 AM
[Snapshot: 4496]
Reply
[Subscribe]
Login in to Rate this Post: 0

?

Last edited: 16-Aug-12 09:47 AM
Posted on 08-16-12 2:08 PM
[Snapshot: 5119]
Reply
[Subscribe]
Login in to Rate this Post: 0

?

Miss Nepal USA is a part time job or hobby for organizers. They cannot concentrate in this like their full time job. Organizers cannot take Miss Nepal as their hobby to showcase their talent. Organizers cannot take Miss Nepal as their volunteer job.
why the show was two hours late by the way? 5 baje time rakhnu parne ani 7 baje start garnu parne. Herna aune nepali haru pani dhila aune, show pani dhila. thyakai milcha ani.
Posted on 08-16-12 2:08 PM
[Snapshot: 5137]
Reply
[Subscribe]
Login in to Rate this Post: 0

?

Ok I found the Video...as I said they have done a major editing: Some editing that was so obivious for me was...They have ommitted the first few sentences of oneof the contestant who answered well. Also they ommitted the whole question of the girl who was given the first runner up title as her answer was way off than what the question had asked her. Major editing Done but still couldn't helped it...
Be your own judge. Here is the video:
https://www.youtube.com/watch?v=4IvDMM0xrME
Last edited: 16-Aug-12 02:09 PM
Last edited: 16-Aug-12 02:10 PM
Posted on 08-16-12 9:55 PM
[Snapshot: 5611]
Reply
[Subscribe]
Login in to Rate this Post: 0

?

je hunu bhai nai halyo aba next year ramro gara bhanera encourage deu naa yaaar saathi haru.. yeslai kasari banda garne bhanda ni miss nepal usa le aba garcha chai k bhanera dhyan diye ramro hunthiyo jasto lagcha malai.. naramro lekhnu bhanda Astha Shrestha lai support gare bhai halyo ni.. naya naya ho galti huncha aba top 10 kai basis maa winners chanya bhaye ta ramrai hola..
Posted on 08-17-12 11:12 AM
[Snapshot: 6167]
Reply
[Subscribe]
Login in to Rate this Post: 0

?

Yehi "Baheehalyou", banne menatlity le Nepal Bigreko ho....Yehi Mentality ko money minded people are taking advantage...NO MORE!
asstha is good, but if she really deserved the crown or not has not been proved yet. if she was asked a common question and outshined the other contestants than I would have agreed...as an audience, using the same answer from her introduction didn't show me any depth or intellectualism...I wish she was given an opportunity to prove us all wrong but then the event went down the hill....otherwise top ten kai answer herne ho bane there were other people who were clearly more deserving as well....
These money minded people need to be given consequences!
Posted on 08-17-12 12:57 PM
[Snapshot: 6291]
Reply
[Subscribe]
Login in to Rate this Post: 0

?

Mohit.....This is not the first time miss nepal usa was organized.. u guys should have learned from the last year program. last year pani katti bejheti program gareko thiyo timi harule. yedi kasari program garnu parchha banne thaha chaina bane kina garne???? Khali paisa kamaune dau garepachi yestai hunchha. Ani Astha shrestha support garne re ..for what???? Kun chahi beauty peagant jitne le k gareko chha ra??? tehi cybersansar ma photoshoot ani euta deuta jarpat website or magazine ma cover pic or website ko ambassador banne lai....lol
Posted on 08-17-12 3:34 PM
[Snapshot: 6454]
Reply
[Subscribe]
Login in to Rate this Post: 0

?

Hoina ma euta kura chahi bujdina... Yo sabai jana kina ques ans round ma adkiraako... I think aastha and all other winners deserves it ... Yo euta Beauty peagent ho... Quiz contest hoina... Brain matra check garne bhaye ta Quiz conest khelaihalthiyo ni hoina ra... beautypeageant ho ... walk, attitude, camera ma kasto dekhcha, how she carries herself, beauty and knowledge ko combination chahiyo ni..
What happened to the contestants was not a good thing. $1000 ra ek haffta ko mehanat ra excitment le tyo time limit ra tyo rush deserve gardaina.... Tara euta bad eventle garda pura peagent nai shutdown garne ramrai idea ho ta??.
Last edited: 17-Aug-12 03:37 PM
Posted on 08-17-12 3:59 PM
[Snapshot: 6469]
Reply
[Subscribe]
Login in to Rate this Post: 0

?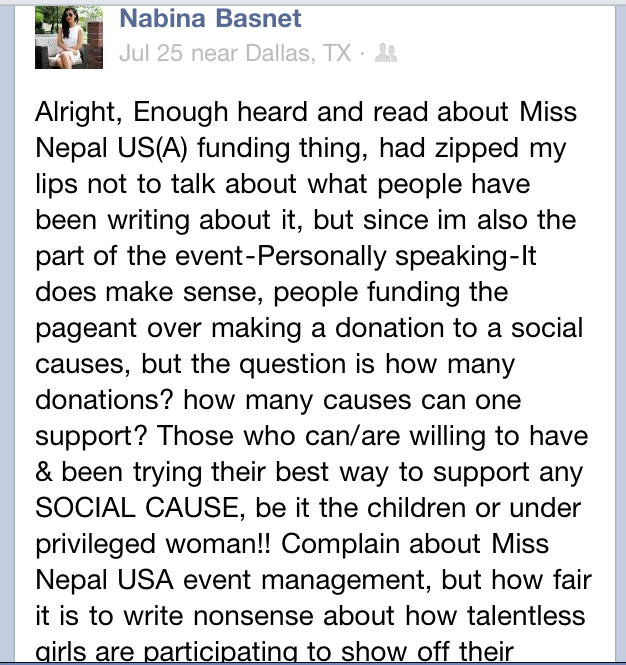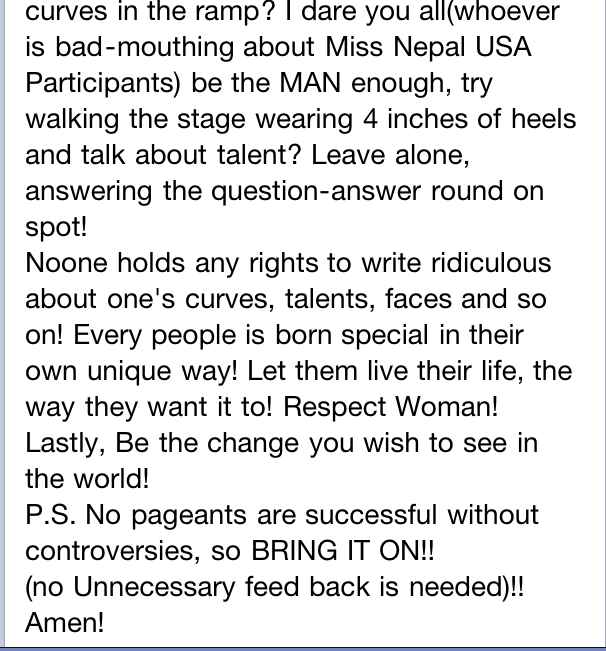 LOOK AT THIS BY NABINA BASNET. yo chorni le Miss Nepal US organizers lai defend gareko.
KHAI TA RESPECT YO YEAR KO CONTESTANTS HARU LAI?!!!!!

she is 2nd runner up of 2011 and one of MAIN organizer for 2012.
her supporter SARAD YURAJ SINGH is also another organizer. Main BIG CEO is AMIT SHAH. these are the people involved in swindling money from the poor participants.
Everything is biased. This Nabina won last year because she had heavy influences with the ANA organization and supporters. In this year Miss Nepal USA videos also, instead of using Sujita Basnet, who is winner, they are using this girl. See the negative comments on youtube for her video. AJAI ESTO KETI NI WEBSITE KO AMBASADOR RE! website ko!!! Testo ni huncha ra?!!! HAHAHAHAHA. yo bhanda FAKE personality bhayeko manche nai dekheko chaina, MUSA jasto sor cha; hahahaha!!

1st runner up TILASMI BASNET is also a big disgrace to a nepali woman. drugs, alcohol, sleeping around and what nots.
JPT KHALKO PAGEANT MAKING USE OF OUR NEPALI choris.....
Bribing rumors were all over last year. The organizers and jury was bought re.
The winners last year also didnot do anything. They only went to nepal, fighting with each other, in a competition to see who appears most in magazine AND TAKING PICTURES WITH THE CORRUPT POLITICIANS!
Herum yo year ko Astha Shrestha le k nai garcha ra. Usle ni ANA connections bata jiteko re. Winner already decided thiyo re beforehand hearing from this year's participants.
Talented hos ya na hos, competition fairly bhayera chosen bhaye po garba huncha natra ta k ho; mula haru lol
CHYAAA..... KYA KHATTE HARU! yo sab organizers haru lai action linnu parcha, cheap swindling people haru!
Tetro $1000 from each contestant uthayeko, according to their stories, they were not given $1000 treatment! SO Paisa kaha jancha? Pata laum na ho sathi bhai ho!
YEI NABINA, SARAD YURAJ motte, AMIT SHAH haruko goji mah ta gayo hola!

Be the judge all my dear fellow Nepalis.

Stop this INJUSTICE from going on! Stop selling our Nepali choris for money! Put an end to all these cheaters!!



JAI NEPAL!

Posted on 08-17-12 4:37 PM
[Snapshot: 6660]
Reply
[Subscribe]
Login in to Rate this Post: 1

?

Liked by
Empowering Nepali Women with taking all their money and organiging an highly publisized event in a Class room??? WoW way to go to all the currupt people of the so called Miss Nepal USA organizing people. A lawsuit should be filed regarding this matter. Hope someone puts in a summons to these @ssHoles!!

Please quit Empowering our women like this we don't need MISS Nepal USA nor ANA Fashion Show.



Posted on 08-17-12 5:01 PM
[Snapshot: 6738]
Reply
[Subscribe]
Login in to Rate this Post: 0

?

yo nabina basnet prasadi ma paddha kheri ta thikaii lagthyoo!! ahile ta anuhar-danuwar saab change bhayecha!! ....O.o
Posted on 08-17-12 9:23 PM
[Snapshot: 7058]
Reply
[Subscribe]
Login in to Rate this Post: 1

?

Liked by
prouddnepali, you freaking nailed it bro! Just what i was about to say. Ani arko kura, yo EVENT (not a beauty pageant) jitera iniharu le k k nai garchan ra. And I have never heard of any beauty pageants like Miss Thailand USA, Miss Mexico USA, and even Miss India USA. Nepali haru lai maatra garna aaucha duniya naatak such as Miss Nepal USA, Miss Nepal UK, Miss Nepal Australia.

Such a freakin' shame!!
Posted on 08-18-12 9:07 AM
[Snapshot: 7383]
Reply
[Subscribe]
Login in to Rate this Post: 1

?

Liked by
This show , controlled by people from ANA, must be STOPPED NOW. No question asked, no further arguments, no third chance.
स्मरन रहोस - The first ever Miss Nepal USA was held on July 2001 in Philadelphia. The pageant was organized by American Nepalese Association (ANA) and was held a day before the grand finale of ANA's annual convention. After a long hibernation the snake has came out of its hole again! Be aware !!!
न रहे बाँस न बजे बाँसुरी Period. I request all the media and sponsors not to sponsor to this pageant in the future. There is no winners.
let us voice together to shut down pathetic and deceptive show like this. We can't let this happen again and again. Not in America!
Last edited: 18-Aug-12 10:00 AM
Posted on 08-18-12 9:52 AM
[Snapshot: 7445]
Reply
[Subscribe]
Login in to Rate this Post: 0

?

Nepal kai badnaam garne yesto khalko beauty peagent shows must be STOPPED... ANA should be banned...

Nepali le bidesh ma aeera kuhire haru ko agadi ijjat phalyo... asiddi haru...



I would never pay $1000 to participate in such a shitty contest like this... ali ali dosh ta contestant haru ko pani cha...they need to do homework before wasting money on these shitty contests...
Posted on 08-18-12 10:46 AM
[Snapshot: 7536]
Reply
[Subscribe]
Login in to Rate this Post: 0

?

Shame on the organizers who raised hell a lot of money but couldn't deliver anything. One more money making scams that the organizer got away with. WTF!!
Posted on 08-18-12 12:46 PM
[Snapshot: 7725]
Reply
[Subscribe]
Login in to Rate this Post: 0

?

stop this nonse.. miss nepal USA rea,, miss nepal xyz, miss nepal abc,, what the hell.. please you people do'nt attach the name of my country,, you guys lefy my country to stay in US.. so you do not have any right to use the name of this country in your private activities and creating sameful situation.. .. you left nepal,,for shake of better life and money.. leave us alone do not create mess.. you ur own name like miss XYZ USA... stop the miss use of world NEPAL.....
Posted on 08-19-12 3:29 PM
[Snapshot: 8423]
Reply
[Subscribe]
Login in to Rate this Post: 0

?

Yes. They need to be shown their places.
Posted on 08-20-12 3:08 AM
[Snapshot: 8769]
Reply
[Subscribe]
Login in to Rate this Post: 0

?

pakha ma lagera bhaisi charauney thiti haru lai Aaumrika ma lyaechi yehi huncha gaathey ho... AMTSHT ...sahi kuro bhanyou ...
Posted on 08-20-12 7:30 AM
[Snapshot: 8833]
Reply
[Subscribe]
Login in to Rate this Post: 0

?

There comes a point where you have to say enough is enough. I am not talking about Miss Nepal USA or the fact that what happened in it and all. I am talking about the way people are single handedly pointing out other people and making personal attacks on them. I attended Miss Nepal USA 2012. I was there at 7 PM sharp; the show didn't start until 9. I agree that it was very unprofessional for a show with that many expectations to start late and have some mishaps, but what you have to understand is there are a lot of variables in running a program like that. Now before you guys start calling me with different names (which you guys love to), I am not saying that I am supporting Miss Nepal USA or any of the organizers but what I am trying to say is instead of mouth bashing and making personal attacks on people who have worked hard to put together something that none of you even have guts to do; we should take the matter in our hands and get involved to make this better next year rather than complaining. If you guys really want to know what happened to the money and what is going on ask the organizer for a full report rather than complaining to the whole world that he/she is a thief or a crook. When it comes to doing these things none of you step up to take control, only thing you guys know how to do is complain and complain. You guys should do something about the issue rather than making a new issue out this. There is no UNITY in Nepalese community. No one can see others doing something new or doing something better. Kahile pani aru lai aghadi badeko dekhna nasakne bhaera nai hola hami yo situation ma pareko ajkal. They are also human and they made a mistake and it happens, with everyone. Don't act like you guys are all Saints and have never made any mistakes. It's realizing that mistake and moving forward to make it better is what everyone needs. So stop attaching people personally. If you can't then put yourself or your sister or your brother in their shoes. Now think again, would you make these nasty personal comments if your own family was involved. If you wudn't then stop talking shit about other people personally…..
Peace...

Posted on 08-20-12 9:40 AM
[Snapshot: 8907]
Reply
[Subscribe]
Login in to Rate this Post: 0

?

I think the only scarce variable for this event was hall time booked for event. So may be from now on all such events organizers should book the hall 3+ hours more than the usual event time. simple. If zero profit and the event goes well, then that is the achievement. The moral of this USANepal event is always have plan B ready. If not B then C.
You event organizers should build the credibility first before thinking about profit.
Tyo geetkar haru ko geet seet drama sama sabai cut garya bhayeta time pugthyo hola. je hunu bhaisakyo aba karayera k garne.