Replies to this thread:
More by bikash kc
What people are reading
Subscribers

[VIEWED 8619 TIMES]

SAVE!

for ease of future access.
Posted on 12-11-08 7:30 PM
Reply
[Subscribe]
Login in to Rate this Post: 0

?

समसामयिक

विद्यार्थी सवार बस दुर्घटना, १९ को मृत्यु

शान्ता अधिकारी

चितवन, मङ्सिर २६ गते । वनभोजका लागि बुटवलको फूलबारी पार्क पुगेर र्फकँदै गरेको

विद्यार्थी र शिक्षक चढेको बस दुर्घटना हुँदा १९ जनाको मृत्यु भएको छ ।

भरतपुरको हिलबर्ड आवासीय माध्यमिक विद्यालयका शिक्षक, विद्यार्थी चढेको बस बिहीबार राती दुर्घटना हुँंदा २७ जनाको मृत्यु भएको हुनसक्ने अनुमान गरिए पनि जिल्ला प्रहरी कार्यालय चितवनका प्रहरी निरीक्षक प्रकाश मल्लले १९ जनाको मात्रै पुष्टि गर्नुभएको छ । मृतकमध्ये एक शिक्षिकासहित १२ जनाको सनाखत भएको छ ।

मृतकहरूमा शिक्षिका अप्सरा बराल र विद्यार्थीहरू प्रवीना सुवेदी, एलिना, रिभी सुवेदी, प्रवेग सुवेदी, आकृति पाठक, दुर्गा पौडेल, सोनिसा गैरे, उचित सेढाईँ, वषर्ा देवकोटा, निकिता देवकोटा र दिब्या फुयाल रहेका छन् ।

प्रहरीका अनुसार ग.१ख १४५९ नम्बरको सो बस नवलपरासी जिल्ला मुकुन्दपुर गाविस-६ थुम्सी भन्ने ठाउँमा रहेको खरखरे पुलबाट ८ः४५ बजे तल खसेको थियो । बसमा ८५ जना सवार रहेको अनुमान गरिएको छ ।

पुलनजिक उभ्याएर राखिएको खर बोकेको ट्रयाक्टरको साइड लिएर अगाडि बढ्नेक्रममा बस दुर्घटना भएको जानकारी एक स्थानीय बासिन्दाले दिएका छन् ।

उद्धार गरिएका घाइतेहरूको चितवनका विभिन्न अस्पतालहरूमा उपचार भइरहेको छ ।
http://www.gorkhapatra.org.np/gopa.detail.php?article_id=11368&cat_id=14
Posted on 12-11-08 8:15 PM
Reply
[Subscribe]
Login in to Rate this Post: 0

?

http://www.thehimalayantimes.com/fullstory.asp?filename=aFanata0wkqzpla5Qa0wa.axamal&folder=aHaoamW&Name=Home&dtSiteDate=20081212
Fiesta takes Fatal turn, 25 bite dust
Sri Ram Sigdel/Chintamani Poudel
At least 60 injured as 'overspeeding' causes tragedy off East-West Highway

Nawalparasi/Chitwan, December 11:

A school picnic turned into a nightmare when 25 Hill Bird Secondary Boarding School students and a teacher died this evening in a ghastly bus tragedy after the vehicle skidded off the highway. Around 60 more people were injured at the time of reporting. Twenty died on the spot and another five died undergoing treatment, police said.
The tragedy occurred when the picnic party was on its way back. The accident occurred at Kharkhare — along East-West Highway — near Gaindakot in Nawalparasi district. The ill-fated vehicle, coming from Lumbini, skidded off the road and plunged 50 feet below.
"The bus left for the picnic spot early this morning. Most of the students were in their mid-teens. Bodies of 20 students were recovered from the spot. Some others are believed to be still trapped inside. Locals and police reached the accident site soon after the mishap occurred at around 9 pm. The rescued were rushed to hospital," said inspector Lem Pratap Sen of the Gaindakot area police office.
"Thirty students were admitted to Bharatpur Medical College. Six are in Chitwan Medical College. Another 13 are undergoing treatment in Chitwan District Hospital, Bharatpur. According to the doctors, the condition of 10 of them is critical. The casualty figures are likely to go up," added inspector Sen.
Preliminary investigation suggests that overspeeding was the most likely cause of the accident.
Heart-rending scenes were witnessed at the hospitals as the bereaved kin of the victims came to collect the bodies of their loved ones. Most likely, Bharatpur residents will remain sleepless tonight as most of the victims hailed from this area.
The school is located at Bharatpur-12 in Chitwan.
Chitwan chief of police Gyan Bikram Shahi told the media, "So far, 12 bodies have been identified. The deceased have been identified as Sabina Subedi, Nimita Devkota, Prabeg Subedi, Durga Poudel, Yalina, Rimi Subedi, Dibya Phuyal, Akriti Pathak, Soni Shah Gaire, Uchit Shedhain and Barsha Devkota — all students — and Apsara Baral, a teacher of the school."

Posted on 12-11-08 10:52 PM
Reply
[Subscribe]
Login in to Rate this Post: 0

?

Posted on 12-12-08 9:11 AM
Reply
[Subscribe]
Login in to Rate this Post: 0

?

Posted on 12-12-08 9:24 AM
Reply
[Subscribe]
Login in to Rate this Post: 0

?

Posted on 12-12-08 9:26 AM
Reply
[Subscribe]
Login in to Rate this Post: 1

?

Liked by
Posted on 12-12-08 6:11 PM
Reply
[Subscribe]
Login in to Rate this Post: 0

?

HOME

Tragedy casts a pall of gloom in Bharatpur
Chintamani Poudel

An inconsolable Tulsi Prasad Subedi (centre), who lost his son and daughter in the bus accident at Mukundpur-6 in Nawalparasi district on Thursday.

Chitwan, December 12:

The town woke up to the tragic death of 23 people this morning, who lost their lives in a tragic road mishap at Mukundapur-6 in Nawalparasi district last evening.
The victims included 18 students of Hill Bird Residential School at Bharatpur-12. The incident occurred around 9 pm when the bus, carrying students and teachers of the boarding institution, skidded off the East-West Highway and fell 50 feet below.
The ill-fated vehicle was on its way back from a picnic in Lumbini. Nineteen people died on the spot. Sixty passengers were hurt in the mishap. Twenty-eight people are undergoing treatment in College of Medical Sciences, Bharatpur, 18 in Bharatpur Hospital, 10 in Chitwan hospital and four have been shifted to the capital.
There was palpable grief in the air. All local FM radio stations stopped normal programming for the day as a tribute to the deceased. The closing ceremony of Shreemad Bhagwat Mahayagya was postponed. Hill Bird Residential School remained closed. Narayangarh bazaar also downed its shutters.
Among the deceased, 13 belonged to Bharatpur-12. Tulsi Prasad Subedi, who works as a technician at Chitwan District Development Committee, lost his son and daughter — Prabag and Prabina — in the incident. While his wife, Kamala, a teacher at the school, has sustained injuries.
Chetan Sedain, vice-principal, Hill Bird Residential Secondary School, who lost his wife Usha and son Uchit, is undergoing treatment in the capital along with his daughter. Teacher Apsar Baral and her daughter Srijana also died in the accident.
The school authority has agreed to set up a trust with a corpus of Rs 25 lakh. The decision was taken at a meeting, which was held at the district police office. Representatives of local administration, school management and guardians took part in the talks, said Gyanendra Bikram Shah, SP, Chitwan.
"The school has agreed to pick up the tab for treatment of the injured. While, Rs 25,000 will be given to perform the last rites of the deceased," added the SP. A security team has been deployed in the school premises to thwart any possible attack on it by enraged locals.

Dead and gone:
• Alina Acharya (12)
• Rojina Rana (16)
• Akriti Pathak (14)
• Dibya Phuyal (16)
• Apsara Baral (34)
• Srijana Baral (12)
• Prabina Subedi (14)
• Prabeg Subedi (7)
• Sonisha Gaire (11)
• Rimu Subedi (10)
• Usha Sedain (40)
• Uchit Sedain (7)
• Nikita Devkota (12)
• Sandhya Pangeni (12)
• Dipa Subedi (12)
• Durga Poudel (15)
• Liladhar Baral (32)
• Amul Adhikari (12)
• Juna Bhandari (23)
• Ayushi Neupane (13)
• Dibas Shrestha (12)
• Sharada Chapagain (40)
• Anjila Poudel (15)

http://www.thehimalayantimes.com/fullstory.asp?filename=aFanata0sfqzpla5Qa5va.axamal&folder=aHaoamW&Name=Home&dtSiteDate=20081213
Posted on 12-12-08 6:34 PM
Reply
[Subscribe]
Login in to Rate this Post: 0

?

pic of ill-fated vehicle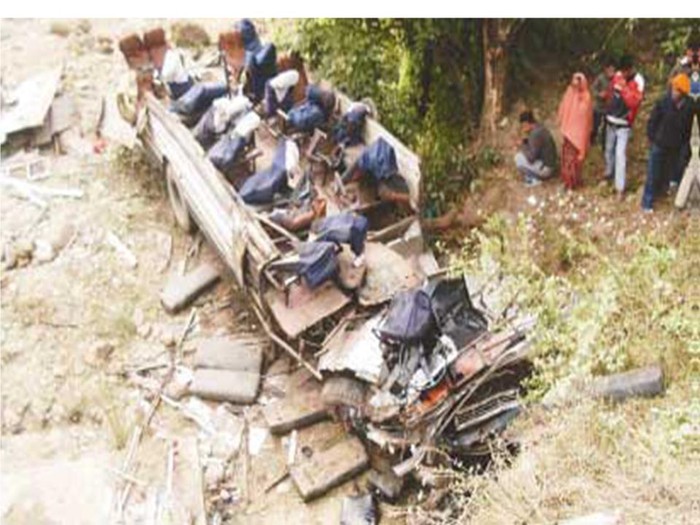 Posted on 12-13-08 12:00 PM
Reply
[Subscribe]
Login in to Rate this Post: 0

?

This is one of the reasons.. nepalese abroad do not want to go back to Nepal with their kids.... and take all kinds of risk in Nepal.
---
Please Log in! to be able to reply! If you don't have a login, please register here.
Within last 30 days
Recommended Popular Threads
Controvertial Threads

What stocks to buy -- Any recommendation
निगुरो थाहा छ ??
Conservative discussions
"गुड एट हार्ट" -- Deep
हेरेको तिमीलाइ आँखाले हैन।
Pfizer Chief scientist says those who took vaccine will die in 3 years
म अम्रिकामा adjust हुन सकिन :(
KP and PK
नयाँ नक्शा, नागरिक्ता येन र MCC
Sajha Poll: What most interest you in Sajha?
प्रचाण्डको लड्डु
5 questions to ask your friends who plan to get the Covid vaccine
Well this is fked #TPS status doesn't allow application for Green Cards
hello hello
हेत्छाकुप्पाको कथा (नेपाली लोक कथा)
Health insurance for parents over 65 years
Help Nepal fight with covid
RIP Ujjwal Thapa - US Return Nepali politician
नेपाली नाता
What car to buy?
NOTE: The opinions here represent the opinions of the individual posters, and not of Sajha.com. It is not possible for sajha.com to monitor all the postings, since sajha.com merely seeks to provide a cyber location for discussing ideas and concerns related to Nepal and the Nepalis. Please send an email to admin@sajha.com using a valid email address if you want any posting to be considered for deletion. Your request will be handled on a one to one basis. Sajha.com is a service please don't abuse it. - Thanks.