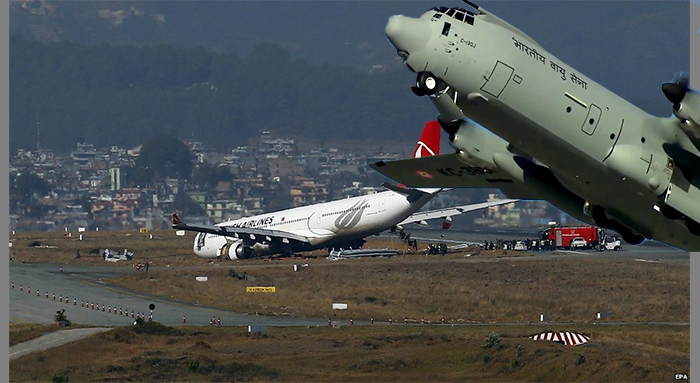 Kathmandu: An Indian Air Force C-130J Super Hercules transport plane carrying an aircraft removal kit landed in Kathmandu`s Tribhuvan International Airport (TIA) on Thursday to help remove a Turkish Airlines Airbus A-330 that skidded off the runway on Wednesday.
Nepal request to India to send the special aircraft to remove the Turkish plane from the runway to pave the way for resumption of international flights in and out of Kathmandu.
Nepal does not have a crane and airline removal kit of the size required for the task, said Ratindra Lal Suman, general manager of the Nepal Civil Aviation Authority.
"Such a heavy crane and airline removal kit is available in India and Thailand, so we made the request to India," he said.
The special Indian aircraft will remove the Turkish airline from the runway to clear the way for resuming international flights that have been stalled since Wednesday morning.
Turkish Airlines on Wednesday urged the Indian Air Force to send in its aircraft to remove the crashed jet.
According to an official, Teknath Sitoula, the rescue team has started repairing the tyres of the Turkish jet to ease the removal process, which is likely to take five hours. The total weight of the Turkish plane is 250,000 kg.
As a result of the accident, TIA has been shut down on Thursday and all international flights have been cancelled till 5 p.m.
The passenger jet had skidded off the runway and veered onto the grassy shoulder while landing at the TIA on Wednesday morning. The flight from Istanbul was carrying 224 people when it ploughed into the grassland on the left side of the runway at Kathmandu`s fog-covered airport at 7.45 a.m.