[VIEWED 2388 TIMES]

SAVE!

for ease of future access.
Posted on 04-20-09 11:54 PM
Reply
[Subscribe]
Login in to Rate this Post: 0

?

Nowadays Nepalese politicians are politicizing the issue of caste and ethnicity of the Nepalese people for their own individual and party's benefit. If it's keep going like that Nepal won't be a single independent nation in the recent future.
I think it's better to make and implement law and order strictly against the discrimination based on sex, age, religion, caste and ethnicity in Nepal. Nepalese people need to be given the rights and freedom equally, not on the basis of caste and ethnicity.
If one group of people is privileged, then the other group might be unhappy and rebel against it. It ruins the mutual relationship among the people of different community and disturbs the peace in the country. And as long as there is no peace and strong democratic government, there would be no imagination of physical infrastructure and economical development.
What are your opinions guys?
Posted on 04-21-09 1:59 AM
Reply
[Subscribe]
Login in to Rate this Post: 0

?

very sensitive issues indeed. how irony; even after 250 years of unification n formation of modern nepal, after many initiatives taken by past rulers who tried to inetegrate all these nationalisties or ethnicities or castes under one umbrella through religion and nationalism; mahendra's policy of 'one state, one lang n one costum'; it still is very hot n sensitive rather still unsolved. this proves ones race, culture, dialects, religions, etc r self identity and precious for which one can opt for extreme measures as to safeguard, protect, continue n expand it. in case of nepal, such system should b drafted that acknowledges every ethnicities and thier differences as possible; ie fairness. current solution as per our leaders r federal setup with possible auotnomy becasue centralised government system failed utterly to address such sensitve issues. but they r yet to come up to conclusion on which model to b slected for federal set up, either by ethnicity n lang or by regions or mixed of both. activists of various ethncities r pressuring gov for this cause only not for seperatism, racism nor r they xenophob in nature except for sum opportunist fanatics, like when the conflict was instigated between pahadi n madhesis. apart from that i dont think any groups r threatning or giving ultimatum to any other differnt group to leave or declaring vedetta upon them. like khas r demanding for khasan state but they havnet declared non khas to leave thier area, likewise tharu r demanding for tharuwan but again they havnt declared rivalry with non tharus, same with khambuwan n limbuwan it is just demand to name the state initiated by the same people but thier doctrine doesnt say non kiratis to leave or face hostility n likewise.
after sucessful declaration of republic the competency of this gov will b proved if they could sucessfully solve this very sentsitive ethnicity problem reasonably to the best interest of every people n nation as a whole.
Posted on 04-21-09 3:47 AM
Reply
[Subscribe]
Login in to Rate this Post: 0

?

Question: Why do 'pahades' hate the non-pahades? Whats the grudge? I'm just curious as it comes up quite often.
Posted on 04-21-09 5:17 AM
Reply
[Subscribe]
Login in to Rate this Post: 0

?

pahades' hate the non-pahades? Dekch bro, isn't this quote itself an example of discrimination based on ethnicity?
just thoughts

Posted on 04-21-09 11:24 AM
Reply
[Subscribe]
Login in to Rate this Post: 0

?

yakthung_laje Ji,
I appreciate your opinion. It's logical and intellectual thoughts.
Posted on 04-21-09 6:56 PM
Reply
[Subscribe]
Login in to Rate this Post: 0

?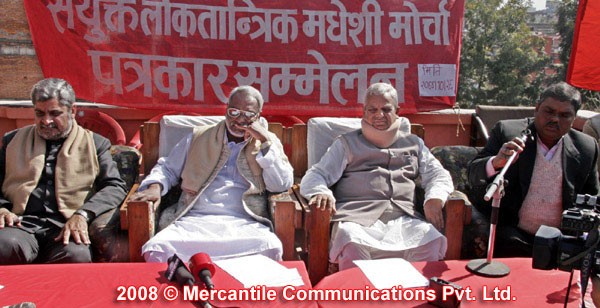 भारतीय बिहारी, नेपालको दुस्त गुसखोरी हरुलाई गुस कुवौदै असली नेपाली नागरिकता लिएर, नेपालको गिरिजा बाट पार्टी खोल्ने अधिकार लियो, नेपाल बिहारको हो भन्दै, नेपालको सबै तराइ खेती योग्यो भुमी बिहरी मधेसी को हुनुपर्छ नत्र हामी नेपालबाट तराइ चुतयौछौ र हामी आँफै राज गर्छौ भन्दै बिद्रोह गर्दैछन।
सर्बप्रथम ति नेपाली माहा दुस्त गुस्खोरी हरु अझै पनि नेपाली सरकारी कार्यालयमा उचच ओहोदामा कार्यरत छ। कती त करूदपती र अराबपती भएर अबकास लिएर माहा लविश जीवन गुजरिरहेक छन। ति अपराधी ले राष्ट्रिय अपरदको सजय पौनेकी, सरकारले तिनिहरुलाई अबकास भाता दिने।