Three-month-old tiger cub Zoya, rejected by her mother, plays with Alsatian puppy Frida, who's the same age, in a special enclosure at the Warsaw Zoo Aug. 13, 2008. The dog, owned by a zoo employee, was introduced to the tiger so that she could have a companion for the next few months.
Isabella, a yellow lab at the Safari Zoological Park east of Caney, Kan., has adopted three white tiger cubs that were abandoned by their mother in this July 30, 2008, photo.
A dog feeds two Siberian tiger cubs and her puppy at a zoo in Hefei, Anhui Province, China. The mother of the cubs was not able to feed them after giving birth, according to local news reports.

Norma, left, a Chihuahua from Cundy's Harbor, Maine, with two of three orphaned squirrels that she is raising along with her own two puppies.
Norma, a Chihuahua from Cundy's Harbor, Maine, snuggles with one of three orphaned squirrels that she's mothering.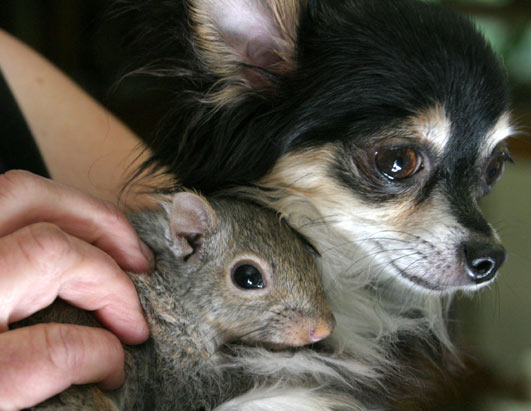 A Chihuahua pup named Zachary cozies up to his new adopted "sibling" after his mother took in three orphaned squirrels.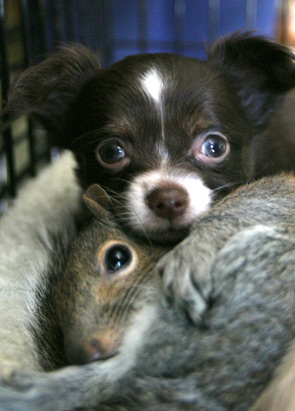 A little macaque nestles its head on a pigeon that responds peacefully on Neilingding Island, China. Three months ago, the macaque was born on the island, but strayed from its mother. Luckily, it was taken in by work staff in the protective station and made the acquaintance of the pigeon. More than 2,000 macaques live on the island.
A French bulldog plays with a 2-week-old baby Bengal tiger, which was rejected by its mother, at Shirotori zoo in Higashikagawa, southwestern Japan May 11, 2007. The dog is nursing the baby tiger as if it is its mother, according to the zoo.
A 2-week-old black panther cub, Milica, is encouraged to feed by workers in Belgrade's Zoo, July 14, 2007. The baby panther was adopted by the dog, who helps rear the cub along with her own puppies, after the panther's mother tried to eat it.
A mouse rides on the back of a frog in floodwaters in the northern Indian city Lucknow June 30, 2006.
Dema, a 26-day-old male endangered Sumatran tiger cub, cuddles up to 5-month-old female orangutan Irma at the Taman Safari Indonesia Animal Hospital, on Feb. 26, 2007 in Cisarua, Bogor Regency, West Java, Indonesia. Irma and another orangutan were rejected by their mothers while two Sumatran tiger cubs, including Dema, also born in the hospital, were also rejected by their mother, Cicis, and are being looked after by staff at the Animal Hospital.

A dog feeds two tiger cubs at the Changchun Zoo in Changchun, China's Jilin province July 15 2007. The dog provided by a local resident fed the cubs when the mother of the cubs failed to feed the newborn tigers after giving birth.
Kazo, a 4-month-old African lion cub, plays with her new canine friend, Cairo, an Italian mastiff puppy, Feb. 10, 2006, at the Wild Animal Park in Escondido, Calif. Cairo was adopted by the park from Operation Canine Rescue, which rescued her mother from Hurricane Katrina.
A police dog carries a cat when ordered to, in a display of skill, during a show at the Russian OMON riot special police training base outside Moscow, May 10, 2007.
An iguana rides on the back of a manta ray near the Caribbean port city of Cartagena, Colombia, June 23 2005.
A piglet plays with a tiger cub at a park in Guangzhou, in south China's Guangdong March 13, 2007. The tiger cub was abandoned by its mother and is being raised by a sow.