[VIEWED 11409 TIMES]

SAVE!

for ease of future access.
The postings in this thread span 3 pages,
go to PAGE 1
.
This page is only showing last 20 replies
Posted on 02-07-07 11:03 AM
Reply
[Subscribe]
Login in to Rate this Post: 0

?

Bahuns & Chettris are so much used to discriminating against the Pahadi Janjatis & Madheshis that they are still trying to comprehend the rationale behind Maoist and Madheshi movements. For centuries they got away with these atrocities, but no more. They can no more rape Nepal Aama, embezzle international aids, or have monopoly on politics. Hinduism sucks, and so does the Bahuns & Chettris. Jai Nepal
The postings in this thread span 3 pages,
go to PAGE 1
.
This page is only showing last 20 replies
Posted on 02-08-07 5:58 PM
Reply
[Subscribe]
Login in to Rate this Post: 0

?

India Nepal Bhai Bhai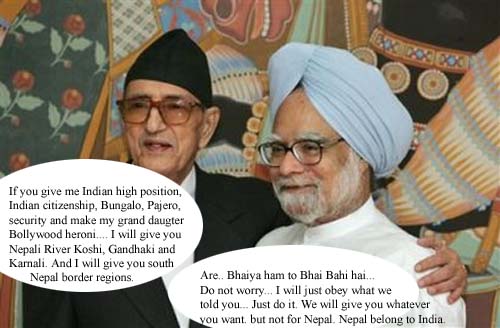 Posted on 02-08-07 8:58 PM
Reply
[Subscribe]
Login in to Rate this Post: 0

?

ma pahadi hu, ani janjati pani. khas jaat yeha bhannu jaruri chaina. haina, sabaile afnu sochai haru bhanen yeha, tara euta pani gatilo jawaf payena. jaat bhat barko samasya kasari samadhan hunchha? bahaun chettri le pahdyo lekhyo bhandaima nepal ma lapharbai rajya garna pauchha ra? tyeso bhaye america jasto desh ma kina "equal opportunity" ra "diversity in the work place" bhanchhan? jatha bahun chettri haru affulai nikkai chandrama ma pugney ra motor gadde banauney pahilo jaat jastai thandau raichha. mero aachi kha jaatha haru; harmi chuitya, aaimai lai dabayera rakhanne jaat. dhikkaar hosh timiharuko yo sansar ma janma bhakoma pani. goo kha jatha haru.
Posted on 02-08-07 9:02 PM
Reply
[Subscribe]
Login in to Rate this Post: 0

?

kakababa u r sick go see some doctor plz
Posted on 02-08-07 9:27 PM
Reply
[Subscribe]
Login in to Rate this Post: 0

?

kaka ko bau needs some medication. Seems suffering from auditory and visual hallucination plus genetic schizophrenia followed by psychotic disorder. He needs hospital real bad.........Delusional disorder regarding bahunism has invaded his brain............ its really hard to treat...no body can give him the good psychosocial counseling........ god help him
Posted on 02-09-07 5:07 PM
Reply
[Subscribe]
Login in to Rate this Post: 0

?

Posts like this give a glance of how we are divided from heart. A tiny country with handful of people is divided into innumerable pieces. People are divided by caste, religion, ethnicity, region, culture, tradition, class, looks and so many other things. There are divisions inside divisions just like castes inside castes. Nepal looks like the topical farm land just before the monsoon. .... everywhere cracks. What is the real cause of the division. 1. Culture: We consider ourselves as very civilized people but we are far behind the race of human civilization. We have regressive culture; an unscientific culture where wisdom comes with blood, intelligence comes with blood, education comes with blood :); bravery comes with blood; muscle comes with blood, strength comes with blood, power comes with blood; ruling skill comes with blood :) ......and so many other things comes with blood. Not only this much; illiteracy comes with blood; ignorance comes with blood, foolishness comes with blood, dumbness comes with blood, cowardliness comes with blood, weakness comes with blood; destiny to be ruled comes in blood .... many more things comes with blood :). 2. Injustice: If we go by caste, Majority of Brahmans and Kshatries (including kings) have ruled Nepal politically and Newars ruled economically. They must take the responsibility of our backwardness. Of course ruling people are always privileged and they hold major jobs. It is inevitable truth that most of the government posts and political posts are occupied by Brahmin, Kshatries and Newars. BTW, does anybody know any non-Brahmin in CPN-UML other than speaker dude? :); sorry it was just a joke :). However, I have seen myself.... there are Brahmins; there are Kshatries and there are Newars who live miserable life. They can not afford two meal a day full stomach ... and my friends, this number of Brahmin, kShatries and Newars is incomparably bigger then those who can be seen in picture. The privileged one are very little but the majority of Brahmins, Kahstris and Newars are in same boat where the majority Nepali are in. I must admit that there are so called lower castes whose condition can not be compared with others. ...I have never considered myself belonging to any particular caste, class and ethnic groups. ... All are mine and I am theirs. .. I have compassion for all have-nots despite their caste and culture....All I know is I belong to Animal kingdom as a human species... and my religion is humanity. One of the biggest reason of failure of Shah Dynasty was not to be able to include all ethnic groups, all casts and all cultures in the governing system. Handful of Brahman, Kshatriya and Newars got great privilege and they are being seen everywhere. As the 21st century came with avalanche of communication, people found that they have been ruled by handful of people. They have found that they have been faked by rulers saying that the country is theirs. They couldn't see their representation in government in any form... This was huge injustice and what we are seeing is the cause of this injustice....king Gyanendra became victim of this injustice even though the injustice was long rooted....I can foresee many people being victimized of this social injustice.
I always believe that the truth has to be seen from various angles to get good feel of it. So, this is not the entire truth. If I get time I will write more.
Posted on 02-09-07 6:03 PM
Reply
[Subscribe]
Login in to Rate this Post: 0

?

We need culture: Last time when I was in India in a meditation center, I met one guy. He was studying engineering in one of the highly reputed Indian University and he was so called Dalit by caste. Dalits are considered backward people pretty much same as Kami, Damai, Sarki etc of our country. Thanks to leaders like Ambetkar, VP Singh, and Kashinath who provided dignity and privilege to these people! Unlike our Dalits they are not unprivileged anymore. I learned quite a bit from him about Bhim Rao Ambetkar. During our conversation he strongly opposed the political system in India and frankly spoke against the upper castes people. I put this question forward to him; "Who are more moral, upper castes or lower casts?" He looked at me and said; Upper casts
He was well educated, talented wise guy. He said, lower castes people were more morally corrupted compare to upper caste people. Lower caste people were more indisciplined compare to the upper caste. Lower caste people were more uncivilized compare to the upper castes. I said to him that a good quality will always surpass the bad quality. A moral person will certainly be forerunner compare to the immoral person. A disciplined person will progress compare to the undisciplined one. A civilized person will certainly lag behind the uncivilized one. ..... This is unavoidable law of Nature and no one can change it.
He was wise person. He said, he was not jealous of the upper caste people..I trusted him because he was very clean hearted person.... He added he knew that better would always be forerunner but he didn't like the way those so called upper caste people treats the so called lower caste ones. ...and he was right. Forerunners must have some special qualities over the ones who are lagging behind. The slow runners must have some weak points. However, if the forerunners mistreat the slow runners, it is forerunner's weak point. I find, like any other society our society is divided into two branches with this respect. Forerunners are so egoestic that they believe they are some other species and the back runners have strong hatred against forerunners. It is the time for slow runners to find their weak points and catch the fast runners. It is time for forerunners to find the cause of hatred from their fellow runners.... I will analyze these points.. in my future postings.
Don't hate... hatred will make you tired and you will not be able to run..you will lag behind more and more and will never catch the forerunners..... Find out your own limitations .... run with extra energy and win the trophy.....
Posted on 02-09-07 9:15 PM
Reply
[Subscribe]
Login in to Rate this Post: 0

?

Tyo muj* Sachokura ra jaymatadi 3 dharke pandit pakhe haru ko dimag fuskya cha ki kya ho..sidha newar haru lai man hani garera lekhne !!...pahila yo soch kakababa bhanne newar ho ra? bhanera...timi haru jasto pandit le pandityai chodera rajniti ma lagya dekhi Nepal sansar ko sabai bhanda garib desh banna pugyo...itihaas sachi cha ki Newar haru ko sasan kaal ma Nepal Europe ko kati paye desh bhanda pani mathi thiyo bikas ma...timi haru rajniti chodera pandityai ra bhancha ma bhat pakaune kaam tira lages ani matra Nepal sudhrindaina.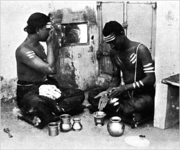 Posted on 02-09-07 9:23 PM
Reply
[Subscribe]
Login in to Rate this Post: 0

?

All I can say about that Dalit you met is that the person is really opportunistic.......a typical example of human version of chameleon .... Is it rational to be opportunistic? YES. Is it moral to be opportunistic? NO. To add more, how sensible is it to ask a person showing an apple, "Is it Black or Blue?" And how sensible is it to ask a person, "Who are more moral, upper casts or lower casts?" I just read an article few weeks ago in New York Times. It was about the increased admission rate of Asian in University of California at Berkely. Asian students amounts to 40% of total student body in the university. This particular university is one of those handful of universities in USA which bases its enrollment policy on the basis of academic qualification. The result beckons one and only truth - what would be the face of highly educated population in US had there been equal admission opportunity policy in US universities. Laamo kura laai chotkarimaa bhannu parda, if you think upper castes became upper caste because of their ability, then what do you have to say about white people who think of themselves as the uppermost race in the world?
Posted on 02-09-07 11:33 PM
Reply
[Subscribe]
Login in to Rate this Post: 0

?

Yow! dem Nepalian Chiluns of Sajha! Blessed dem be you all! I is not no read anything here but dem headlines only I is read I is not no come here and write anything many more! I is dem busy with work. BUT! Why dem you chilluns is always angry with I and I? What dem I and my Chettri Biraders do to you and your fada and moda? Why dem you is always blame I and I? Every probilam of yours is Bahun and Chhetri? Come on ! Wakey up and looka at youself. Dont dem blame I for your your insecurities and bad dreamings. Do somethin yourself. You is can always ask your Buddha god of yours. Blessed be you
Posted on 02-10-07 1:27 AM
Reply
[Subscribe]
Login in to Rate this Post: 0

?

Kali Baba, I do not understand what you you mean by Bahuns/Chertris?????? Guess what are we trying to be like sunnis/shias??? I HOPE NOT REALLY!!!!!!! But in a way I know what you mean. ESPECIALLY=INJUSTICE, UNEQUAL REPRESENATATION, etc. If our so called intelligent LEADERS had got it right WE WOULD NOT HAVE MAOISTS IN GOVT NOW, really!!!!!!!!!!!!!!!!!!!! We are Hindus FOREMOST whether we are Newars, Bahuns, Chetris, Ranas, Shahs, Chetries, Gurungs, Kirats, Sherpas, in fact even madhesis, terraains and what not, etc. By GRACE of PASHUPATINATH we do not have any DIVISIONS,.... it will be an end for our beautiful Hinduism if such an event ever occurred!!!!!!!!!!!!!!!! FOREMOST we are NEPALI. However, in my opinion because of the damn politicians like Gp, Mkn, Deuba, and now a...holes like prachande, bbhttarai, WHAT ELSE CAN WE EXPECT IN OUR COUNTRY?????????????????????????????????????? Really I love my Nepal!!!!!!!!!!!!!!!!!!!!!!! I am pro-king BUT PLEASE ARGUE WITH ME LIKE HUMAN BEINGS WITHOUT THOSE UNPARLIAMENTARY WORDS. that is my request. However, PLEASE CAN SOME ONE TELL ME WHY WE HAVE KING IN S-ARABIA, (queen IN ENGLAND), IN JORDAN, in Bahrain, IN BHUTAN, IN THAILAND.... guys/gals note these kings/queen are all NON-HINDU!!!! Can you understand what i mean????? WHO IS BEHIND THE DESTRUCTION OF OUR PEACEFUL NEPAL???? Here is my answer: All forces like India, pro-issai/musalman, and most IMPORTANTLY US, really us. We can be blamed for 99%% rest is FOR THE ALIENS!!!!!!!!!!!!!!! CAN SOMEONE SEE WHAT I AM TRYING TO TELL HERE??????, THAT, WHERE IS A HINDU KING OR QUEEN??????? AND WHY SHOULD WE NOT HAVE A HINDU KING/QUEEN. Our education Harvard, MIT, IIT, MBA(Ahemdabad) etc is all crap if we cannot see what is coming for us in FUTURE, WAKE UP guys/gals!!!!! PLEASE!!!!!!!!!!!!!!!!!!!!!!!!!!!!!!!!!!!!!!!!!!!!!! Was IT, THEREFORE, NOT A CONSPIRACY TO GET RID OF OUR King. To This King we did not even give a chance. We gave so called 'DEMOCRACY' more than 14 years AND WHAT WAS THE RESULT----- CHAOS, Division amongst different races, groups, etc..... Dhamija kaand, strikes, killings, AND 14000+ innocent children/woem/men killed!!!!!!! We hold current king resposible for 18 killimgs. WHAT ABOUT THE 14000+ killed by F..ING prachande, b-bhattarai, mahare(=current deputy PM of Nepal, this is brilliant gus/gals).??????? Shameful.... comments, please.
Posted on 02-10-07 1:32 AM
Reply
[Subscribe]
Login in to Rate this Post: 0

?

My dear brothers and sisters stop it man............hatred breeds hatred and love breeds love.............please read cool stuffs here and refrain from making narrow minded comments........... http://www.talkingforum.blogspot.com
Posted on 02-10-07 1:38 AM
Reply
[Subscribe]
Login in to Rate this Post: 0

?

1hocandie4u, U GOT IT BABY I think u r ensstein????????????? We all LUV NEPAL!!!!!!!!!!!!!!!!!!!!!!!!!
Posted on 02-10-07 5:36 PM
Reply
[Subscribe]
Login in to Rate this Post: 0

?

in kathmandu, Dungana private manson with bloody corrupt money.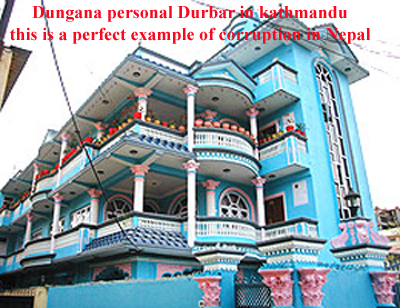 Posted on 02-10-07 10:24 PM
Reply
[Subscribe]
Login in to Rate this Post: 0

?

Raascal J, good point and good example. As far as I know him, he is outspoken, truthful gentleman. I have no doubt about his honesty. And I personally know that his answer is blameless. I don't believe that all upper castes are disciplined and all lower castes are undisciplined. However, if you do honest survey, statistically you will be bound to accept this undesirable truth. I know genetically there is nothing big difference between Dalit and so called upper castes. The percentage of talented in Dalit society will be almost the same as that of the so called upper castes. .............This is science. However, there is vast difference between their cultures. Upper caste has disciplined culuture which gives high value to morality where as lower caste doesn't care much about morality. A culture which is based on morality will certainly prevail over the culture which is not based on morality... This is also science. I want to make it very clear..... I am not pointing finger to person's capacity; I am pointing finger to the culture of the person... A culture which governs the person is quite responsible for the progress of the person. Had we have scientific culture ..... there would have been Noble Laureate in our country as well....genetically we are not much differet then Japanese and Germans who have many Noble Laureates. Regarding your example of UC Berkeley, I have nothing to surprise about. Asians were the frist people who had organized education system. Taxila in India was a education center dates back more then 4000 years. Chinese began to write more then 4000 years ago. White people know the history of the world and they don't underestimate Asians. Eventhough the education had never been commonplace in Asia, it has been there since thousands of years.
It is not only UC Berkeley, Asians are remarkably significent in allmost all US Universities, especially in graguate schools. Again, here apply the same bitter truth....those asians who reached to these universities must have been well cultured and well disciplained :). Asian populatin is another factor.
I thought I will finish whatever I want to say by this time. But I am not able to... So, I must write next week. ....In the both the threads I have to write the similar conclusion.
Posted on 02-10-07 11:49 PM
Reply
[Subscribe]
Login in to Rate this Post: 0

?

instead of protesting in sajha and sayin bad stuffz.. why dont u muda fkerz do something.. Ya muda fkerz who come to us are enjoyin in us wid galz and guyz and spendin ur parentz money and havein fun.. and poor pplz bak in country are helpless.. go do something instead of wastin yo time in internet and doin blaah blah in stupid reasonz
Posted on 02-11-07 6:25 PM
Reply
[Subscribe]
Login in to Rate this Post: 0

?

In Nepal..... there is key differences in Races people in even remote villages. In city, too much diffrereces.

Posted on 02-12-07 12:46 AM
Reply
[Subscribe]
Login in to Rate this Post: 0

?

Yes, more than 95% national crimes and corruption are done by Either Chettris or Bahun people. But I do not only blame to them. Why? Because Rai, Limbu, Magar, Gurung, Tamang, Tharu or Madisey are too much backward and dull.
Posted on 02-12-07 12:22 PM
Reply
[Subscribe]
Login in to Rate this Post: 0

?

everything what do you mean "Because Rai, Limbu, Magar, Gurung, Tamang, Tharu or Madisey are too much backward and dull" ? can you repharaphrase that sentence? thank you
Posted on 02-12-07 12:33 PM
Reply
[Subscribe]
Login in to Rate this Post: 0

?

aagra ra gaagra ko kura bhanyaa yahee ho. Bujhney laai po bujhaaunu, nabujhney laai k bujhaaunu? Kaanmaa earphone lagaaunuparney bahiraa haru jahaa sangeet pratiyogeetaa kaa judge hunchan ra jahaa aatma maa pathar parekaa haru kaabya kaa nirnaayak maaninchan, kaath kaa khutta haru jahaa race maa bijetaa hunchan ra jahaa plaster gariekaa haat haru maa surakchya ko sangeen thamaaincha, jahaa baato ra attalikaa harukaa dhokaa agaadi doko kaa doko, kharpan kaa kharpan, truck kaa truck aatma kaa mandi sajaaincha, stock exchangekaa share jastai aatma kraya-bikraya garna sakney haru jahaa neta hunchan ra jahaa nidhaar bhari karkat paataa jastai chauri paree sakekaa haru tanneri harukaa aguwaa huncha jahaa jati sukai byabhichaariko pani ijjatko "wash 'n wear crease" kahilyai bigrinna, jahaa jati sukai paap gareko beshyaa ko pani anuhaar ko tyrolean ko chaala kahilyai khumchinna, jahaa krishi-melaa harumaa dobbar oobjani huney beu haru ko pradarshani garincha ra jahaa khaderi ra anikaal kaa samachaarley bharincha, jahaa baagmati ra bishnumatikaa saatomaa aba beer ra whiskey bagdachan, ra jahaa aba pashupatinath ra swayambhukaa mandirko oopayog tinkaa prashaad khaanamaa kam, ra tinkaa pachaadikaa banharumaa adam eve ko 'barjeet fal' khaana maa bartaa garincha, jahaa chini ko kaarkhaana ley chini hoina, rakshi maatra banaaucha ra jahaa kaa swatantra aama haruley chora hoina laahurey maatra janmaauchan jahaa reen tirna ko laagi mahakaviley asamayamai marnu pardacha jahaa swadeshko pirley bahulaaeko kaviley bideshi aspataalko sharan parnu pardacha, ra jahaa saraswatiki ekli choriley binaa oopachaar bainsa mai kunjiera jiwan bitaaunu pardacha, jahaa guidley tourist laai nepal ko bideshlaai den samjhaaucha ra bidaako belaa maa oos sita oosko bideshi camerako den maagdacha, jahaa tanneri haru killaa kangada ra nalapaniko geet gaaudai aba kawaaj khelchan tie ra coat ko collarmaa khukuri bhirera yo deshmaa malai bhanna kar laagcha aafno mutu chirera ki eh mera deshwaashi haru ho eh mera deshkaa rastra-kavi haru ho eh mera deshkaa sammananiya netaa haru ho bhanna mann laagcha bhaney bhana malai swadeshnindak waa ghrinaa chintak tara yo desh timro jattikai mero pani desh ho anshai bandaa garney ho bhaney pani yo deshka ek karod tukraaharu madhyey euta tukra maathi mero pani chaapro hunecha ra yo deshkaa asankhya bagarharu madhey euta bagar maathi mero pani chitaa hunecha yahee bhawana ley malai yo bhanna baadhya garaaucha ra aant dilaaucha yo bhanna ki 'yo hallai hallaa ko desh ho' khanera herney ho bhaney yahaa kaa pratyek ghar harukaa jugmaa tyahaa fagat hallai hallaa thuprieko paainey cha. tyasailey yo hallai hallaa ko desh ho yo hallai hallaa maathi oobhieko desh ho yo hallai hallaa maathi ootheko desh ho yo hallai hallaako desh ho. ----- Yo Hallai Hallaa ko Desh Ho (Bhupi Sherchan) ------------
Posted on 02-12-07 12:44 PM
Reply
[Subscribe]
Login in to Rate this Post: 0

?

raidilip ji, if a black person walks to a white person and says, "you are so black", what do you think the white person should say or do? Answer is, he should laugh out loud and say, "myaan, you made my day!!!"