[VIEWED 43340 TIMES]

SAVE!

for ease of future access.
The postings in this thread span 11 pages,
go to PAGE 1
.
This page is only showing last 20 replies
Posted on 02-06-06 11:07 AM
Reply
[Subscribe]
Login in to Rate this Post: 0

?

Enjoy the cartoons. They have caused riots all over the world. Any Comments / Gaalis to the muslims are welcome.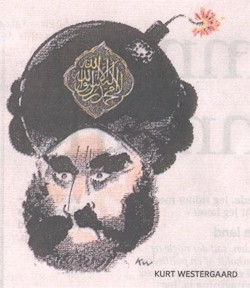 The postings in this thread span 11 pages,
go to PAGE 1
.
This page is only showing last 20 replies
Posted on 03-13-06 5:49 PM
Reply
[Subscribe]
Login in to Rate this Post: 0

?

Thanks BD Ji; No sir please :)! Bye! Farewell to all, you have become real nice to me. I learned a lot from you, thank you so much. I equally enjoyed the resonating and non-resonating feelings. There is an exhibition going these days in Manchaster UK at Science and Industry Musium.
This is what made me to revisit Sajha to post my farewell posting..(click)
http://www.1001inventions.com/index.cfm?fuseaction=main.viewSection&intSectionID=309 Bye! Vishontar
Posted on 03-14-06 3:31 PM
Reply
[Subscribe]
Login in to Rate this Post: 0

?

Vishotar-ji, Although I have been generally reading your postings with keen iinterest in Sajha for quite some time, I hadn't have chance to interact with you. Now that I see you bidding farewell to Sajha, I thought I better say hello and take the opportunity to share a thing or two that is in my mind about you with you. First of all, I would like to give you compliments to your disarming humility and modesty in style and equally impressive knowledge about Buddha's teaching and a lot of other disciplines as well. I wouldn't be surprised if you are already a renowned Guru somewhere. In that case, मेरो सादर प्रणाम स्वीकार गर्नुहोला । अब दुईवटा गुनासो संक्षेपमा राख्न अनुमति माग्छु । 1. First one is related to your passionate use of the characterization "scientific" and "scientist" to Buddha and his teachings in some of your postings in the past. To confess, this actually worked to turn me off and I never could bring myself to interact with you and benefit from your vast knowledge and experience. Recently, I saw you stating that Buddha's teachings contain some unreasonable things too. This helped to get rid of my earlier impression of a zealot about you. So, it actually is a compliment rather than a gunaaso. 2. This one is related to your tolerant views regarding religions. However, this is not really a compliment. The best way to put my gunaso would be to introduce you with a multitalented writer Sam Harris and his book "The End of Faith: Religion, Terror, and the Future of Reason (2004)". -
http://www.amazon.com/gp/product/0393327655/102-5077454-0240164
Among other things, it talks about how a free license (immunity from intellectual rigor) to 'religious faith' given by the 'religious moderates' rather than the 'arguments' by the faithfuls alone have helped religious fundamentalists to go berserk and create havoc in our society. (This I am writing based on a book reading program that I watched). The 'religious moderates' reject questioning to anything related to religious faith. Vishontarjyu, if I may say, you are one step ahead and 'glorifying' religions by a 'selective' approach- praising the 'good things' in particular religion while ignoring the 'bad things' in it. I know both the 'religious moderates' and you are doing this for a very noble reason- not to hurt the faithful, to be at peace with them and to benefit from the 'good' aspects of particular religion. However, particularly at the time when religious fundamentalism is taking significant toll, intellectual immunity, or worse, selective glorification of religion is counter-productive in my humble opinion. Mero bhannu yetto thiyo. तपाई मंगलजीवन र मंगलकर्मको लागि मंगलकामना सहित, Nepe
Posted on 06-08-06 10:44 AM
Reply
[Subscribe]
Login in to Rate this Post: 0

?

Nepe Ji, Namaskar! I haven't looked up this thread until now, ever since I have decided to farewell Sajha (Some noble cause has brought me back again). Forgive me for not being able to read your posting in this thread, and it's my pleasure to know that you read my postings. I am so obliged for your wonderful words, thank you so much. Can't accept the word Guru though :). I remember I had a long debate with you quite a few years ago. That was really nice. We have a different field of interest. Most I dislike is politics, most you like is politics. I admire you though. I remember trying to read your long long long article on Republicism, which was in Sajha essays some years ago. Eventhough I am politophobic and you are politicophilic, perhaps we have one thing common, a good heart which opens up when people smile. I believe, every individual has to change. Every individual has to be a good person, nice person, smart person. Nice person makes nice community and nice community will make a nice country. However, you believe nice system will make country nice and people nice. Though we think opposite we want the same thing, a nice society, a nice country. I am always against violence. I believe there are always better ways to solve the problem. The political change what we got right now is beyond my imagination. I have always dreamed for such a change and couldn't even thought that we could get this easily. Great is the non violence! It is so powerful. Reason and logic always wins. This achievement is the victory of non violence. I always thought that your idea of Republication won't work because for that there would be a biggest massacare in history. Because of this fear I always limited myself to ceremonial monarchy. I now see the country as an undecleared republic. You won! Congratulation! I always believe that leaders need to be positive and smart for the development. That will happen if the society is positive and smart because leaders comes from the society. I will always try my best to help making roots strong and you will try your best to help keeping system clean :). This time you wrote about Dharma and I wrote about politics. Perhaps we crosses each other :). Thank you so much for your well wishes, they are highly appreciated.
Posted on 06-08-06 10:48 AM
Reply
[Subscribe]
Login in to Rate this Post: 0

?

Vishontar I didn't even know you had decided to say farewell. I am curious to know what the noble cause is that brought you back.
Posted on 06-08-06 11:15 AM
Reply
[Subscribe]
Login in to Rate this Post: 0

?

Continuing origional posting................ I wrote earlier that Muslims have developed Science to a great extent. I am posting here anohter proof of a point I have made. Please read carefully. This is the frist time I will be downloading jpg file, I am not sure whether it will work. I could copy and paste it here but I thought origional is the better, it has selfillustrating huge picture on it.
Please don't misunderstand it. I never said that Kooran has sicnence in it. I said, Muslim has developed Science. Please don't misinterpret me. I am telling you again and again. Kooran organized the scattered, wild Arabs and a well organized, new civilization arised in the face of the earth, which is Muslim civilization. This civilization developed science, art and many things. This is truth and can not be ignored.
Bhusan Ji thanks for your concern. What else can be noble cause to write something noble :)?!!!!
Posted on 06-08-06 11:37 AM
Reply
[Subscribe]
Login in to Rate this Post: 0

?

you are wrong development of science by the people you are refering to have noyjing to do with them being muslims. you are sending a mixed and confused message. since einstein was a jew and newton was a christian do you hear say that christians and jews are the founders of modern science? that will be ridiculous!!! please leave my favourite subject alone and do not mix it with religion. lastly welcome back
Posted on 06-08-06 11:44 AM
Reply
[Subscribe]
Login in to Rate this Post: 0

?

I am sorry it is corrupted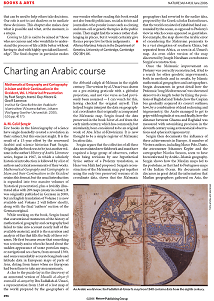 Posted on 06-08-06 11:57 AM
Reply
[Subscribe]
Login in to Rate this Post: 0

?

next try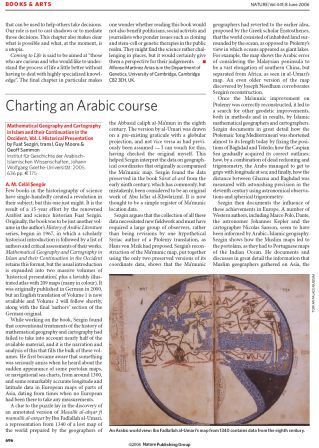 Posted on 06-08-06 11:58 AM
Reply
[Subscribe]
Login in to Rate this Post: 0

?

Charting an Arabic course A. M. Celâl engör1 ARTS REVIEWED - Mathematical Geography and Cartography in Islam and their Continuation in the Occident, Vol. I. Historical Presentation by Fuat Sezgin, translated by Guy Moore and Geoff Sammon Institut für Geschichte der Arabisch-Islamischen Wissenschaften, Johann Wolfgang Goethe-Universität: 2005. 636 pp. 175 Few books in the historiography of science have single-handedly created a revolution in their subject, but this one just might. It is the result of a 15-year effort by the renowned Arabist and science historian Fuat Sezgin. Originally, the book was to be just another volume in the author's History of Arabic Literature series, begun in 1967, in which a scholarly historical introduction is followed by a list of authors and critical assessments of their works. Mathematical Geography and Cartography in Islam and their Continuation in the Occident retains this format, but the usual introduction is expanded into two massive volumes of 'historical presentation', plus a lavishly illustrated atlas with 209 maps (many in colour). It was originally published in German in 2000, but an English translation of Volume 1 is now available and Volume 2 will follow shortly, along with the final 'authors' section of the German original. While working on the book, Sezgin found that conventional treatments of the history of mathematical geography and cartography had failed to take into account nearly half of the available material, and it is the narration and analysis of this that fills the bulk of these volumes. He first became aware that something was seriously amiss when he heard about the sudden appearance of some portolan maps, or navigational sea charts, from around 1300, and some remarkably accurate longitude and latitude data in European maps of parts of Asia, dating from times when no European had been there to take any measurements. A clue to the puzzle lay in the discovery of an annotated version of Masalik al-ab ar fi mamalik al-am ar by Ibn Fadlallah al-Umari, a representation from 1340 of a lost map of the world prepared by the geographers of the Abbasid caliph al-Ma'mun in the eighth century. The version by al-Umari was drawn on a pre-existing graticule with a globular projection, and not vice versa as had previously been assumed — I can vouch for this, having checked the original myself. This helped Sezgin interpret the data on geographical coordinates that originally accompanied the Ma'munic map. Sezgin found the data preserved in the book Sûrat al-ard from the early ninth century, which has commonly, but mistakenly, been considered to be an original work of Abu Ja'far al-Khwârizmî. It is now thought to be a simple register of Ma'munic location data. TOPKAPI PALACE MUSEUM An Arabic world view: Ibn Fadlallah al-Umari's map from 1340 contains data from the eighth century. Sezgin argues that the collection of all these data necessitated new fieldwork and must have required a large group of observers, rather than being revisions by one hypothetical Syriac author of a Ptolemy translation, as Hans von Mzik had proposed. Sezgin's reconstruction of the Ma'munic map, put together using the only two preserved versions of its coordinate data, shows that the Ma'munic geographers had reverted to the earlier idea, proposed by the Greek scholar Eratosthenes, that the world consisted of inhabited land surrounded by the ocean, as opposed to Ptolemy's view in which oceans appeared as giant lakes. For example, the map shows the Arabic error of considering the Malaysian peninsula to be a vast elongation of southern China, but separated from Africa, as seen in al-Umari's map. An even older version of the map discovered by Joseph Needham corroborates Sezgin's reconstruction. Once the Ma'munic improvement on Ptolemy was correctly reconstructed, it led to a search for other geodetic improvements, both in methods and in results, by Islamic mathematical geographers and cartographers. Sezgin documents in great detail how the Ptolemaic 'long Mediterranean' was shortened almost to its length today by fixing the positions of Baghdad and Toledo; how the Caspian Sea gradually acquired its correct outlines; how, by a combination of dead reckoning and trigonometry, the Arabs managed to get to grips with longitude at sea; and finally, how the distance between Ghazna and Baghdad was measured with astonishing precision in the eleventh century using astronomical observations and spherical trigonometry. Sezgin then documents the influence of these achievements in Europe. A number of Western authors, including Marco Polo, Dante, the astronomer Johannes Kepler and the cartographer Nicolas Sanson, seem to have been informed by Arabic–Islamic geography.
Posted on 06-08-06 12:05 PM
Reply
[Subscribe]
Login in to Rate this Post: 0

?

sorry couldn't download bigger jpg file, limit is only 200 KB, dont' know how to make it appropriate. Please don't just discard, read this article if you are interested. You will be surprised!
Posted on 06-08-06 12:37 PM
Reply
[Subscribe]
Login in to Rate this Post: 0

?

I'm a reader of Sajha. I really liked this thread. I want to ask Birbhadra to stop writing against Vishintar. You can argue with him but can't say not to do or do things in your way. You think all the subjects of knowledge are different(that might be right in your level of thought) but they are related/ together in fact, because The source of knowledge is universe. You know science as a physical subject only, but sceience is knowledge. You will not understand science unless yo understand the philosophical side of science. Vishintar jee, SO,Which one Hindu or mushlim civilization elder?
Posted on 06-08-06 1:01 PM
Reply
[Subscribe]
Login in to Rate this Post: 0

?

don't write against vishontar? ke dictatorship ho? i have nothing against him in fact i used to like his postings until he started acting up all weird. and when the hell have i said that don't do this or that. i have only put my arguments. here is my bottomline Muslims = followers of mohammad who take Koran literally if muslims are the inverntors of science than koran must be scientific and mohammad must be scientist.. did you not read my post and what i said about einstein and newton. which is older re? islam only came about 1500 years ago or less. there were no muslims before that unles your definition of muslim is anybody who were fore fathers of todays muslims.
Posted on 06-08-06 2:12 PM
Reply
[Subscribe]
Login in to Rate this Post: 0

?

why does anybody ever argue with birbhadra??? i mean u know he is gonna win so...and he is always right abt everything he says cuz he only says it after he has done some research...unlike some ppl who just say whtever the crap that comes in their head...
Posted on 06-09-06 5:07 PM
Reply
[Subscribe]
Login in to Rate this Post: 0

?

Himalhimal Ji, Thank you so much for your wonderful words, I am so obliged. Very kind of you! Of course Hinduism is quite older the Islaam. Islam is quite new among the religions, however, its roots go back to Judiesm, which could be contemprory to Hinduism. Real Hinduism is completely different than Islam, Christanity and Judiesm. I will write more about this soon. Birbhadra Ji, Namaste! Hope everything is fine with you. I consider science as a fact which has practicle application. Muhammad was a social scientist, one of the greatest. He proposed a theory to make a better society, applied it and his theory worked great. If you think science is only a fact about materials, I have given you above example and read it nicely. At that time how advance mathematics they had! Find out which journal has published that article and what is the rank of the journal. I will just take positive part of your postings. Thanks for welcoming!
Login in to Rate this Post: 0

?

Vishontar bhai, mohammud was a psyco, child molestor and a freak i you consider him scientist that will be a huge slap on the face of all scientist
Login in to Rate this Post: 0

?

Gundaa stop being sarcastic ke
Posted on 06-09-06 5:30 PM
Reply
[Subscribe]
Login in to Rate this Post: 0

?

again assumptions about what i think you do not know me and know what i know simply assuming somebody elses knowledge is down right arrogance even though your posting implies otherwise
Posted on 06-09-06 5:55 PM
Reply
[Subscribe]
Login in to Rate this Post: 0

?

wha???? i wasnt being sarco...
Posted on 06-09-06 7:12 PM
Reply
[Subscribe]
Login in to Rate this Post: 0

?

hehe just kidding sweetheart
Posted on 06-09-06 8:13 PM
Reply
[Subscribe]
Login in to Rate this Post: 0

?

Vishontar, I want to make it clear that 'Arab' and 'Muslim' are not synonymous. FYI - A Muslim is a person who follows the precepts of Islam. 'Arab,' on the other hand, is an ethnicity; it refers to a person from the Arabian peninsula. >Real Hinduism is completely different than Islam, Christanity and Judiesm. I will write more about this soon. I will be waiting for your understanding of "real hinduism"! I am not interested to explore the differences between faiths however I am intrigued by their similarities! The discussion here is not about what the Arab civilization has to offer to the rest of the world, rather the topic is
Extremism in Islam
and lets not deviate from the main course, shall we!! Here are few 'great' verses from
your
holy Koran that preaches hatred to the core. May be you will find love, compassion and unprecedented social science in these teachings, I dont! Koran 2:89-90
The Curse of Allah is on those without faith (in Islam) Thus have they drawn wrath upon wrath on themselves and humiliating is the punishment of those who reject faith (Islam).
Koran 2:8-10
In their (Non-Muslims) hearts is a disease; and Allah has increased their disease and grievous is the penalty they will incur, because they are false.
Koran 5:33
The Punishment for those who oppose Allah and his messenger is : Execution or Crucifixion or the cutting off of hands and feet from opposite sides or exile from the land.
Koran 8:37
In order that Allah may separate the impure from the pure, put all the impure ones (Non-Muslims), one on top of the another in a heap and cast them into hell. They will be the ones to have lost.
Koran 8:50
If you could see when the angels take the souls of the unbelievers at death. How they strike their faces and backs saying "Taste the penalty of the blazing Fire"
Koran 9:35
On the day when heat will be produced out of the wealth in the fire of hell, and with it will be branded their foreheads, their sides and their backs- "This is the treasure that ye buried for yourselves, taste ye then the treasures that ye buried."
Koran 17:16-17
When we decide to destroy a population, we send a definite order to them who have the good things in life and yet transgress; so that Allah's word is proved true against them: then we destroy them utterly. How many generations have we destroyed after Noah? And enough is thy Lord to note and see the sins of his servants.
Koran 17:46-47
And we put coverings over their hearts and minds, lest they should understand the Koran, and we put deafness in their ears; when you commemorate your Lord (Allah) and Him alone in the Koran.
Koran 21:11
How many were the populations we utterly destroyed because of their inequities, setting up in their place other peoples
Koran 44:43-50
Verily the Tree of Zaqqum will be the food of the sinful. Like molten brass it will boil in their insides, Like the boiling of scalding water Seize Ye Him and drag him into the midst of the blazing Fire Then pour over his head the penalty of Boiling Water.
Koran 58:5
Those who resist Allah and His Messenger will be crumbled to dust, as were those before them: for we have already sent down Clear Signs and the Unbelievers will have a humiliating Penalty.