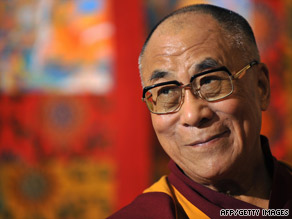 GNN, September 1, 2009. Xinhua News reports that early this morning his highness the Dalai Lama was arrested in Taiwan under direct orders from the Chinese government. In a brief statement released by the press secretariat of Taiwan, President Ma Ying-jeou earlier said that Taiwan has been under heavy influence of the Chinese government and had to allow the Chinese secret service to incertept the Dalai Lama's visit.
The Dalai Lama was en route to his favorite Tibetan restaurant in Taiwan, the Qomolangma. Earlier he had met with students at the First Taiwanese School, which was established by the 7th Dalai lama in 1978 during his trip to Taiwan. As he ended his speech in front of 679 students, he had mentioned that he was looking forward to trying out Moo Shoo Pork, since the past Lama is said to have referenced it's exquisite taste in his memoirs.
Barack O'bama was the first head of state to publicly denounce this arrest and called it 'anti democratic' and 'anti religious'. He has iterated that during his upcoming visit to China, he would get the Lama out of there through diplomatic means like Bill Clinton had done to release the two arrested journalists from Korea few weeks back.
Prayers are to be held in 27 different cities all over the world including Paris, Luxembourg, Bhaktapur, Patna, Agra, Lhasa and Dharmashala where he was to return in 3 days time to honor the visiting ex King of Nepal who was in a short visit to Delhi for a relatives wedding. the ex King declined to comment when reporter thrust their microphones at him while he was exiting from the men's room at Taj Hotel, New Delhi. The ex-king is rumored to have sent a SMS to his astrologer using Meromobile network - an unspecified source at Merobilie network revealed in the condition of anonymity.
Gaijatra News