Replies to this thread:
More by ejuram
What people are reading
Subscribers

[VIEWED 14236 TIMES]

SAVE!

for ease of future access.
Posted on 03-28-06 8:53 AM
Reply
[Subscribe]
Login in to Rate this Post: 0

?

Muslim who converted to Christianity released Agencies Kabul: An Afghan who faced the death penalty for converting to Christianity from Islam has been released from prison after the case against him was dropped. Abdul Rahman, 41, was freed from the high-security Policharki prison in Kabul on Monday night, after the United Nations announced he had appealed for asylum outside Afghanistan. Authorities said they were looking for a country willing to take him. Prosecutors appealing for Rahman's release said he was "mentally unfit to stand trial". It is believed Rahman may be sent overseas for medical treatment. Spokesman for the UN, Adrian Edwards, confirmed that Rahman asked for asylum outside Afghanistan. He said, "We expect this will be provided by one of the countries interested in a peaceful solution to the case. According to an official linked to the case no country has yet to offer asylum to Rahman. Hours before his release hundreds of people, including clerics and students, marched through northern Afghanistan chanting "Death to Christians", in protest of the decision to release Rahman. Senior Cleric Faiez Mohammad said, "Abdul Rahman must be killed. Islam demands it. The Christian foreigners occupying Afghanistan are attacking our religion." Some Muslim clerics threatened to encourage Afghans to kill Rahman if he was released, citing that he is guilty of apostasy and deserves to die.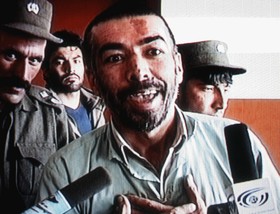 Posted on 03-28-06 8:56 AM
Reply
[Subscribe]
Login in to Rate this Post: 0

?

Actually I saw this Story over the T.V,Couppla Weeks Back And I was surprised to know That This Kinda thing's Still exists But I was realli touched by this guy,Infrontta the camera This guy was sayin somthin inAfgani.........And someone was translating it in english He was sayin "I blieve in trinity god and I am not afraid of death, Isnt it amazing?that gods' working through guys like Him ? Lets pray for him, I blieve that his testamony is gonna open those closed eye's and the doors of People's Heart. Amen, Eju.
---
Please Log in! to be able to reply! If you don't have a login, please register here.
Within last 90 days
Recommended Popular Threads
Controvertial Threads

What stocks to buy -- Any recommendation
Discussion forum for photography enthusiastic
What are your first memories of when Nepal Television Began?
मलाई ब्रेड खायो कि सारै पाद आउछ..
nepali kt pattaune idea.
sarai chada vaye keti haru
is Rato Bangala school cheating?
Sisnu ko Scientific ra English bolchalma ke bhanchan?
Conservative discussions
How many phones can I bring to Nepal ?
Who was the original singer of Asarai Mahinama
🙏 दलाल स्ट्रिट 🙏
The Facebook Surprise
The Great Himalayan Cable Car
Sajha Poll: Who is underwear ko avatar?
Nepal ma doctor ko halat!
Hydrogen Peroxide
yo sajha bros, anyone got any update on TPS?
5 questions to ask your friends who plan to get the Covid vaccine
सेक्सी कविता - पार्ट २

sarai chada vaye keti haru
नेपाल र अफगानिस्थानको टि पि एस रिडेजिकनेसन साथसाथै हने कुरो छ
is Rato Bangala school cheating?
NOTE: The opinions here represent the opinions of the individual posters, and not of Sajha.com. It is not possible for sajha.com to monitor all the postings, since sajha.com merely seeks to provide a cyber location for discussing ideas and concerns related to Nepal and the Nepalis. Please send an email to admin@sajha.com using a valid email address if you want any posting to be considered for deletion. Your request will be handled on a one to one basis. Sajha.com is a service please don't abuse it. - Thanks.