The Financial Times reports that UBS has agreed to buy Credit Suisse after increasing its offer to more than $2bn, with Swiss authorities poised to change the country's laws to bypass a shareholder vote on the transaction as they rush to finalize a deal before Monday.
The purchase price is a fraction of the $8 billion market cap the company was valued at on Friday's close; it means that UBS will now pay slightly more than CHF0.50 a share in its own stock, up from a bid of SFr0.25 earlier today, but far below Credit Suisse's closing price of CHF1.86 on Friday.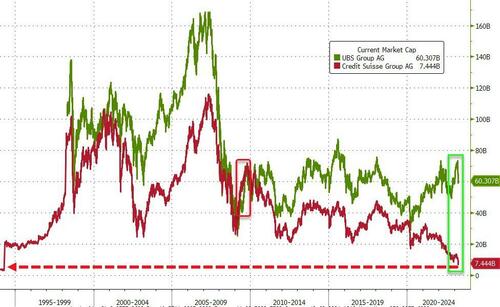 We also learn that UBS agreed to a softening of a material adverse change clause that would void the deal if its credit default spreads jump; it wasn't immediately clear if that entire clause was scrapped or if the CDS trigger was merely pulled wider.
UBS shareholders - who will not be consulted on the deal which will circumvent normal corporate governance rules by preventing a UBS shareholder vote - are angry. As FT notes, Vincent Kaufmann, chief executive of Ethos Foundation, which represents Swiss pension funds that own between 3% and 5% of Credit Suisse and UBS, told the Financial Times that the move to bypass a shareholder vote on the deal was poor corporate governance.
"I can't believe our members and UBS shareholders will be happy about this," he said. "I have never seen such measures taken; it shows how bad the situation is."
As a reminder, here is a list of the 40 biggest investors.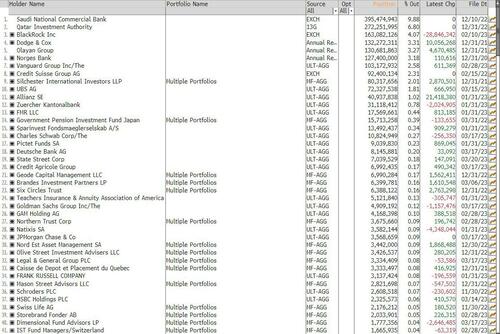 Finally, The Wall Street Journal reports that, in an effort to smooth the deal, the Swiss National Bank has offered UBS a whopping $100 billion in liquidity to help it take on Credit Suisse's operations,
In other words, the Swiss government has extended a liquidity line equal to ~$11.5MM on a per capita basis: said otherwise, every family of 4 is backstopping almost $50MM in UBS assets.
Using UBS to save Credit Suisse marks a turnaround from nearly 15 years ago, when Switzerland bailed out UBS after it got stuck with billions of toxic assets in its U.S. business. Credit Suisse declined state aid at the time and emerged from the crisis in stronger shape.