[VIEWED 5406 TIMES]

SAVE!

for ease of future access.
Posted on 05-14-11 10:28 PM
Reply
[Subscribe]
Login in to Rate this Post: 0

?

Posted on 05-15-11 12:16 AM
[Snapshot: 105]
Reply
[Subscribe]
Login in to Rate this Post: 1

?

Liked by
and look how WWF- Nepal (established by Chandra Gurung) mostly give jobs to their own relatives and friends only... there are more gurungs without any proper background in key positions..
Posted on 05-15-11 12:31 AM
[Snapshot: 129]
Reply
[Subscribe]
Login in to Rate this Post: 0

?

I personally like Chandra Gurung, and may be this account is true.
But what I don't believe in this account is Manjushree's assertion that Gyanendra sought publicity.[charchama aauna chahanthe]. Gyanendra may have hundreds of baigun, he has many flaw, but trying to be in limelight is not one of those. He was quite reclusive.
Posted on 05-15-11 12:35 AM
[Snapshot: 137]
Reply
[Subscribe]
Login in to Rate this Post: 0

?

Nepal ma chakari garna khojne haru le charcha ma lyai halchan power ma bhako jaslai pani.. I know a few people, who started publishing magazines just to praise the Royals when Gyanendra was in power. The motive was to get money and be able to make some connections in the Royal Family.
Posted on 05-15-11 4:57 AM
[Snapshot: 249]
Reply
[Subscribe]
Login in to Rate this Post: 0

?

thE only prob with gyane was he didnt realize he was in diff time than was used to be of his father;
From 2040 to 60 there were almost 40-50 lakhs teen generation added and was another 30-40 lakhs new generation who was teen at 40's.
New generation , new thought, old ppl, old thoght , collapse gyane
Posted on 05-15-11 7:08 AM
[Snapshot: 315]
Reply
[Subscribe]
Login in to Rate this Post: 0

?

त्यो Jatho कुलङघार को पनि चित्त होलi र ?
Posted on 05-15-11 9:10 AM
[Snapshot: 408]
Reply
[Subscribe]
Login in to Rate this Post: 1

?

Liked by
Look who are talking here, whose both gurng and thapa would have been nothing but a kira makauda without the blessing of royal family. On top of that, ms thapa failed to understand... but tell me who is better- Gyanedra or Girija?? and whatis the status of ACAP now??? You can dramatize and sensenationlize the issue to get your story sold to the idots but you yourself is nothing but an idiot- you like to sell your story to elites by villyfying royals but ask your dad without their blessing you would not have got into St. Mary's to Fullbright!
Where were you people when gyanendra was in power? you mis ops thapa at least should have written this piece to NY TIMES back then no, ?coward oppurtunist!
Last edited: 15-May-11 09:12 AM
Posted on 05-15-11 10:31 AM
[Snapshot: 482]
Reply
[Subscribe]
Login in to Rate this Post: 0

?

I don't know any of the characters, but Gyane has proved to be incompetent. The blame goes to Gyane for the status of Lumini and Pashupati Development Trust. Because of Gyane, Lumbini couldn't have been developed. Finally, the donors took the responsibility in their own hands and decided to build their own temples, and hence the present state of Lumbini. Many more people (domestic) are visiting Lumbini than ever before. Regarding the environmental trusts, there was a news few years ago that Paras was misusing the funds and taking many laptops and cars from the fund of the environmental trust. So the royals were not and never are any better than the current corrupted politicans.
There is no need to compare Gyane with Girija; it's not going to make him look any better. Please try to prove your case without name calling if you don't want to prove yourself to be the one you're calling others for.
Posted on 05-15-11 11:05 AM
[Snapshot: 523]
Reply
[Subscribe]
Login in to Rate this Post: 1

?

Liked by
Mr. Gyandendra Shah appointed mr Basanta Chaudhary in pashupati development trust. What mr. chaudhary did the improve the area NO NEED to explain.
Lumbini Bikash Kosh- Kenzo Tange famous Japanese architect/planner planned Lumbini, thanks to vision of King Mahendra, and continue effort of the birendra/gyanendra. Later Institute of Engineering professors did renovation job-again under the kings rule..rusult is there to see.
Who initiatied to establish mahendra prakti samrakchyan, lumbini, is no hidden fact. Paras, even little kido contributed a lot to resolve many issues of CHIDIYAKHANA.
People who see things from political eye, won't be able to see the real contribution.
All the kosh have become akhada of tashkar now- see how many Gainda were killed, how many tonnes of Rakta Chandan were smuggled after king is gone- Open your eyes Ms. Thapa and her followers.
Posted on 05-15-11 1:21 PM
[Snapshot: 664]
Reply
[Subscribe]
Login in to Rate this Post: 0

?

The one with the tainted glass sees everyone as tainted. Just because you're a blind follower of Gyane and chamchas gang doesn't make everyone the blind follower. FYI, this is the first piece I've ever read of Ms. Thapa.
So, are you trying to give all the credits for the present development in Lumbini to Mahendra? If he was the one who should be given the credit, then he failed miserably because it took 40+ years to complete the project. I don't know much about the pashupati development, but I believe royals and anti-buddhist groups are responsible for making all the projects in lumbini fail deliberately. Regarding Chidiyakhana, I had read someoneelse's name for the leadership roles in newspapers.
Posted on 05-15-11 1:26 PM
[Snapshot: 674]
Reply
[Subscribe]
Login in to Rate this Post: 0

?

Shantipriya you are rite.
Posted on 05-15-11 2:45 PM
[Snapshot: 747]
Reply
[Subscribe]
Login in to Rate this Post: 0

?

mr arhat, you not only do not about pashupati, but also do not know about rest of thing including lumbini. why it took 40 years do you know if you do not then do not put any words " suneko bharma"..
about being follower, all these "kosh" are now like our "country"-ask any sane person when was these better now or then?tainted glass is your property!!
Posted on 05-15-11 2:55 PM
[Snapshot: 757]
Reply
[Subscribe]
Login in to Rate this Post: 0

?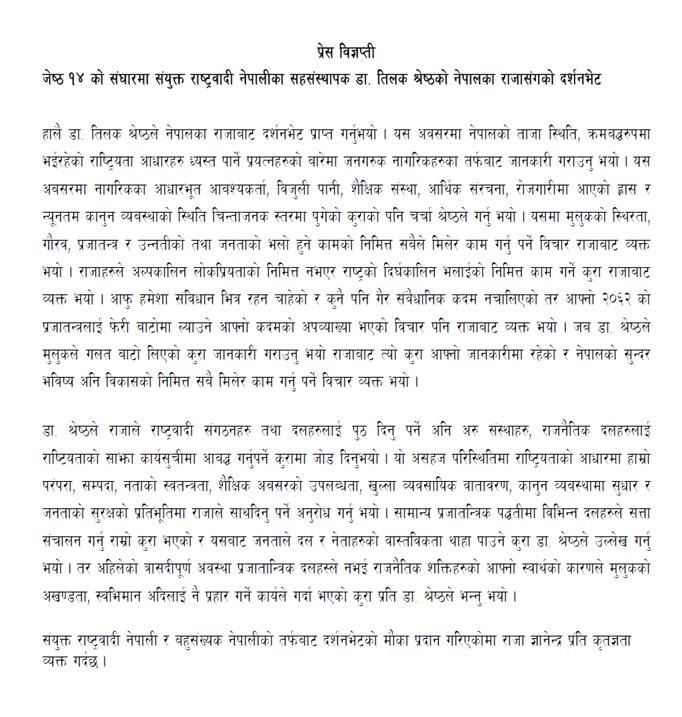 Posted on 05-15-11 4:52 PM
[Snapshot: 836]
Reply
[Subscribe]
Login in to Rate this Post: 0

?

What all I know and remember is Buddhist community blaming Royals for less development in Lumbini region.
You definitely know the most about everything involving ROYALS, so I've no more to say about the owner of the tainted glass.
I admit not knowing much about the development in Lumbini as well. I wish royals were behind the development, but from my own very limited experience within Buddhist community have given me the impression of Royals having the least interests for participating in any of Buddhist events. Despite not having the busy schedule, royals refuse to participate in the buddhist events unless they themselves were being felicitated.
Posted on 05-15-11 6:11 PM
[Snapshot: 879]
Reply
[Subscribe]
Login in to Rate this Post: 0

?

arhat! if you are buddhist of ktm -then aksed your parents- what " samyak puja" is being conducted. where is this idea coming from i do not know but i never heard buddhist community blaming king-
Bottom point is, if you are " sampradaik" then except your cast you will never be satisfied with anyone! if you want to have newa pradesh-then newa pradesh will be just too tiny little landlocked pradesh which will be surrounded by tamsaling, and others.- tomorrow you will blame tamang and madesh terai for everything, like you are blaming king for non development. King has gone for 5 years who has stopped you to develop your religion or your gaun tole...??
since you admitted you are less knowledgable in development thoery- i asked you to read more and learn more. Since you read majushree thapa first time- let me tell you " she is a daughter of veteran royalist bhekh bdr. thapa-thanks to her father's position she got good education in US, I guess fulbright as well". she never spent her young life in nepal nor did she struggle so her perception and analysis is more superficial than yours!! will she ever write even in a wildest dream that whatever she is today is because of king mahendra and birendra..never! hypocrites liberals like her help divide the country not unite!
Posted on 05-15-11 8:35 PM
[Snapshot: 963]
Reply
[Subscribe]
Login in to Rate this Post: 0

?

Just becasue someone likes or is grateful to King Mahendra and King Birendra it should not automatically make them appreciate or be grateful to Gyanendra and Paras. Its amazing to see the arguments presented by the royalists. Here are some of the popular lines perception heard from sajha royalists.
1. People should like Gyanendra not becasue of his capabilities but he is less evil than Prachanda
2. People should accept Gyanendra as a king because democracy has failed in Nepal.
3. Birendra and Mahendra were good so Gyanendra and Paras are good as well.
Just becasue Manjushree's father worked for Birendra or Mahendra and was "grateful" to them, is Manjushree also required to agree and think higly of Gyanendra and Paras? Isin't that what "samanta baad" is about???
If i was a royalist, i would focus more about how Gyanendra/Monarchy is best for Nepal and Nepali people than making a stupid comparison such as "Prachanda is more evil" and "Democracy has failed" excuses.