[VIEWED 6405 TIMES]

SAVE!

for ease of future access.
The postings in this thread span 3 pages,
go to PAGE 1
.
This page is only showing last 20 replies
Posted on 05-23-21 8:55 AM
Reply
[Subscribe]
Login in to Rate this Post: 1

?

Liked by
People may agree or disagree with these questions. They are merely their opinions just like this article is the opinion of the author https://off-guardian.org/2021/02/15/5-questions-to-ask-your-friends-who-plan-to-get-the-covid-vaccine/
------------------------------------
Many of us have friends or family who plan on getting the vaccine. Maybe they truly believe they are in danger. Maybe they think it's better safe than sorry. Maybe they just want to be able to go to the pub again.
If you know someone who is planning on getting vaccinated against Covid19, ask them these five questions. Make sure they understand exactly what they're asking for.
1. DID YOU KNOW THAT WE HAVE NEVER SUCCESSFULLY VACCINATED AGAINST ANY CORONAVIRUS?
No successful vaccine against a coronavirus has ever been developed.
Scientists have been trying to develop a SARS and MERS vaccine for years, with nothing to show for it. In fact, some of the failed SARS vaccines actually caused hypersensitivity to the SARS virus. Meaning that vaccinated mice could potentially get the disease more severely than unvaccinated mice.
2. DID YOU KNOW IT USUALLY TAKES 5-10 YEARS TO FULLY DEVELOP A VACCINE?
Vaccine development is a slow, laborious process. Usually, from development through testing and finally being approved for public use takes many years. The various vaccines for Covid have all been developed and approved in less than a year.
While the media are quick to offer a TON of "explainer" guides, which cite "foresight, hard work and luck" as the reasons we got a Covid vaccine so quickly "without cutting corners", they all leave out key information.
Namely, that none of the vaccines have yet been subject to proper trials. Many of them skipped early-stage trials entirely, and the late stage human trials have either not been peer reviewed, have not released their data, will not finish until 2023 or were abandoned after "severe adverse effects".
3. DID YOU KNOW THAT THE COVID "VACCINE" IS BASED ON NEW TECHNOLOGY, WHICH HAS NEVER BEEN APPROVED FOR USE ON HUMANS BEFORE?
While traditional vaccines work by exposing the body to a weakened strain of the microorganism responsible for causing the disease, these new Covid vaccines are mRNA vaccines.
mRNA (messenger ribonucleic acid) vaccines theoretically work by injecting viral mRNA into the body, where it replicates inside your cells and encourages your body to recognise, and make antigens for, the "spike proteins" of the virus. They have been the subject of research since the 1990s, but before 2020 no mRNA vaccine was ever approved for use.
4. DID YOU KNOW THAT THE PHARMACEUTICAL COMPANIES CAN'T BE SUED IF THE VACCINE HURTS OR KILLS SOMEONE?
Back in the Spring of 2020 many governments around the world granted vaccine manufacturers immunity to civil liability, either by invoking existing legislation or writing new laws.
The USA's Public Readiness and Emergency Preparedness Act (PREP) grants immunity until at least 2024.
The EU's product licensing law does the same, and there are reports of confidential liability clauses in the contracts the EU signed with vaccine manufacturers.
The UK went even further, granting permanent legal indemnity to the government, and any employees thereof, for any harm done when a patient is being treated for Covid19 or "suspected Covid19".
5. DID YOU KNOW 99.8% OF PEOPLE SURVIVE COVID19?
The case-fatality ratio of Sars-Cov-2 infection has been a bone of contention for months, but it is certainly much lower than all the initial models predicted.
It was originally massively inflated, with the WHO using a figure of 3.4%.
Subsequent studies have found it to be much lower, in some cases even lower than 0.1%. A report published in October in the WHO's own research bulletin finding a CFR of 0.23% "or possibly considerably lower".
Meaning, even according to the WHO, at least 99.77% of people infected with the virus will survive.
*
Ask your friends these questions. Give them detailed answers.
It is a rushed and untested vaccine, made using unprecedented technology, with no legal recourse should it do you harm, to treat a virus 99.8% of people will survive.
So the question that really matters is: Do you really want, or need, to take that risk?
The postings in this thread span 3 pages,
go to PAGE 1
.
This page is only showing last 20 replies
Posted on 05-25-21 3:13 PM
[Snapshot: 1150]
Reply
[Subscribe]
Login in to Rate this Post: 0

?

@aksshre & @wegalzrock
I will limit myself to one thread. Thanks for your positive feedback.
@bbmb
You are free to embrace the current Emergency Use Authorization vaccines, which have not gone through rigorous FDA approval process. I don't blame you or question your decision but at the same time I am free to ask the difficult questions or at least share them. Let's end at that because I think we have said everything that needs to be said from our own side. None of which are wrong I think.
Have a great day. I have a busy schedule today

Posted on 05-25-21 3:36 PM
[Snapshot: 1156]
Reply
[Subscribe]
Login in to Rate this Post: 0

?

Ya,
LET'S END THIS WHOLE THING NOW
. We know where you stands and there has been enough of the discussions for and against the vaccine. Sajha users are educated enough to look out for the information regarding the vaccine safety and efficacy. You don't have to make a new post of vaccine in the future when almost everyone knows where you stand. Adios
Posted on 05-25-21 3:42 PM
[Snapshot: 1165]
Reply
[Subscribe]
Login in to Rate this Post: 0

?

bbmb,
" You don't have to make a new post of vaccine in the future"
I think you are getting a little bit ahead of yourself there.
Obviously if something new shareworthy comes I will share it. But it's just not worth discussing the same thing with you over and over again.
Posted on 05-25-21 3:53 PM
[Snapshot: 1169]
Reply
[Subscribe]
Login in to Rate this Post: 0

?

I don't know what is shareworthy for you because you have been sharing all sorts of posts against the vaccine. But if there is something that is worth of discussion, sure go ahead. I will look forward to put my input in there. Looking forward to discussion worthy topic from you.
Yeah, it's just not worth discussing the same things with you over and over again.
Posted on 05-25-21 3:59 PM
[Snapshot: 1179]
Reply
[Subscribe]
Login in to Rate this Post: 0

?

Yes you definitely would not know what I would think is shareworthy. That's because you are not me LOL.
In any case it's probably better to stop arguing about the same stuff. Sajha gives this awesome tool to thread originators to delete responses. Please excuse me if I start deleting same kind of responses because it begins to get boring.
Posted on 05-25-21 4:17 PM
[Snapshot: 1193]
Reply
[Subscribe]
Login in to Rate this Post: 0

?

I am aware of that awesome tool. and I support the idea that it does not make any sense to repeat the same thing. You and I know where things head to.
"Insanity is the doing the same thing over and over again and expecting different results".
Posted on 05-25-21 4:48 PM
[Snapshot: 1205]
Reply
[Subscribe]
Login in to Rate this Post: 0

?

Wegalzrock
" But just let others get it if they want to."
You are saying it like I am forcefully holding back people who want to get vaccinated. That's not true at all. I have not encouraged nor discouraged anyone. I ask questions which makes one think. At least those that make me think and I think it's okay to ask questions unless we are living in a communist country where we are simply ordered to obey the dictates of the ruling class who are influenced heavily by corporations and their investors.
Posted on 05-27-21 10:57 AM
[Snapshot: 1543]
Reply
[Subscribe]
Login in to Rate this Post: 0

?

@Rockey sorry I was just kidding. I saw your cool videos so could not resist.
Posted on 05-27-21 11:03 AM
[Snapshot: 1552]
Reply
[Subscribe]
Login in to Rate this Post: 0

?

p14nd3m1c, what do you think about the new press release by Joe Biden to investigate if Corona was man made. Facebook and twitter used to ban any comments that said corona was man made now they are changing their rules.
Posted on 05-27-21 12:12 PM
[Snapshot: 1579]
Reply
[Subscribe]
Login in to Rate this Post: 0

?

Dorje Tsering no worries brother. Hope you like my videos 🤣🤣🤣
Posted on 05-27-21 1:56 PM
[Snapshot: 1618]
Reply
[Subscribe]
Login in to Rate this Post: 0

?

My heard rate increased and felt heart palpitation after 1st shot of Maderno, it took 2 months go get to normal. so I skipped 2nd vaccine.
Posted on 05-27-21 10:15 PM
[Snapshot: 1700]
Reply
[Subscribe]
Login in to Rate this Post: 0

?

@p14nd3m1c you sound like you are not very fond of vaccines and that's okay. Yes you are allowed to ask questions. But try and limit all your questions. Please don't try and spam the first page of sajha with your questions.
@nepalikaila tait moderna launa parne Maderno layepacchi problems ta aaihalcha ni. Jokes aside, I hope you went to see the doctor.
Posted on 05-28-21 8:53 AM
[Snapshot: 1806]
Reply
[Subscribe]
Login in to Rate this Post: 0

?

@nepalikaila
My friend. You are the reason I post all these things. The vaccine is not approved by the FDA but the vaccine industry is very powerful, they are using their $$$ to exert power onto law makers and media to promote the vaccine to make billions in profit.
The vaccine may not be dangerous but still the fact that it's being forced onto the general population through propaganda is very concerning. It may not be dangerous but there are many individuals like yourself who go through vaccine injury or negative side effect.
You are the kind of person that the media loving brainwashed population would hate because your story does not resonate with the propaganda. Many people who are speaking against my concerns or who have lashed upon me like religious fanatics would hate you because they are not ready to even acknowledge that there are people who have suffered wrongly and even met with death because of this unapproved vaccine. Emergency Use Authorization is not approval as many people have trouble understanding. Many people here have so much faith in this vaccine that they probably think that I am using another username here. That is the extent of their faith in this vaccine religion.
It's good that you did not take the second vaccine after the first one resulted in unwanted complications. The way these vaccines and virus work is that once you are infected your body builds antibodies to fight it. The vaccine is actually dead cells of virus injected into your body so your body can create antibodies to fight it. The vaccine industry wants to give 2, 3 vaccines or even yearly vaccines so they can make profit out of it. The fact is that many people most likely have already been exposed to covid without any symptoms and have already built immunity to it. The rise of new strains have also been attributed as the side effect of the vaccines as the vaccinated people who are using the emergency use vaccine may be causing different mutations of the virus.
The corona virus is differnt from anything this world has ever seen. The symptoms are varied so much and different people are affected differently. It almost seems like a synthetic virus because of it's behavior. Previously it was almost illegal to even imply that the corona virus was man made. Facebook and Twitter and all media used to ban anything or anyone implying that corona was man made. Now that finally they have scared the world into getting the vaccine they are allowing people to debate about it. After all it's a divide and conquer strategy that allows the colluded politics and corporations to keep churning money for themselves at the expense of the general public, whose lives are expendable.
Anyway you are not alone. https://media.greatawakening.win/post/8ICfycfz.jpeg
@wegalzrock
You may have noticed but I stopped posting multiple threads on sajha homepage after you said it.
He must be talking about Gates and Fauci
Last edited: 28-May-21 11:13 AM
Last edited: 28-May-21 11:28 AM
Posted on 05-28-21 11:36 AM
[Snapshot: 1871]
Reply
[Subscribe]
Login in to Rate this Post: 0

?

He must be talking about Gates and Fauci
Bill Gates Sr and Fauci, Soros, Rockefeller
Last edited: 28-May-21 11:37 AM
Last edited: 28-May-21 02:11 PM
Posted on 05-28-21 3:34 PM
[Snapshot: 1940]
Reply
[Subscribe]
Login in to Rate this Post: 0

?

Not here to argue with pandemic too much but I seriously question his ability to do research, as his findings are explicitly from sources that either has no credibility, or is extremely biased. Following are some findings about the sources that pandemic uses for his research.
# Citation of inappropriate sources
The Columbia Journalism Review (CJR) is a magazine for professional journalists that has been published by the Columbia University Graduate School of Journalism since 1961. CJR has compiled a list of websites that are identified as fake-news, clickbait, and hate sites.
Fake news list:
Below are some of the sites that are identified by CJR as conspiracy, clickbait, bias and hate sites. Interestingly our friend "pandemic" seems to be utilizing these questionable sources to conduct his "RESEARCH".
off-guardian.org
humansarefree.com
theblaze.com
# False claim regarding SM-102
Pandemic posted an article which falsely targeted Moderna vaccine ingredient SM-102 as unsafe. This claim has been fact-checked by AP news. Refer to the link below to read about SM-102
https://apnews.com/article/fact-checking-339133801807
# Posting videos of Journalist with the history of covering conspiracy theories.
Ben Swann.
"Swann created a news segment called Reality Check in association with Fox 19 in Cincinnati and CBS46 in Atlanta, in which he covered "issues other media is not looking at" and uncritically presented alt-right conspiracy theories. Swann reported on conspiracy theories about the 2012 Aurora, Colorado shooting, questioned the truth of the Sandy Hook Elementary School shooting, presented 9/11 conspiracy theories, and the false claims of a cover-up by the CDC of data related to the MMR vaccine and autism."
https://en.wikipedia.org/wiki/Ben_Swann
Posted on 05-28-21 3:36 PM
[Snapshot: 1946]
Reply
[Subscribe]
Login in to Rate this Post: 0

?

I'm just going to leave this here.......
Posted on 05-28-21 4:03 PM
[Snapshot: 1956]
Reply
[Subscribe]
Login in to Rate this Post: 0

?

Rockey it's not surprising that you keep re-repeating conspiracy conspiracy it's getting a bit repetitive but anyways, here's what I have to say.
Thesedays the corporations and the profiting collaborators in politics use the term conspiracy so loosely yet the people like you who are conditioned to obey, comply and act fanatic in your beliefs will never be able embrace common sense as opposed to fanaticism.
Let's take for example the recent developments which have caused people to believe that the covid vaccine is man made. Even Biden now is spending public money to investigate it. Do you remember a year ago, social media and mainstream media were actively blocking any questions that asked if Covid was man made. Facebook blocked many posts and even people who were spreading the conspiracy that covid was man made.
Yet in such a short time the whole narrative is turning against fanatic believers when mainstream media changes their stance and now says "oh it's not a conspiracy anymore, it's possible that covid was released accidentally from wuhan lab"
This is only one recent conspiracy that blew up in your face. There have been a lot more in the past.
Secondly, SM-102. This was something that Jogest had posted. I urge you to at least read who said what before you accuse someone of saying something they didn't.
Thirdly, about history of journalists. It's possible that they came up with all sorts of things during their lifetime. When I share ONE story from a journalist, I am sharing that one piece of article. Many times mainstream journalism try to throw people under the rug if they do not parrot the mainstream narrative. But as a sensible and logical person you have to look at the point that is being made and try to see if the point is accurate or not. So if you have any points to make about that Ben Swann video I shared, be sure to mention it.
Even you may have lied at some point in time but that does not mean that you may not say the truth at other times. So you have to consider the point that is being made instead of falling for the media brainwashing that will try to turn you into a closed minded person who will obey and comply.
Last edited: 28-May-21 04:04 PM
Posted on 05-29-21 7:08 AM
[Snapshot: 2066]
Reply
[Subscribe]
Login in to Rate this Post: 1

?

Liked by
The hypocrisy is unreal!!
The hypocrisy lies in the blind supporters of pharma/vaccine/media corporations who are in a rush to dismiss such reporters who have not harmed anyone yet risked their carrier to go against the powerful cartel; but these blind supporters are so ready to defend and promote the vaccine manufacturers like pfizer who have paid 5 billion dollars in wrongful death and injury due to their products.
The level of hypocrisy is unbelievable. Imagine trying to dismiss 2 Emmy award winning journalist like Ben Swann because he may have reported different narratives from different eyewitness in his investigative reporting, that differs from the official narratives. While at the same time promotion and defending vaccines from companies like pfizer who have been sued multiple times for wrongful death and injury and who have been found guilty and fined to the amount of 5 billion dollars.
Unreal!!
Last edited: 29-May-21 07:10 AM
Last edited: 29-May-21 07:19 AM
Posted on 05-29-21 9:14 AM
[Snapshot: 2106]
Reply
[Subscribe]
Login in to Rate this Post: 1

?

Liked by
You have to keep believing in SUBJECT MATTER EXPERTS. Was it 40 years of experience in virology that makes him sing to different tune in less than a year?
What Dr. Fauci said in 2020
The NIAID director dismissed the Wuhan lab leak theory in a National Geographic interview in May 2020. He told the magazine that it was a "circular argument" and argued that scientific evidence pointed away from the idea. "If you look at the evolution of the virus in bats and what's out there now, [the scientific evidence] is very, very strongly leaning toward this could not have been artificially or deliberately manipulated," he reportedly told National Geographic. He added that "everything about the stepwise evolution over time" strongly indicated that the virus evolved in nature to its present form.
What Dr. Fauci said recently
Dr. Fauci told the Poynter Institute on May 11 that he was "not convinced" that COVID-19 had developed naturally, and said authorities needed to continue to find out "exactly what happened." "Certainly, the people who've investigated have said it likely was the emergence from an animal reservoir that then infected individuals," he said. "But, it could have been something else, and we need to find that out." Speaking to reporters at a Tuesday press briefing, he said that it was "more likely" that COVID-19 originated as a "natural occurrence," but said the scientific community didn't know "100 percent the answer to that."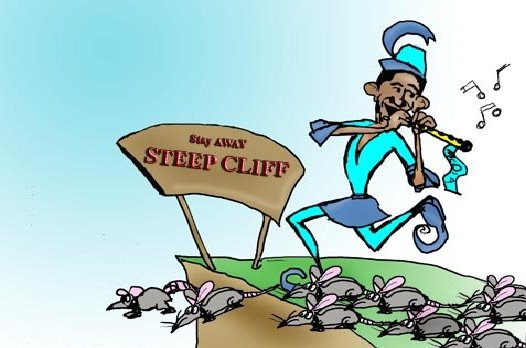 Blind belief in 'subject matter experts' may be injurious to health
Last edited: 29-May-21 09:14 AM
Posted on 05-30-21 1:54 PM
[Snapshot: 2295]
Reply
[Subscribe]
Login in to Rate this Post: 0

?

Haha your logic is on point!