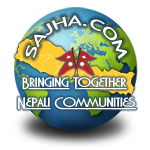 Posted by:
click
February 18, 2011
hi,,since you all have given your serious comment on this video, but i don't think you need to be that serious or nosey abt it.
it's not bollywood movie where u see a beautiful ending.here is our nepali guy trying to do something different then that of any twaatey type of acting.he sure must have been inspired from this movie BOW FINGER where Eddie murphy has played a charecter just like him.

http://www.youtube.com/watch?v=x-xjxyQkzMY&feature=related

and the last act was inspired by jim carrey. the man...