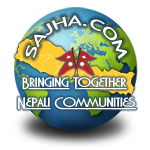 Here are a few Nepali Myths that I am aware of. Lets discuss if they are actually myths or reality.
If you know more myths, please share.
MYTH 1: When someone dies, the family should not eat salt for at least 13 days.
MYTH 2: When a husband dies, the wife should not wear red her entire life.
MYTH 3: You should not whistle inside the house.
MYTH 4: When you bump your head against someone else's head, you need to bump once more.
MYTH 4: If you touch someone's neck, you need to blow your hand.
MYTH 5: Three people should not leave their home for an over night stay at different location on the same day.
MYTH 6: It is a bad omen to sneeze when someone is leaving the house to go out.
MYTH 7: Green pepper (AKA green chilly) should not be given to someone hand to hand: Results in a conflict/conflict.
MYTH 8: You should not write on the floor with a burnt-out coal.
MYTH 9: Sacrificing animals will please certain Gods and Deities.
MYTH 10: You HAVE to visit certain shrines and temples once you say you will.
MYTH 11: Seeing an empty vessel while leaving your home is a sign of bad luck.
MYTH 12: Cow urine/dung is very pure and is good for consumption.
MYTH 13: Cold (AKA Rhino Virus) is caused by cold weather.
MYTH 14: You should not take a shower or eat sower/spicy food when you have cough/cold.
MYTH 15: Rice is the most staple food-- full of vital nutrition needed for your body.
MYTH 16: You will be visited by a guest(s) when you hear a crow "tweet" at night.
MYTH 17: You should not pray to god or visit a temple when you are having a period.
MYTH 18: Putting Mascara (gaajal) on a baby's eye is good for his/her sight.
MYTH 19: Putting oil in baby's ears is good for his/her hearing.
MYTH 20: Your destiny is written on the palm of your hand and certain people can read it and predict your future.
MYTH 21: Unusual and deformed animals and humans (at birth) are reincarnation of God.
MYTH 22: Pulling "Machendra's chariot" will help get rain in the monsoon season.
MYTH 23: Being fat is a sign is being healthy.
MYTH 24: You should clean your hand/utensils with mud or ash in the absence of soap.
MYTH 25: Memorizing is the best way to get education.
Last edited: 18-Jan-11 05:49 PM
Last edited: 18-Jan-11 05:50 PM
Last edited: 18-Jan-11 07:28 PM