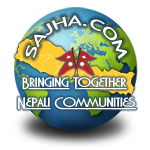 Posted by:
8848m
February 28, 2010
LOL,
Please Donot say and try to mess anything with DC NEPAL nepali's no.1 website..and any other.
TALAI JAN..., Tele serial man pardaina , news man pardaina ani , yaha ko nango naach maan parchha hola ni,. tyahi bhayera nepal, nepali ani nepali pan ko serial, news ani yesto kaam ko kunai kadar gardaina... tero nayapan- chadapan ani.. modern bhanera nango naach nachna ra nachauna mildaina yaha sajha ma.
Sajha.com, Dcnepal, Mysansar, Cybersansar, nepali[Disallowed String for - use of word not allowed].tk, all them websites have different intentions and contents. Fine_tune, i am guessing u are administrator of dcnepal and and you are trying to prove dcnepal is best. First thing, its not new that administrators of different websites are trying to win the race for users and traffic. Instead, of talking shiatt of other websites, do good for your own website so that users,not administrator will say, hey listen dcnepal is good website. U are racing for being best, probably financial cause, but coming here in sajha, talking shiatt about sajha, nobody will click your website and make you richer. U are the one who have to make changes, make your website fun place, make users comfortable, flow of information, news etc. From the day, somebody posted a video from dc nepal, showing normal citizens personal life at parks, i never use that website neither i recommend to anyone. and trust me your comments on top are making you and your website wrost. THis is not proper way to approach users of the websites, i know sajha is not yours, but would you give same kinda comments in dcnepal, say same thing to a user, don't try to talk about dcnepal, dont point finger, common i am not scared of you, you are barking because ur identity is hidden biatch. As, i said users upload stuffs, and its a public forum, i dont know if you understand what is public forum, nevermind, and here is diclaimer from sajha,
Your submission of this posting is an acknowledgement that you have read and agree to the contents of the Disclaimer.
Photo disclaimer
Please read the following disclaimer carefully before uploading any photos to the web site.
By uploading photographs to sajha.com, I certify that I own the photograph or have the right to use and publish it. I understand that sajha.com reserves the right to reject any photograph
The photos and contents are sole responsible of users not the administrator, so, discussing on this matter will take nowhere. I can only make people understand when people try to , if they just ignore facts and shout louder and make things right, its you. Bhir ma janne goru lai ram ram bhanna sakincha tara kandha halna sakinna.
IF you wanna make ur website much better site to visit, appreciate the complains and compliments, because you can click your website all day long, but others will not. and trust me, i am gonna say to ten people, ten gonna say to hundred, and thats how information will flow.
Again, i have been using sajha, its like a home to me, i check sajha everday, comment on some, while watch drama in many others, help if i know something, otherwise enjoy the pics. And the thing i cannot understand is YOU are stuck in those photos, those are photos of models not personal, those models are not showing body only in sajha, they are naked already in some other websites like cybersansar, enasha,etc. I am happy that i was also able to explore the beauty of them in sajha. If users had not posted those pic, i would never known their beauty. IF you really wanna do something good for people and society, try to find those models and tell them not to show their boobs and asses or do something good for the country, make educational videos, show go things done in society, help for old and orphans, opening of health care or school, not people focking in park, its their personal life.
Its boring but hope it helped you to improve someway.