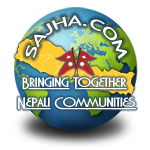 Raja Harischandra Ji,
I am really really enjoying your writing. It reminds me everything about my childhood. That's the way how I was grown up too (at least 90% applied to me). I don't write it but I am realizing the thoughts of the article and each and every typical Nepali words that we use especially in western region mainly PKR surroundings.
I would love to read it more. In fact you can compile it and make a collection. I bet you would be a good writer. Keep it up.
Sorry for English comment.