More by black_panther
What people are reading
Subscribers

[VIEWED 760 TIMES]

SAVE!

for ease of future access.
Posted on 11-03-10 9:18 PM
Reply
[Subscribe]
Login in to Rate this Post: 0

?

- Hmm, wonder Y there R massive break-ups right around Spring Break ... ??
- Y-axis = Break-up Frequency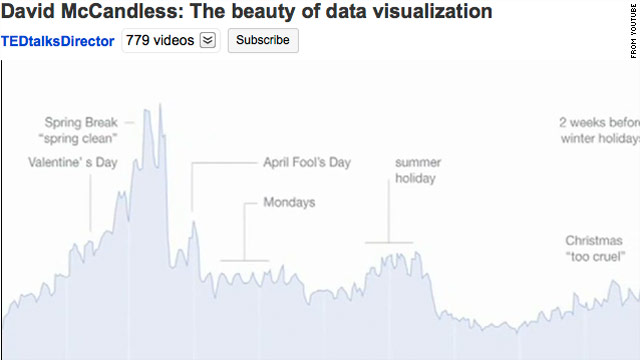 If you're looking to predict just when your relationship is going to end, David McCandless has a way for you to do just that, using a chart he debuted at the TED conference in Oxford, England. McCandless and a team of researchers poured over 10,000 Facebook status updates, searching for the phrases "breakup" or "broken up," and compiled a chart detailing when your relationship is most likely to end publicly. According to Facebook status updates, you're most likely to be dumped after Valentine's Day, before Spring Break, two weeks before Christmas, and randomly, April Fools Day.
Why those days? Well, spring break is a time to party. Valentine's Day is a day in which a lot of couples end up calling things off as they can't stomach another fake-romantic evening together. Christmas is to avoid buying presents. As for April Fools Day, your guess is as good as mine. A sick joke, perhaps?
Last edited: 03-Nov-10 09:31 PM
---
Please Log in! to be able to reply! If you don't have a login, please register here.
Within last 200 days
Recommended Popular Threads
Controvertial Threads

TRUMP 2016!!! Here is why?
How long does it take to get I485 approved?
कोमल ओलि र धिरेन्द्र बिचको अफेयर
Anyone renewed their passport through DC embassy lately?
Wedding Costs in Nepal ? Party, Band Baaja !!!!???
~चौतारी १९९~
Returning to Nepal
TPS FEDERAL NOTICE
Udus killer spray
हामीहरुले २० जना केटिहरुसंग सेक्स गर्नै पर्छ रे नी !
TPS to GC (PERM-I140-I485) TimeLine
लिङ्ग को आकर कत्रो?
बिहे गर्न अगाडी प्रियांकाले आफ्ना शुभेक्छुकहरुलाई यसरी आफ्नो पोल्ने धुंवादार शरीर (smoking hot body) देखाईन
नफर्किने गरि नेपाल जाने सोच
अमेरिकामा नेपालीलाई दुःख छ, सकभर नजानुस
वाह ! मन्त्री ज्यु वाह !
रवि लामिछानेले येसोरी हत्या गर्यो शालिकराम पुडासैनीको ( with video )
How to Apply for International Drivers Permit in Nepal?
Desi consultancy issue. Not to Compete of your employment agreement violations
How much saving you have?

Funny jokes
Presidential rights to assassination rights?
~चौतारी १९९~
TRUMP 2016!!! Here is why?
NOTE: The opinions here represent the opinions of the individual posters, and not of Sajha.com. It is not possible for sajha.com to monitor all the postings, since sajha.com merely seeks to provide a cyber location for discussing ideas and concerns related to Nepal and the Nepalis. Please send an email to admin@sajha.com using a valid email address if you want any posting to be considered for deletion. Your request will be handled on a one to one basis. Sajha.com is a service please don't abuse it. - Thanks.