[VIEWED 5316 TIMES]

SAVE!

for ease of future access.
Posted on 03-15-08 10:49 AM
Reply
[Subscribe]
Login in to Rate this Post: 0

?

Nepal Police beat Tibetan Protestors in front of the UN House
Phayul
[Saturday, March 15, 2008 20:35]
By Tenzin Choephel
Phayul Correspondent


An elderly Tibetan man pleads to Nepali Police not to beat Tibetans.

Kathmandu, March 15 - Nepal Police indiscriminately lathi charged several hundred Tibetan protesters in front of the UN House at Pulchowk, Kathmandu this afternoon. The Tibetans were staging a peaceful sit in protest in front of the UN House in support of the ongoing protests in Tibet and were asking the UN to investigate the killing of Tibetan protesters in Tibet. The Tibetans were saying prayers when the Police lathi charged them and took away 12 Tibetans who were on a hunger strike there. Police later beat other Tibetans and drove them away from the UN House.

The 12 Tibetans including one woman were detained at Jwalakhel Police Station until about 7 PM and were released later. Several hundred Tibetans were waiting outside the police station demanding their release.


Nepali Police taking away Tibetan protestors in front of the UN House.

According to a local Human Rights Activist the Nepali Police are trying to intimidate the Tibetans saying there is no legal ground for Nepali Police to detainthe protesters.

According to our source, there is fresh protest going on in Boudha at the time of filing this report. Hundreds of Tibetans are also holding a candlelight vigil around Swayambunath Stupa.

Yesterday evening Nepali Police indiscriminately beat up Tibetans including women and school children at Boudha around 7PM after hundreds of angry Tibetans demonstrated shouting slogans of free Tibet and tried to go out of the Boudhanath Stupa area on to the street after holding a candlelight vigil organized by the Regional Tibetan Youth Congress (RTYC).

Police arrested three Tibetan men Namgyal Dawa, Tenzin and Gelek from the scene, detained them at the Boudha Police Station where they were severely beaten and injured, they were released after about 2 hours.


Tibetans staging a demonstration in front of UN House in Pulchowk, Kathmandu.
Human Rights Watch yesterday issued a press release urging the Nepali Government to respect and uphold the freedoms of expression and assembly, and due process, guaranteed under domestic law and by the International Covenant on Civil and Political Rights (ICCPR). Nepal is a party to the ICCPR
Posted on 03-15-08 11:24 AM
Reply
[Subscribe]
Login in to Rate this Post: 0

?

NEPALI POLICE,,,,,,,,,UM i WAS THINKING WHAT EALS THEY CAN DO, OTHER THEN BEATING INNOCENCE PEOPLE,, NOTHING. BAATE KUKUR HARU.
Posted on 03-15-08 3:45 PM
Reply
[Subscribe]
Login in to Rate this Post: 0

?

GOOD. THESE TIBETIANS ARE NOT SUPPOSED TO CREATE COMMOTION IN A COUNTRY THAT GIVES THEM ASYLUM. THEY SHOULD KNOW AND ABIDE BY THE LAW AND ORDER OF THE NATION THAT HAS BEEN KIND TO THEM. MOST OF THE TIBETIANS IN NEPAL WORK AS INDIAN RAW AND HAVE SOME ILLEGAL BUSINESS GOING ON. THEY SHOULD NOT HAVE BEEN ALLOWED TO STAY IN NEPAL IN THE FIRST PLACE.
Posted on 03-15-08 4:02 PM
Reply
[Subscribe]
Login in to Rate this Post: 0

?

Bineet,
"Illegal business re?" like that of Girija and the rest of the politicians. You think we're saints? Take a look at your family business, I bet it is as dirty as your ass. Do you undestand what it means by UN? Everybody and every country has the right to protest infront of UN, that's why it is called UN. They're not protesting infront of your father's house.
Jo Chor uskai thulo Shor
Posted on 03-15-08 4:08 PM
Reply
[Subscribe]
Login in to Rate this Post: 0

?

MR WIRE, I'm a professional and I don't have any family business for your kind information. I know the Tibetians very well as I stay near Boudha in KTM. The business that goes on there is incredible and the Nepal Police does nothing. Had it been in a country like USA, the Tibetians would not be allowed to stay. They would be kicked out like Rajnish was. They Tibetian monks too, unlike Nepali monks, are corrupt. Most people in Nepal know that they do all sorts of dhandhas... starting from girl trafficking to India to acting as RAW agents to smuggling.
Posted on 03-15-08 4:11 PM
Reply
[Subscribe]
Login in to Rate this Post: 0

?

I hope you are not a Tibetian, cuz if you were you wouldn't be saying that. Another thing.. when some country provides your asylum, you have to abide by that country's law. You cannot commit organized rallys or cannot try to disturb the foreign relationship with a neighbour. China is a important neighbour to Nepal and has always helped Nepal keep it's identity at times of crisis.
Posted on 03-15-08 4:20 PM
Reply
[Subscribe]
Login in to Rate this Post: 0

?

absolutely correct bineet ji..
in this pic you can see cops arresting a tibetan protester in US
phyaul.com
now you may say y??? cause they broke the law of US...simple
and now are the tibetans going to protest against the US govt. for the capture of their fellow mens in front of UN??? I don;t think so.
Last edited: 15-Mar-08 04:54 PM
Posted on 03-16-08 10:04 AM
Reply
[Subscribe]
Login in to Rate this Post: 0

?

BINEET AND CHIKAT, U TWO KISS MY ASSSSSSS.
Posted on 03-16-08 12:26 PM
Reply
[Subscribe]
Login in to Rate this Post: 0

?

Simple lesson to the "refugees": Don't sh*t where you eat. What's next? Tibetans demanding their own homeland in Nepal?
Posted on 03-16-08 1:32 PM
Reply
[Subscribe]
Login in to Rate this Post: 0

?

I think Tibetan are victim in ths case. They dont have their own country so they have to live in others country forcefully, unlike us, who can go back to OUR COUNTRY when we want.
Anyone has the right to proest infront of UN. we all know Nepal government has very good relation with Beijing and they are showing faithfulness to Beijing by beating the tibetian refugees here. Nepal government is just doing there "noon ko sojho". But beating anyone with suh inhumanity is not acceptable in this 21st century for any reason.
I regard Tibetian as very helpful and easy going people. And peaceful at the same time too. I cannot say if FREE TIBET is good for Nepal or not but its definately good for the TIBETIANS.
Posted on 03-16-08 5:44 PM
Reply
[Subscribe]
Login in to Rate this Post: 0

?

There is a time and place for everything. These so called Tibetan Buddhists are trying to wreck havoc in undeserving places like Nepal, USA, France, India etc.
If they really want to demonstrate or attack they should be only doing within the Chinese Borders (Tibet itself included) and not attack any women or children.
Another ironic thing I don't wanna miss pointing out is this. The monks especially the one in their maroon-colored uniforms should abstain from being violent. All they are trying to do is portray Buddhism as a violent religion.
Freedom of speech is a birth-right, but the caveat is, only by non-violent means.
Another thing is I have hardly seen or heard is Tibetans being grateful to India or Nepal except chanting their monotonous "Free Tibet" slogan. Most of the time, I have heard them saying is I don't like this thing about India and I don't like this thing about Nepal. On the other hand, the government of China has been very supportive to our country without ever intruding into our sovereignty.
With suspected death toll in the hundreds and economic backlash, are these violence-loving rowdies expecting Nepal or the Indian government to take their side instead of them seeking their strategic geopolitical interest?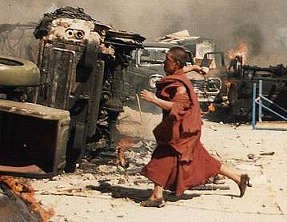 Posted on 03-16-08 7:22 PM
Reply
[Subscribe]
Login in to Rate this Post: 0

?

Monks are not doing anything wrong. They are protesting peacefully. Chinese Govt. are the ones who are killing people. I haven't heard any Tibetans complain about Nepal and India. I don't know where do some people get false informations. Tibetans have full right to protest in Nepal as well as wherever they want. Chinese Govt. treat people like machines. Tibetans have rights to fight for their lands.
Posted on 03-16-08 8:05 PM
Reply
[Subscribe]
Login in to Rate this Post: 0

?

"A witness said Chinese drivers were carried from vehicles with bloodied faces after being beaten by angry youths.
Reports claimed that several people, possibly including a teenage girl, had been killed and dozens seriously wounded in the clashes. Protesters were also said to have burned down a mosque and the Tromzikhang market, smashed up a government telecommunications office, attacked hotels and looted shops. "
source : guardian, UK
Looting
A Chinese man lies injured in the street during street protests, Friday, March 14, 2008, in Lhasa,Tibet. Protests led by Buddhist monks against Chinese rule in Tibet turned violent Friday, with shops and vehicles torched and gunshots echoing through the streets of the ancient capital, Lhasa. (AP Photo)
"Beating, smashing, looting and burning — we absolutely condemn this sort of behavior. This plot is doomed to failure," said Phuntsok, an ethnic Tibetan.

"Eyewitness accounts and photos posted on the Internet portrayed chaos in Lhasa with crowds hurling rocks at security forces, hotels and restaurants.."
source:
usa today
hey al, suk my balls if you don;t find this a violent protest.
Last edited: 16-Mar-08 08:07 PM
Posted on 03-17-08 11:56 AM
Reply
[Subscribe]
Login in to Rate this Post: 0

?

CHIKAT, did you like kissing my assss.
you narrow minded piece of shiit, reading only one side of story.one driver and a girl.
don't forget, over one hundred thousand innocence tibetan people were killed by chinnes.
thousands of monastries were distroyed.
my friend i dont think you got a balls. you are HOMO handle by chinnes.
you are welcome to lick my BALLS any time.
Posted on 03-17-08 1:02 PM
Reply
[Subscribe]
Login in to Rate this Post: 0

?

China denies using deadly force in Tibet amid mounting pressure(
http://www.afp.com/english/news/stories/newsmlmmd.b6e74411a6add50855f9fe9f0eb2899d.281.html
)
Ay Chikat GADHA,
WHAT THE FUG YOU THINK WAS GOING TO HAPPEN WHEN YOU USE DEADLY FORCE ? How do you think China has been ruling Tibet since 1960's ? With LOVE YOU THINK ?
WHAT THE FUG YOU THINK NEPALI ARE GOING TO DO IF CHINA OR INDIA TOOK OVER ? And atarted using brute force on peaceful protestors ? YOU THINK NEPALI PEOPLE WILL WILFULLY TAKE THE BEATING ? Tyo GADHA KO BACCHA JUSTO KURA NAGAR NA AYYY KUBUDDHI !!!!
Tyo Kathmandu ma pani they were demonstrating peacefully untill our Dhiiideys lathi charged them.
Posted on 03-17-08 1:17 PM
Reply
[Subscribe]
Login in to Rate this Post: 0

?

Religious idiots and political whackos will always be willing
to destroy anything that does not fit thier...- Anonymous
Posted on 03-17-08 1:35 PM
Reply
[Subscribe]
Login in to Rate this Post: 0

?

prem--- who said that
sometimes it is necessary to destroy things to make your point and have ppl notice otherwise no body will ever care
Posted on 03-17-08 1:41 PM
Reply
[Subscribe]
Login in to Rate this Post: 0

?

Tibet is China's Achilles heel. The independence of Tibet is very controversial and has been acrimoniously debated and contested over the years. It's really hard for us who aren't the part of the equation to bluntly give an opinion for or against the independence of Tibet.
Most people all over the world worry about the repercussion of the violent protest by Tibetans. China is hosting the Olympics in near future. The protesters have tried to hit where it matters most. As such this incident has been the blow to China's attempt to build their image. The embarassment to China is so huge, they must be contemplating a very cautious move not to make the situation worse from bad. Again, the countries like Nepal, India and others don't want their land to be used surrogately against China.
It's really unfortunate that the protestors in Tibet targeted ethnic Hans and the blacklash would be huge.I am now worried about the innocent Tibetans who might endure more pain as a consequence of the protest.I hope there comes a long lasting solution to the 'Tibet issue'. I don't see even a budge from China contemplating Tibetan Independence. We all have known Taiwan, which is independent of China in almost all terms has not been able to declare independence and despite the mighty power i.e US giving full support to them.
Posted on 03-17-08 1:46 PM
Reply
[Subscribe]
Login in to Rate this Post: 0

?

"Do not believe in anything simply because you have heard it.
Do not believe in anything simply because it is found written in your religious books.
Do not believe in traditions because they have been handed down for many generations.
But after observation and analysis,when you find that anything agrees with reason and is conducive to the good and benefit of one and all, then accept it and live up to it."
******Buddha*******