[VIEWED 13288 TIMES]

SAVE!

for ease of future access.
The postings in this thread span 2 pages,
go to PAGE 1
.
This page is only showing last 20 replies
Posted on 11-29-07 10:39 PM
Reply
[Subscribe]
Login in to Rate this Post: 0

?

NepaliTimes.com is one of my most favorite website for views. I like Kundan Dixit. He is very honest journalist among the Nepali journalists who publishes articles regularly in Nepal. So, his translation is the best as I compare with what I heard in BBC Nepali Sewa on Nov. 24, 2007. If you are a Maoist supporter, you will certainly feel it a biased reporting, but it is the translation from Sajha Sawal's recorded interview. I am sure in a few days or weeks, BBC Nepali Sewa will release the recorded interview again.
URL: http://www.nepalitimes.com/issue/376/FromtheNepaliPress/14225
Unfortunately, there was not a single question that could improve Maoist image in public. Based on the these questions, it is so humiliating that Prachanda did not have a single person in the audience to ask him a optimistic / positive question. All questions were associated with some sort of crime by Maoists or negative actions. Well, who asks positive questions? Newsweek in last week's issue had an article where its author wrote that positive news reporting is an Oxymoron's job.
Last edited: 29-Nov-07 10:41 PM
The postings in this thread span 2 pages,
go to PAGE 1
.
This page is only showing last 20 replies
Posted on 11-30-07 7:53 AM
Reply
[Subscribe]
Login in to Rate this Post: 0

?

Prachanda is such a stupid moron. Iwould have asked one simple question to him-
I am a US graduate and want to come back to Nepal with my few friends to change the current system of Nepal that would ensure the full fledged democratic government for poor people of Nepal. I would like to establish a new political system which would praise the system of correction, gives hope of social tranquility, would provide education at its best level and raise the country as to the level at it was never imagined before. Do you think i can make all these things happen without any use of guns? If yes, then why did you guys introduced gun battle and still involved in that and if no, do you want another civil war in our country? If any reporter in Nepal get a chance to interview Prachanda please ask this question on behalf of all patriotic Nepalese.
Posted on 11-30-07 10:58 AM
Reply
[Subscribe]
Login in to Rate this Post: 0

?

Prachanda, Do you remember this picture? It will follow you for centuries ahead.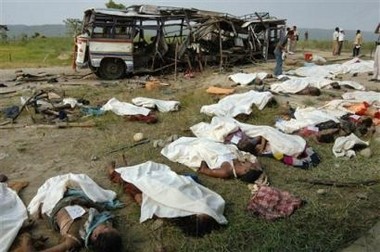 Posted on 11-30-07 12:06 PM
Reply
[Subscribe]
Login in to Rate this Post: 0

?

His bad apples will be his cause of death. Hope it comes soon.
Posted on 11-30-07 12:08 PM
Reply
[Subscribe]
Login in to Rate this Post: 0

?

See the double standard, they are turning the bad apples to Police, Why not CourtMarshall to them?????
Posted on 11-30-07 3:10 PM
Reply
[Subscribe]
Login in to Rate this Post: 0

?

Did I hear correct that maoist have submitted a court case against people who plotted Rautahat massacre that killed about 30 YCL members?
If so, then that is a good sign. They will find them behind bars in other 1000s of cases against their past sins which will be coming in the court soon.
Posted on 11-30-07 3:20 PM
Reply
[Subscribe]
Login in to Rate this Post: 0

?

I have no idea, why the Nepalese media is making him a hiro?
Posted on 11-30-07 3:44 PM
Reply
[Subscribe]
Login in to Rate this Post: 0

?

Prachanda = Pol Pot and Maoists = Khmer Rouge. We are going back to year Zero. Prachande le desh lai barbaad parne bhayo. Hamro desh ma ajha dherai manchhe marne bhayo.
Posted on 12-01-07 4:22 PM
Reply
[Subscribe]
Login in to Rate this Post: 0

?

I liked the following Cartoon very much. Prachanda needs to answer to this cartoon.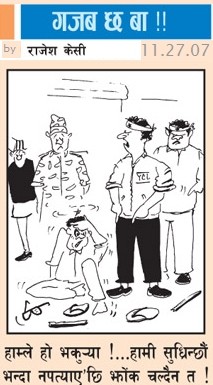 Posted on 12-02-07 12:40 AM
Reply
[Subscribe]
Login in to Rate this Post: 0

?

Prachanda is a hypocrite and you dont have to be an Einstein to see that.
Posted on 12-02-07 2:18 AM
Reply
[Subscribe]
Login in to Rate this Post: 0

?

What is the point of the interview when instead of giving explainations, Prachanda is just denying the accusations. Come on, everyone knows what's been going on man and he knows it too. He is just another "Kaan Chi-re-aako Jogi".
Posted on 12-02-07 12:15 PM
Reply
[Subscribe]
Login in to Rate this Post: 0

?

Yes, Prachanda is the big "FATAHA" and cannot be trusted . Obviously he can't go for CA election because wont win even 10 sit, if there will be fair election. So they are trying to create instability all the time. Only one thing they have is "DISTRUCTIVE MENTALITY".
Hate those bastards
Posted on 12-02-07 4:24 PM
Reply
[Subscribe]
Login in to Rate this Post: 0

?

hang prachande!!!!!!!!!!!!!!!!!
Posted on 12-03-07 2:40 PM
Reply
[Subscribe]
Login in to Rate this Post: 0

?

GP wrote:
>Our Veteran Sajha.com poster Mr. N*** also stopped
>offering any Alochanattmak Support. I don't think the
>Maoist leaders who…
GP-jee,
I am not really coming to join this thread. Too much cheapness here. I have better things to do.
However, as you seem to have addressed me by calling "Our Veteran Sajha.com poster Mr. N***" and, like in the past, made a dumb and inaccurate categorization of my work as "offering .. Alochanattmak Support [to the Maoists]", I thought to give a quick reply and be off.
First off, you should not have hesitated to write my full nick. As you know I always love to communicate when there is a genuine interest in having a decent conversation with me.
Then, as for your deduction that I offered this or that kind of support to the Maoists or any political party for that matter, it seems that either your world view still has not developed beyond this narrow binary of SUPPORT and OPPOSE or you simply are incapable of COMPREHENDING this otherwise a simple creature named Nepe.
At the risk of sounding arrogant, let me tell you in simple language what kind of person I actually am. Here is a simple quotation that might be helpful. I have paraphrased it to suite us.
Intelligent people see ideas.
Average people see events.
Small people see political parties.
I try to belong to the first category. However, you are looking at me from the eyes of the third category people. That's why and how you fail to comprehend me.
Put it this way, how much do you think Narahari Acharya and Gagan Thapa are SUPPORTIVE of the Maoists ?
If you think they SUPPORT the Maoists, you are a dumb. They support certain IDEAS of the Maoists. That's all. In my case, I even do not have to go as far as SUPPORTING per se. Because, unlike Narahari and Gagan, I am not a career politician and so, I do not have to take side as politicians have to. Got it ?
As for the idea of republicanism and inclusion/decentralization of power in Nepal, whether it came from the Maoists or just dropped from the sky, it has decisively won the war against all kinds and shades of opposition to it, including yours, GP-jee.
I was thinking you, or just any person/group opposed to the idea of republicanism, after being defeated/proven wrong, might have done what is called a soul-searching. Apparently, soul-searching is not for all.
It is too shameful to find that one wasted his precious time and energy against something which so quickly was to be embraced by Nepali people and remain that way, isn't it ? But you know what, that [the shame] is for small people. Intelligent people search their soul, learn and move on.
Now, I would like to conclude this message by reminding where you erred about me. First, which I think I rightfully deserve, is a credit for being right all along, whether by a sheer chance or by my analytical prowess, about the idea of republicanism in Nepal, which you don't seem comfortable to acknowledge. Then, you failed to see that Nepe and his free thoughts, independence and audacity to maintain truthfulness is beyond political party's capacity to contain.
I was and still am above all political parties. And I probably will remain that way for some time to come.
Nepe
Posted on 12-03-07 4:47 PM
Reply
[Subscribe]
Login in to Rate this Post: 0

?

Prachanda should be hanged for his crime against humanity. He is the villain of this decade worse than Osama Bin Laden and Saddam Hussien. I think other six parties are scared of him and his brutal army, that's why those bastards are able to roam free in the street. We should never approve him to be the leader of any legal constitutional party.
Posted on 12-03-07 5:31 PM
Reply
[Subscribe]
Login in to Rate this Post: 0

?

Liked his straight forwardness...je hos manchhe chai fantoos fantoos nai ho.Bela bela ma hasayo
Posted on 12-03-07 9:24 PM
Reply
[Subscribe]
Login in to Rate this Post: 0

?

Nepe jyu,
Thank you very much for spending some time to add your vision in this thread. As always, I like your comments, sometime I do agree with you, and some other time, I may not agree with you.
I liked the following statements:
Intelligent people see ideas.
Average people see events.
Small people see political parties.
I remember the similar quote was in one of my classmate's room in college days in Nepal. The quote was like this (after google search: "Intelligent people talk ideas":)
Intelligent people talk about ideas.
Average people talk about things.
Small people talk about other people.
Sajha.com offers all three kind of people. I liked the tweak on second line from "things" to "events", I would merge these two statements, and come up with the following:
Intelligent people talk ideas.
Average people talk things and events.
Small people talk about other people.
As political "leaders" are public figures in Nepal's context, and you are a celebrity in Sajha.com, and to some extent they are modern day celebrity because we are in the era where celebrity culture rules every walk of our life (at least in Capitalist world), so "celebrity" can be categorized as "events" or "things", and therefore, talking about celebrity is not becoming small people.
Well, I certainly know that you fall under the category one. I am proud to have you here in this thread. Thank you, again.
GP

Last edited: 03-Dec-07 09:52 PM
Posted on 12-04-07 1:49 PM
Reply
[Subscribe]
Login in to Rate this Post: 0

?

GP-jee,
Thank you for all the compliments you bestowed upon me. However, you still did not respond to my displeasure with your accusation /deduction/fantasy about me as a person politically associated with the Maoists.
Remember you have done so on scores of occasions in the past, mostly in your monolog threads.
Your rhetoric used to be so cheap, your arguments so childish and your address to me so hesitant (like in the earlier posting) and your paranoia about me so wild (remember you believe that I am a new incarnation of some Maobadi active in some usenet group of the past !), I chose mostly to ignore you.
Now that you still carry on that schizophrenia about me, I wanted to warn you for one last time.
So my message to you is simple. Stop your schizophrenia about me.
I was neither a Maoist nor a Maoist sympathizer. As I explained earlier I am not a guy who likes to associate with any political party (as yet, that is). I am a man of IDEA, not of a PARTY.
Alright ?
Nepe
Posted on 12-06-07 3:35 PM
Reply
[Subscribe]
Login in to Rate this Post: 0

?

Posted on 12-08-07 10:29 AM
Reply
[Subscribe]
Login in to Rate this Post: 0

?

Fablous can not be a Maoist or YCL agent. He does not guts to defend Maoists or YCL. If he was real Maoist or YCL, he should have defended or looked for another EXCUSE of YCL or Maoist action against the Tourists, this way:

"The tourist just tried to deny our record keeping process, we were not asking for donation, but we wanted to keep the record of tourists going in and out, so that they are protected, and rescue operation can issued. Instead of providing the requested information, the tourist started attacking on us, and our people defended themselves. We regret that the royalist and big media houses ran twisting the real story, as a part of grand design to defame us."

Fablous's atma-alochana does show a sign that he might be far cousine of YCL or Maoists (= "Alochanatmaka saath Support" = this language is used quite frequently by UML and Maoists when Nepali Congress brings some "GOOD for the people" proposals that the Maoists and UML can not deny, but they also don't like it because NC gets credit.), but not an actual Maoist supporters.

Bichara Fablous also whispered here: "Pare ma dodharai ma .... YCL ko support nagaroo partyline chhootne, YCL ko Biroodh garoo flip flop bhahine....Pare ma dodharai ma .... "

YCL and Maoists are two wrong things in Nepal, and two wrong people can not bring any right thing. Some people here with "Alochanatmak Support" category that Republic agenda was brought to us by Maoists, and we should support them for it. Nope. It is called :
Stockholm syndrome is a psychological response sometimes seen in an abducted hostage, in which the hostage shows signs of loyalty to the hostage-taker, regardless of the danger (or at least risk) in which the hostage has been placed. In many instances the victims choose to remain loyal to their abuser, and choose not to leave him or her, even when they are offered a safe placement .... For detailed info on SS: http://en.wikipedia.org/wiki/Stockholm_syndrome
Some of our Sajha.com writers think that Maoists should be credited for Republican agenda, I understand the agenda is a noble agenda, but it has a lot of hidden agenda, let me cite GPK's phrase "Grand Design", to abduct / highjack Nepali people like a child kidnapper offers LollyPop to a child. Unfortunately, Gagan Thapa and Narahari Acharya were successfully trapped in this trap. We should not forget that same bunch of people sometime write in Kantipur that they had Karyagat Ekata with King Birendra, were in touch with Dhirendra Shah (if they were in touch with Birendra and Dhirendra, were they in denial to Gyanendra as identified by RCP). Now they talk about Royalists are Nationalists .... blah blah .... Lets not get trapped by Maoist grand design .... I certainly want Nepal be Republic, but I don't want Gyanendra be replaced by Prachanda. Thats it, so simple. If Prachanda comes to power, we will see more tourist harassed, their camera confiscated because they might be afraid of passing their suppression method to the outside world. We will be under more suppression under Maoist regime then in Gyanendra's regime. If you know Game Theory, when in dilemma, you have to select one, rather I will say don't select the one that can harm you more. Game Theory is about less Risk taking based on statistical method, at this moment, Royalists are less dangerous than Maoists. Let Royalists remain in corner. If political leaders continue to turn MultiParty system into Partyless MultiParty system through Bhagbanda, and proposed PROPERTIONAL SYSTEM, there is a possibility that Royalists might rise again, and Partyless MultiParties should be blamed for the scenario. God Bless Nepal.
Learn about Stockholm syndrome, and 101 concept on Game Theory / Risk Analysis. In Statistical world, there is no space for "CLOSED FORM SOLUTION". I stand behind Nepal Army, Nepal Police, normal Nepali citizen, Government Employees, and Nepali Journalists despite they have some weakness.
PS: I will edit it later. If you find some of my past postings deleted in sajha.com (by me, not by San, as San does not delete unless it contains OBJECTIONABLE contains. Thats a big difference between MySansar.com and Sajha.com. Sajha.com's reEdit/Delete function is a great addition. I love that. Thanks, San. ), you may visit my ARTIFACTs collection center: http://www.nwob.org/ (Nepalese Without Borders

).
Posted on 12-09-07 6:40 PM
Reply
[Subscribe]
Login in to Rate this Post: 0

?

माओवादी नेताको अमेरिका अनुभव
जनार्दन शर्मा प्रभाकर
अमेरकिा पुगेपछि मलाई त्यहा"को सरकारले हामीलाई आतङ् ककारी भनी लगाएको आरोप कति अर्थहीन छ भन्ने लाग्यो । विश्वको महाशक्ति राष्ट्र अमेरकिा कम्युनिस्टप्रति कति पर्ूवाग्रही छ भन्ने महसुस भयो । अमेरकिाको खास चरत्रि भनेको साम्राज्यवादी नै हो, उसले मानव अधिकारको कुरा गर्छ तर अरूको मानव अधिकार हनन गर्छ भन्ने बिर्सनु हु"दैन ।
http://www.kantipuronline.com/Nepal/diary.php
(The following comments can also be found in Nepalese Without Borders' official website: http://www.nwob.org/?q=node/52 )
There is no reasoning behind this statement. I would have appreciated whole article if this hypcrite has not inserted this paragraph, which is there because he did not want to appreciate america.
The following paragraph is also interesting:
अमेरकिाको कुरा गर्दा पु"जीवादको सर्न्दर्भ आउ"छ । पु"जीवादले मान्छेको जीवनलाई मेसिन बनाउ"दो रहेछ भन्ने त्यही" देखियो । धेरै नेपालीले आफ्नो जीवन कष्टकर भएको हामीलाई बताए । पु"जीवादले व्यक्तिविशेषलाई धनी बनाउ"छ भने हामी -माओवादी) जनता धनी हुनर्ुपर्छ भन्छौ" । पु"जीवादले बिल गेट्सहरू जन्माउ"छ, हामी सम्पर्ूण्ा समाज समुन्नत हुनर्ुपर्छ भन्छौ" ।
Ask these Nepalis: Why don't you return to Nepal? Their answer will be it is better than in Nepal. At least, you are paid, you can complain, and no one takes your salary. Note, how the Maoist party takes away the government allowance to Maoist MPs in Nepal. That does not happen here. K garne, as a communist, he has to write something to oppose American way, and show his hypocracy.
Obsessed with Chinese: here is an example. It is not chinese Sahuliyat, it is biz, and it is possible here because they are in America. America offers platform, respect that. Don't get obsessed with. These chinese left communist china, and love to be here and exploit the opportunities offered by capitalism.
त्यहा"बाट वासिङ्टन जान चिनिया"को बस चढ्यो भने २० डलर लाग्ने रहेछ तर अमेरकिी सरकारको बस चढ्यो भने ४० डलर । चिनिया"हरूले अमेरकिी जनतालाई सहुलियत दिएकामा खुसी लाग्यो ।
Oops, here is another hypocracy.
अमेरकिालाई हामीजस्ता मान्छेलाई यूएनमा आउन दिने क्रममा अप्ठ्यारो हुन्छ भने यूएनको हेडक्वाटर अन्यत्र सारयिोस् भन्ने हाम्रो आग्रह थियो ।
For your information, the Idea of UN was by then President Truman / Roosevelt (I am sorry who did it). Americans are so great that they let him come here and speak against Americans, they let Iranian President speak against them, Chavez can speak against American President, and call him Devil. Would a communist china let any one speak against China in China? We have already seen when Maoist fabricated that Ritik roshan said he hates Nepal, and how the situation turned in to crazy and killed several innocent people. He did not appreciate that some people in front of White house were writing things against Bush, can that happen in their lovely China or infront of Maoist Party's office in Kathmandu. They can not appreciate it. They look only negative side of it. Poor people, poor mentality. Shame on you.
Last edited: 09-Dec-07 06:48 PM