Replies to this thread:
More by Ajneya
What people are reading
Subscribers

[VIEWED 901 TIMES]

SAVE!

for ease of future access.
Posted on 09-16-07 3:51 PM
Reply
[Subscribe]
Login in to Rate this Post: 0

?

हन यो के हुन लागेको हाम्रो देशमा? द:सा लागे पछी के के हुने हो के के। हुन पनि आज बुटवल र नवलपरासीमा साम्प्रदाइक दङगा भड्कियो, कारण आहिले सम्म थाहा हुन सकेको छैन । हाल देश अनेक उतार चाडाब बाट गुज्रिरहेको छ। यस्तो अवस्थामा सबैले सैयम अपनाउदै जानु त कता हो कता, आफ्नो भाग खोज्ने, हुल्दङा गर्ने देखी बाहेक कसैको बुद्धिले केहि अन्य सुभ कार्य गरेको हुन्न नपायको बर्सौ हुनलागे झै अनुभब् हुन्छ। यस्तो अबस्थामा म सबै नेपलिलाइ धैर्य धारन् गरि सम्यम् अपनाउदै एक्जुट हुन आग्रह गर्दछु।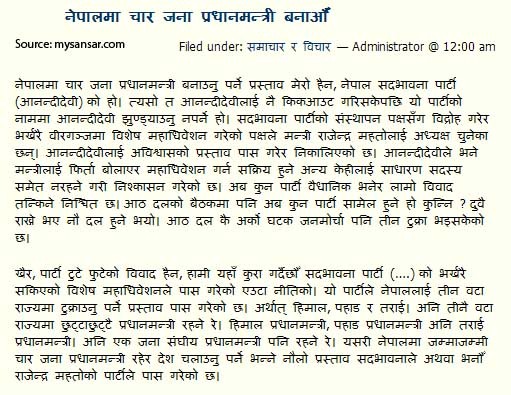 Posted on 09-16-07 3:56 PM
Reply
[Subscribe]
Login in to Rate this Post: 0

?

Curfew in Butwal and Taulihawa; two killed; situation tense (update) Local administrations of Rupandehi and Kapilvastu districts have imposed indefinite curfew in Butwal Municipality and Taulihawa respectively from Sunday afternoon in view of possible violence in demonstrations organised by supporters of Mohit Khan, a former leader of an anti-Maoist resistance group, who was shot dead by an unidentified group this morning. Local residents and supporters of Khan had started angry protests after he was killed by an unidentified group at Chandrauta, Kapilvastu, at around 8:30 am Sunday near his home. The local administrations said the curfew would remain till the situation returns to normal. The Kapilvastu administration has imposed curfew in certain stretches of highways linking the district headquarters, reports said. Despite the imposition of the curfew, the demonstrations continue. Looting and vandalising have become rampant. The police said they have not been able to reach the incident site saying there might be some armed people hiding. A local journalist told Radio Sagarmatha that a riot erupted after the local transport entrepreneurs started demonstrations when the supporters of Khan obstructed the transport. Additionally, protesters lobbed a bomb at an Armed Police Force (APF) team at Chanuata, killing Constable Hasan Puri. Puri was returning from his duty station when protesters attacked him. The police said another person has also been killed, but they are yet to identify the person. Local people in Butwal say some rounds of gunfire were also heard in the town just before the curfew was imposed. The demonstrators attacked vehicles, shops and government offices due to which the marketplaces had remained shut and vehicles stayed off the roads from morning. Dozens of vehicles and private houses have been vandalised by the demonstrators. Police said armed criminal groups from across the southern border had infiltrated into the demonstrations to instigate mayhem. The district administrations have said more police force will be deployed shortly to the area to take the situation under control. After leading armed resistance campaign in parts of Kapilvastu, Khan had joined the Madhesi Democratic Forum. nepalnews.com ia sep 16 07
---
Please Log in! to be able to reply! If you don't have a login, please register here.
Within last 60 days
Recommended Popular Threads
Controvertial Threads

TRUMP 2016!!! Here is why?
~चौतारी १९९~
Mnang, Mustang Treking and Our Engagement
ICE RAID
TPS FEDERAL NOTICE
हामीहरुले २० जना केटिहरुसंग सेक्स गर्नै पर्छ रे नी !
US upcoming recession --- is it good time to buy house when rates are low or is it good time to wait recession?
IT Consultancy Dons and Donts
थुक्क प्रियंका कार्कीजी …
नफर्किने गरि नेपाल जाने सोच
TPS to GC (PERM-I140-I485) TimeLine
TPS ma ghanta hannu paryo re IT matra hamro job bikalpa?
TPS to change of status denied ..Need help
♪♪♪ हामी सबै क्लबमा ♪♪♪
Is QA/BA worth considering a career ??
Salary offer aako cha
"Itiahariko" copied Itahariko username!!!!
लामिछानेको येस्पलीको दसैँ मामाघरमा
Stock ma lagani
filing H1b as gas station attendant

Former U.S. President Bill Clinton in Nepal
~चौतारी १९९~
TRUMP 2016!!! Here is why?
NOTE: The opinions here represent the opinions of the individual posters, and not of Sajha.com. It is not possible for sajha.com to monitor all the postings, since sajha.com merely seeks to provide a cyber location for discussing ideas and concerns related to Nepal and the Nepalis. Please send an email to admin@sajha.com using a valid email address if you want any posting to be considered for deletion. Your request will be handled on a one to one basis. Sajha.com is a service please don't abuse it. - Thanks.