More by himaliketo
What people are reading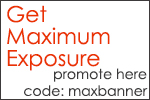 Subscribers
[Total Subscribers 0]
:: Subscribe
[VIEWED 660 TIMES]

SAVE!

for ease of future access.
Posted on 02-16-07 12:33 PM
Reply
[Subscribe]
Login in to Rate this Post: 0

?

Solar Powered Flashlight Performances 4 New Shows! 4 Bizarre Holidays.. Solar Powered Flashlight Saturday, February 17, 2007 thru Monday, May 21, 2007 Horse Trade Theater Group presents A Rising Sun Performance Company Production Solar Powered Flashlight Short Form Improv Comedy RSP ensemble members add one more talent to their ever expanding roster in their brand new Improv Comedy Troupe. Joining Horse TRADE's year of Holiday celebrations, Solar Powered Flashlight uses comedy hijinks to celebrate comical and real holidays, such as Rubber eraser day, prohibition rememberance day and random acts of kindness day. A one hour set of audience participation and improv favorites. Directed by Crystal Franceshini Featuring Ensemble Members: Akia, Crystal Franceshini, Rey Oliver Bune, Rob Richardson, Kelly Scanlon, Patrick Egan, Sahadev Poudel, Elizabeth Burke & Josh Hyman Learn More! Show Schedule 10:30PM Saturday February 17th Random Acts of Kindness Day 7PM Sunday April 1st April Fools Day 7PM Sunday April 15th Rubber Eraser Day and Tax Day 8PM Monday May 21st National Waiter/Waitress Day Tickets are $10 Unlike comedy clubs there is No Food or Drink Minimum! Purchase Tickets Where we're at ALL Performances are located at UNDER St Marks Theater 94 St Marks Place Btw 1st & Avenue A Please note there is no Wheelchair Access Take the 6 Train to Astor Place or the R/W Train to 8th Street/Broadway. For Directions and more info Greetings! Rising Sun has added regular SPF Performances to its performance season. If you missed us last month, you have 4 more opportunities to catch a show. With an ever changing roster of performers and Improv games, you'll never see the same show twice! We hope to see you at UNDER St Marks ! Random Acts of Kindness Day Our Next show celebrates Random Acts of Kindess day. Logo no wording Saturday February 17th 10:30PM One Hour Set Under St Marks Theater 94 St Marks Place Ticket Only $10 Get Sunburned now! We look forward to making you laugh! Sincerely, Rising Sun & SPF Rising Sun Performance Company email:
info@risingsunnyc.com
phone: 212-946-1242 web:
http://www.risingsunnyc.com
---
Please Log in! to be able to reply! If you don't have a login, please register here.
Within last 7 days
Recommended Popular Threads
Controvertial Threads

Where Will Interest Rates Take Us in 2018?
EB 3 visa enquiry
Hear Bartika Eam Rai sing an exclusive set list of songs never performed before in USA
Nepali girls try Tip Top Somosa, BK fries, Alu Nimki as well as Laping in KTM
Nepalese in CSU- east bay

राई कान्छा र धोति
मुजी चोर धोतिहरु
NOTE: The opinions here represent the opinions of the individual posters, and not of Sajha.com. It is not possible for sajha.com to monitor all the postings, since sajha.com merely seeks to provide a cyber location for discussing ideas and concerns related to Nepal and the Nepalis. Please send an email to admin@sajha.com using a valid email address if you want any posting to be considered for deletion. Your request will be handled on a one to one basis. Sajha.com is a service please don't abuse it. - Thanks.