[VIEWED 11318 TIMES]

SAVE!

for ease of future access.
Posted on 11-23-06 3:01 PM
Reply
[Subscribe]
Login in to Rate this Post: 0

?

Name list of all 202 Jana Andolan-II suppressors Kantipur Report KATHMANDU, Nov 23 - The High Level Probe Commission on Monday submitted its final report recommending action against 202 individuals including King Gyanendra for their role in suppressing the pro-democracy movement in April. The government has pledged to take action against the guilty. Some of the individuals have already been suspended from their posts while some are still in office. However, the five-member panel headed by former justice of the Supreme Court Krishna Jung Rayamajhi has asked the government to sack all the guilty persons and start taking action against them. The commission also recommended the government that it formulate a new law to take action against King Gyanendra for his role as the then chairman of the council of ministers in suppressing the April uprising. According to a copy of the report found by our correspondent Bal Krishna Basnet, the names of the guilty individuals are as follows (the report has not yet been made public): Members of the then council of ministers: 1. Chairman King Gyanendra 2. Vice-Chairman Dr. Tulsi Giri 3. Vice-Chairman Kirtinidhi Bista 4. Minister Kamal Thapa 5. Minister Badri Prasad Mandal 6. Minister Niranjan Thapa 7. Minister Salim Miya Ansari 8. Minister Dan Bahadur Shahi 9. Minister Ramesh Nath Pandey 10. Minister Radha Krishna Mainali 11. Minister Tanka Dhakal 12. Minister Khadga Bahadur GC 13. Minister Prakash Koirala 14. Minister Keshar Bahadur Bista 15. Minister Buddhi Raj Bajracharya 16. Minister Buddhiman Tamang 17. Minister Narayan Singh Pun 18. Minister Madhukar Shumsher Rana 19. Minister Krishna Lal Thakali 20. Minister Durga Shrestha 21. Minister Ram Narayan Singh 22. State Minister Shirsh Shumsher Rana 23. State Minister Rup Jyoti 24. State Minister Mani Lama 25. State Minister Dr. Durga Pokhrel 26. State Minister Rabindra Khanal 27. State Minister Brijesh Kumar Gupta 28. State Minister Yankila Sherpa 29. Assistant Minister Roshan Karki 30. Assistant Minister Rajesh Kaji Shrestha 31. Assistant Minister Bhuwan Pathak 32. Assistant Minister Sone Lal Yadav 33. Assistant Minister Senate Shrestha 34. Assistant Minister Jagat Gauchan 35. Assistant Minister Nikshya Shumshere Rana Then regional administrators 36. Jagadish Khadka 37. Rabindra Chakravarti 38. Chhetra Bikram Shah 39. Mrigendra Kumar Singh Yadav 40. Ganesh Serchan Then zonal administrators 41. Shyam Kishore Singh 42. Rana Bahadur Chand 43. Ram Kumar Subba 44. Janak Jangali 45. Prajapati Koirala 46. Dr. Shekhar Gurung 47. Kumar Bahadur Karki 48. Ramji Bista 49. Ram Krishna Panta 50. Lalit Bahadur Thapa Magar 51. Min Bahadur Pal 52. Karna Bahadur Dhimal 53. Mahendra Man Byathit Then govt officials 54. Governor Bijayanath Bhattarai 55. Chief secretary Lok Man Singh Karki 56. Secretary Kumar Poudel 57. Secretary Bal Krishna Prasain 58. Secretary Bishnu Dutta Upreti 59. CDO Narayan Gopal Malego 60. CDO Sushil Ghimire 61. CDO Ganga Dutta Awasti 62. CDO Binod Kumar Adhikari 63. CDO Niranjan Baral 64. CDO Shanta Raj Subedi 65. CDO Ram Prasad Sharma 66. CDO Narendra Raj Sharma 67. CDO Bhola Prasad Siwakoti 68. CDO Madhav Prasad Regmi 69. CDO Hum Prasad Adhikari 70. CDO Bimal Dhakal 71. CDO Shambhu Koirala 72. CDO Pratap Kumar Pathak 73. CDO Kailash Nath Kharel 74. CDO Dil Bahadur Ghimire 75. Asst. CDO Bashanta Raj Bhattarai Nepal Army (formerly Royal Nepal Army) 76. Then Chief of Army Staff Pyar Jung Thapa 77. Second-in-command Rukmangat Katuwal (present CoAS) 78. Ex-captain and chief of Kathmandu valley Army Division Dipak Bikram Rana 79. Captain Kiran Shumshere Rana 80. Captain and assistant coordinator of National Security Council Kul Bahadur Khadka 81. Colonel Suresh Kumar Karki 82. Colonel Sharad Dhakal 83. Colonel Niraj Poudel 84. Colonel Sagar Bahadur KC 85. Colonel Nayan Raj Dahal 86. Colonel Sudarshan Silwal 87. Major Kisan Singh Bhandari 88. Major Umesh Karki 89. Major Mukti Pathak 90. Major Narendra Chand 91. Major Ram Chandra KC 92. Captain (Tandi, Chitwan) Roshan Karki 93. Captain Suresh Kafle 94. Captain Sunil Khadka 95. Captain Rabi KC 96. Captain Anish Rijal 97. Jamdar Gokarna Karki 98. Lance corporal Niwash Shahi 99. Sipahi Chandra Rai 100. Pyuth Rabi Raj Budhathoki Nepal Police 101. IGP Shyam Bhakta Thapa 102. AIG Krishna Basnet 103. AIG Rup Sagar Basnet 104. AIG Rajendra Bahadur Singh 105. SSP Arjun Jung Shahi 106. SSP Narendra Kumar Khaling 107. SSP Bir Sharan Thapa 108. SSP Lok Bahadur Karki 109. SSP Rajendra Singh Bhandari 110. Gyanu Raja Kunwar 111. SSP Prawal Shumshere Rana 112. SSP Parashuram Khatri 113. SP Ghananda Bhatta 114. SP Shiva Lamichhane 115. SP Ramesh Shekhar Bajracharya 116. SP Ram Kumar Khanal 117. SP Rabi Raj Shrestha 118. SP Keshari Raj Ghimire 119. DSP Bashanta Lama 120. DSP Sanjay Singh Basnet 121. DSP Manoj Neupane 122. DSP Thule Rai 123. DSP Rohabar Basnet 124. DSP Bishnu Hari Gautam 125. DSP Madhav Bahadur Basnet 126. DSP Shyam Basnet 127. DSP Krishna Prasad Mainali 128. DSP Bashanta Panta 129. DSP Tek Bahadur Gurung 130. Inspector Pradip Tamang 131. Inspector Ramesh Gautam 132. Inspector Harka Bahadur Thapa 133. Inspector Ramesh Basnet 134. Inspector Bhupendra Khatri 135. Inspector Som Bahadur Thapa 136. Inspector Ram Prasad Gharti Magar 137. Inspector Pratap Gurung 138. Inspector Thaman Bahadur Basnet 139. Inspector Bed Raj Khanal 140. Inspector Rajendra Prasad Dhamala 141. Inspector Narendra Chand 142. Inspector Dipak Adhikari 143. Inspector Keshav Raj Basnet 144. Inspector Soviet Bahadur Gurung 145. Inspector Dambar Bahadur Chand 146. Inspector Dip Shumshere Rana 147. Inspector (Sarlahi) Raj Kumar Silwal 148. Inspector Sharada Prasad Chaudhari 149. Inspector Nayan Singh Karki 150. Inspector Ranjit Singh Rathour 151. Inspector Khadga Bahadur Khatri 152. Inspector Rabindra Khadka 153. Inspector Govinda Jha 154. Inspector Kamlesh Kumar Bhatta 155. Inspector Dinesh Kumar Acharya 156. Inspector Dambar Kumar Tamang 157. ASI Shiva Narayan Singh 158. ASI Tika Ram Rai 159. ASI Bikash Jung Rana 160. ASI Govinda Raj KC 161. Assistant Sub-Inspector Mohammad Rafiq Jolaha 162. Assistant Sub-Inspector Vijay Kumar Chaudhary 163. Assistant Sub-Inspector Nakum Bahadur Chhetri 164. Assistant Sub-Inspector Chet Bahadur Thapa 165. Assistant Lal Singh Rawal 166. Head Constable Khagraj Poudel 167. Constable Bikash Kumar Singh 168. Constable Naryan Karki 169. Constable Dinesh Tamang 170. Constable Shanker Poudel Armed Police Force 171. The then APF Inspector General Police Sahabir Thapa 172. APF IGP Basudev Oli 173, APF Additional IGP Rabiraj Thapa 174. APF Deputy IGP Dilip Kumar Shrestha 175. APF SSP Madhav Kumar Thapa 176. APF SSP Durja Kumar Rai 177. APF SSP Mahndra Kumar Bhattachan 178. APF SP Chiranjivi Kunwar 179. APF SP Ranjan Koirala 180. APF SP Arbinda Dhital 181. APF DSP Balram Pokhrel 182. APF DSP Ram Kumar Singh 183. APF DSP Ramadhar Yadav 184. APF DSP Mahesh Shrestha 185. APF DSP Ratna Pokhrel 186. APF Inspector Damodar Dhodari 187. APF Inspector Rajesh Lamichhane 188. APF Inspector Subhash Khadka 189. APF Inspector Gobinda Giri 190. APF Inspector Dik Bahadur Shrestha National Investigation Department 191. The then Chief Executive Devi Ram Sharma Other officials 192. The then Chairman of the Raj Parishad Standing Committee (now dissolved), Parashu Narayan Chaudhary 193. The then member, Raj Parishad Standing Committee (now dissolved), Sacchit Shumshre Rana 194. Chairman, Bishwa Hindu Mahasangha, Bharat Keshar Singh 195. CEO, Nepal Tourism Board, Tek Bahadur Dangi 196. The then Chief Election Commissioner, Keshav Raj Rajbhandari 197. Chairman Bikram Bahadur Thapa 198. Then Mayor, Kathmandu Metropolitan City, Raja Ram Shrestha 199. Mayor Dhruba Maharjan 200. Deputy Mayor Bachhuram Shrestha 201. Mayor Sushil Chaulagain 202. Mayor Prem Lal Maharjan Posted on: 2006-11-23 07:55:35 (Server Time) Where is national criminal and corrupted peoples'n name?: (1) Sher bahadur Deuba (Melamchi Drinking Water project and law order Regulation authority power corruption) (2) CDO officers who bribe money and sell Nepali citizenship to south Indian people. (2)
Posted on 11-23-06 10:28 PM
Reply
[Subscribe]
Login in to Rate this Post: 0

?

everything kam pa na ass wipe get a job if you gonna write that list write Maobadi neta the killer of all first. nepali haru sabai ande cha dont you see the killer is walking free.
Posted on 11-23-06 11:07 PM
Reply
[Subscribe]
Login in to Rate this Post: 0

?

i am glad that my name is not there
Posted on 11-23-06 11:20 PM
Reply
[Subscribe]
Login in to Rate this Post: 0

?

Mr. Prachanda.....the leader of all the leaders, is missing out !
Posted on 11-24-06 3:47 AM
Reply
[Subscribe]
Login in to Rate this Post: 0

?

Where are real criminals? Criminals would be criminals forever. Situation cant change the criteria of criminals. After all, human value is always the same. So where are the criminals who have taken 13000 lives. Do you all think 13000 lives are equvalent to 19 lives. In my opinion both are criminals and shoud be brought withing punishable boundry.
Posted on 11-24-06 8:41 AM
Reply
[Subscribe]
Login in to Rate this Post: 0

?

Well, just before this list came out, Joshi and Khadka were given a clean chit....Is this what we call NEW NEPAL?? I think the lower level officers shoule be spared, and the only one punished should be the King, and the ministers...after all, the Army, Police, CDOs were all taking orders from these ministers and the King right???? Oh, by the way, Mr. Rayamaghi, feel free to work on the supression and killing of 13,000 or so by the Maoists as well.........Or is that NOT even on the list??
Posted on 11-25-06 2:59 PM
Reply
[Subscribe]
Login in to Rate this Post: 0

?

Yes, I agree Maoist leader also get punished. But No one Nepali criminal and corrupted people will spear thier lives. All must get punished by death. Enough is enough for the shake of mother land
Posted on 11-25-06 3:00 PM
Reply
[Subscribe]
Login in to Rate this Post: 0

?

Posted on 11-26-06 1:01 AM
Reply
[Subscribe]
Login in to Rate this Post: 0

?

Puspakamal Dahal's name is missing, or he must have threatened the government not to mention his name on this list.
Posted on 11-26-06 4:33 PM
Reply
[Subscribe]
Login in to Rate this Post: 0

?

Nepali corrupted and criminal crooks leaders and party members must get assasinate If government and new political change does not work. That will be the best solution. Same crooks againa and again in front line that is the main root key problem from the begin of creation of Nepal.
Posted on 02-09-07 9:28 PM
Reply
[Subscribe]
Login in to Rate this Post: 0

?

Files fo Nepali Criminal and corrupted people in court.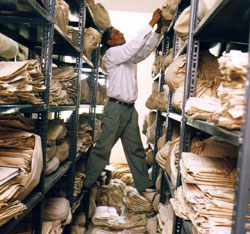 Posted on 02-09-07 9:47 PM
Reply
[Subscribe]
Login in to Rate this Post: 0

?

All this bullsheet , in real sense 1. Girija should be declair insense. 2 . prachande ;- should kill by hitting korra in tudi khel 3. baburam is same 4. ser bahadur bahula ghosit 5 madhav nepal katto khane bahun ko ke kura
Posted on 02-09-07 10:07 PM
Reply
[Subscribe]
Login in to Rate this Post: 0

?

In a country where corruption and inefficiency are endemic, addressing basic problems, like disorganized government files, is a good start. In the Lalitpur District Court in the Kathmandu valley of Nepal, over 50,000 files, some of them more than 100 years old, overwhelmed the small room in which they were stored. Many files were in bad shape with missing or damaged documents source: http://www.usaid.gov/stories/nepal/ba_np_corruption.html