[VIEWED 1194 TIMES]

SAVE!

for ease of future access.
Posted on 04-05-06 4:31 PM
Reply
[Subscribe]
Login in to Rate this Post: 0

?

hey sajha mitra haru i had head few days ago that nepal samachar patra had published a cartoon against kantipur publication stating that kantipur is doind yellow journalism and spreading rumour and its against king re. i was curoius to know how the cartoon is , finally i got in one of blog site . so i think it will be interestingto u . DO U THINK KANTIPUR IS DOING ALL THESE RUBBBISH IN NEPAL. IS IT DOING YELLOW JOURNALISM OR NOR. OR WHAT IS NEPAL SAMACHAR PATRA DOING BY SUPPORTING KING. WHAT U THINK i think kantipur is doing good job fro democracy AND STAND IT SELF AS 8 THPARTY OF NEPAL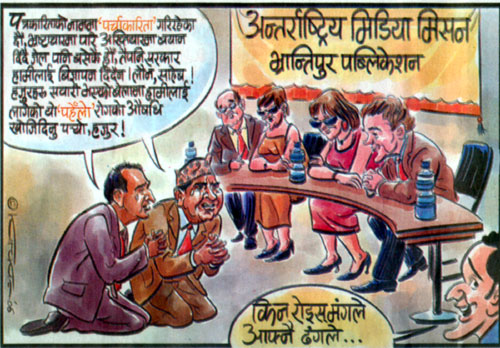 Posted on 04-05-06 4:50 PM
Reply
[Subscribe]
Login in to Rate this Post: 0

?

Kantipur is doing yellow journalism and there is no doubt about it. It is against king and very very biased. I am not supporting king but i think a news agency should be neutral. Another example of yellow journalism, its competition with Himalyan times. when it could not beat the price of the himalayan times it published inflammatory news so as to create public agitation. The news they use to create inflammation was about birth place of buddha. And guess what later on investigation it was found the same news what published in kantipur a year ago. What a hypocrite.