[VIEWED 6208 TIMES]

SAVE!

for ease of future access.
The postings in this thread span 2 pages,
go to PAGE 1
.
This page is only showing last 20 replies
Posted on 02-06-05 12:07 AM
Reply
[Subscribe]
Login in to Rate this Post: 0

?

This is an open letter send by a journalist in Nepal who is currently in hiding. It is the first piece of communication from the totally cut-off Nepal. His identity has been kept secret since it's a highly sensitive issue. Dear friends and well-wishers, I am using email after three days, currently under cover in Nepal. As all the telephone lines, Internet and other communication facilities have been cut off, we are experiencing the Stone Age in the 21st century. This has been a complete hell for journalists. We are not allowed to talk to anyone. Political leaders are either under house arrest or have been detained. There are Armymen patrolling the streets. Even if there is an emergency situation in a house, there is no way of communicating with others. In the eyes of a foreign journalist, everything would seem calm and normal on the streets. But the weight of the undercurrent is unfathomable. Ours is one of the biggest media houses in Nepal. Since the king addressed the nation on Tuesday morning, dictatorial rule has been imposed on media as well. The Army officers scan all the contents before it goes to the printing or on air. I won't be able to check emails for the next several days or may be months. So don't reply. Our life is in threat and an eerie silence lingers in every corner of Nepal. Speaking anything against the monarch or the rulers is directly inviting death, or arrest, nothing less. I hope my friends outside Nepal help us in this hour of difficulty. Please circulate this email among your friends' circle, and please try to exert pressure on your government to bail my country out of the trouble and hardships we are going through. Thank you.
The postings in this thread span 2 pages,
go to PAGE 1
.
This page is only showing last 20 replies
Login in to Rate this Post: 0

?

I got u new userr, I was so wondered that how come anybody support KG steps. Now I understand who are they who support KG's action. I don't think anybody who can use his mind will support his action. Bichara haru ko kalyan hun, KG ko aasirwaad paun, future andhakaarmay bhaye pani bartamaan shudhriun, pachhi pachhuto lage pani ahile aafno buddhi ko use nagarun. Binash kale Biprit Buddhi.
Login in to Rate this Post: 0

?

Khate Gayne ko chamcha, cannot wait for 100 days to talk to my family. I don't care with what happens to mandales or bhrasta netas or maobadis. Jasle j man lagchha j shakti chha tei gara.But don't support your murderous king and his attempt to put the public in darkness. he has tried to supress the voice of the pople with the barrel of gun but if this continues for long, there's no alternative then to storm to the Narayn Hiti and sabotage it. Down with Gyane chor. Down with mandale. If you are not mandale don't feel offended.If you feel offended you are mandale.
Posted on 02-06-05 9:18 AM
Reply
[Subscribe]
Login in to Rate this Post: 0

?

newuser, you may be affiliated with a political party or have a lot to lose with Kings move but for an average nepali Harkey like me, I give a rat ass about your democracy. Looking at what the nation is going thru right now, I am ready to give chance to any possibility that may give me a hope for a peaceful nepal. And i have seen enough of the political parties. I failed my vote. So, quiet all the anguish and don't be like "mero goru ko barai takka attitude" Be flexible and learn to be open for all possibilities. As for the phone line, trust me it won't be too long.... its just a matter of days. Afterall, they will need phone lines too function their government.
Posted on 02-06-05 9:36 AM
Reply
[Subscribe]
Login in to Rate this Post: 0

?

Who is a Mandaley??What factors determine someone to be a Mandaley? HAMRO RAJA HAMRO DESH PRAN BHANDA PYAARO CHA?? I don't want 15 Years of bloody democracy. I don't want innocent people dying. I don't want schools closing every other day. I don't want mothers scared and women widowed. I will take anything that the King has to offer because I remember when I was VERY YOUNG how peaceful Nepal was. People were poor but there was peace. There was hope in the eyes of the poor and the rich that someday theri lives will improve. But now, hope if far from Nepalis reach. There are bombs exploding everywhere. People being shot, looted, abused, and terrorized. There is constant fear and democracy is not a system of fear. Democracy has been used as a tool for violence and corruption by your so called "non-mandaley" netas. I reject such philosophies that respecting your king and country makes you a mandaley. For I got nothing from the Panchayat. Neither will I ever get anything from the KING nor do I want anything. Democracy is freedom. Democracy is not possible in Nepal right now as freedom to live your everyday life without fear, terror and torture is a mere dream to most Nepalis. And democracy doesn't exists in fear and terror. Therefore, it is a must to establish peace to ensure the validity of democracy! I will give King G a chance even if that makes me a mandaley. Anyway, HAMRO RAJA HAMRO DESH PRAN BHANDA PYARO CHA!!! JAI NEPAL
Posted on 02-06-05 9:53 AM
Reply
[Subscribe]
Login in to Rate this Post: 0

?

mero chahin "pran" bhanda pyaro chahin chaina hai. baru yeso bhanda kaso hola? HAMRO RAJA HAMRO DESH NETA BHANDA PYARO CHA!!!
Posted on 02-06-05 9:59 AM
Reply
[Subscribe]
Login in to Rate this Post: 0

?

That?s ur problem Nepalichhori that you are just 16 or 18 years girls who don?t know how was panchayat system and why and how 2046 came. I am guessing ur age coz urself wrote u were too young when Nepal was peaceful and I think Nepal was peaceful until 1994 or 1996. You only saw 14 years of democracy and u got bad impression of it due to few netas. But you can still read the history of Nepal or ask your parents about panchayat kaal. Hope they will tell you truth and then you really gonna hate panchayat system. And how come you don?t want freedom, were u in Iraq before under Saddam regime that don?t have taste of freedom. For Khate, you seems very close to KG or may be himself, otherwise how can you promise something about communication. Even communication minister don?t have idea when it gonna be restored. If you are KG himself, write it clear man, and then we will write something with respect.
Posted on 02-06-05 10:06 AM
Reply
[Subscribe]
Login in to Rate this Post: 0

?

Nepalko choori, Afnai daju ra usko santan lai marne ,rayoal budget 60 bata 600 million banaune ani rameshnat ra radhakrishna jasta kukhya bhrasta lai mantri banaune .He is worse than corrupted neta.I donot see any positive credential for gyane bhyai mara.
Posted on 02-06-05 10:15 AM
Reply
[Subscribe]
Login in to Rate this Post: 0

?

Oh ho asis KAKA, You are so intelligent to know NepalkoChori's age as well from her post. By the way if you know her dob, let us know too we will give her a surprise birthday bash. Your mathematical calculation proved my theory that generally children are innocent, honest and they see the truth. Could you also highlight your experience living in democracy for more than 14 years wherever it might have been. I dont think NepalkoChori was in Iraq, but sounds like you were and I am eager to know how you lived in Iraq. By the way, do I need to go back to old issues to find out if you actually supported George Bush's attack on Iraq and Afghanistan? Or is that a completely different story? One final request, please dont reveal my age on this forum. I am having tough time even when I am lying about my age, so please do be considerate.
Posted on 02-06-05 10:29 AM
Reply
[Subscribe]
Login in to Rate this Post: 0

?

Asia, I am strogly disagree with you.........how do you describe they are Mandale coz they don't support you or they wants to see peace and progess in their country. I think people who voteor support for KG action, they are tried of all currupt netas. You have told few netas is bad, can you give me a one single leader name who has good reputation with Nepalese people??? I have seen panchayat era and who thought democaracy is better then Panchayat but our all currupt neta prove that Panchayat is better then last 14 years democracy periods. That's why 116 people vote for KG action. I believe with in 116 people most of them support before democracy and might fought for democracy too. Now they are tried of bad and currupt neta. No matter who run the country but i wants to see these things in my motherloand. 1. Peace and security 2. Progress 3. Punish currupt leader 4. social and sconomic development 5. Human rights 6. Democracy ( only if we can correct from past action) Jai Nepal, Sagun
Posted on 02-06-05 10:58 AM
Reply
[Subscribe]
Login in to Rate this Post: 0

?

In those 14 years, do you think King had no power to do anything? Let?s forget about 14 years, just talk everything after KG era started. In 3 years, he replaced 5 PM (Deuwa twice), what he wanted to prove. Why Deuwa again after telling him incapable. Do you think there was no any new face or new way) to sort the crisis? He could have done the same thing even in Democracy and at that time nobody would have been opposed him. If he was so devoted for country, he should have accepted the table talk with maoist last time. Why RNA didn?t gave the same support before, which they want to give now to KG. I think you guys don?t care for communication right of people. You may be wishing to censor sajha too and you will be more than happy if sajha site gets closed for few days
Posted on 02-06-05 11:01 AM
Reply
[Subscribe]
Login in to Rate this Post: 0

?

Kasto Jangeko Nani Hajur ta, baba !! Sasai napheri Lekheko JASTO. Well, ramro lekhnu bhako chha. Tara Chori, kasari bhane, raja aaudai ma aba SHANTI pani Auchha bhanera? Hoina? Who knows Mao may get rid of King also, and vice versa. We can wait and see at this moment what future has to bring, since we don't have a single leader with a broad vision OR Plans for development of Nepal and Nepali, right? Well, good luck with your creative threads in future. :)
Posted on 02-06-05 11:14 AM
Reply
[Subscribe]
Login in to Rate this Post: 0

?

Gyanendra insecure bhaera ta ho ni sabai politicians journalists, H R activists harulai najarband ma rakheko. If he wants too see who is supporting what,why don't he let the people take out rallies and she how many people are there on each sides. I bet Singha Darbar dekhi Narayanhiti samma tekne thau hudaina tyo Gyanendra ra tesko (ajha) bhrasta mantri mandal lai. This is nothing but GYANE LAI KAAL LE BOLAKO HO. Bichara Paras, Raja hune tesko sapana chahi pura nahune bho. Banduk ko bhar ma janta le support garcha bhanera dekhaune tyo Gyanendra ra Maoibadi ma ke farak bho ta? Bides ma basera Long live our king bhanne M**ji haru jindagi bhari exile ma basnu paryo bhane ani chal pauchau.
Login in to Rate this Post: 0

?

asis KAKA, as I said before you are very intelligent and now I find you to be knowledgeable too. Yeah, why talk about 14 years, 3 years is good. But if we want to talk about 30 years of Panchayat, I think that should be ok, am I right? How would Gyane know that there were so many new faces, including you until now. He only knew there were fer PM candidates. I guess every time Girija becomes a PM he brings a new face and Madhav Nepal was definitely a new face. Oh yeah, I saw his grinning smile in yahoo's photo. He sure has the personality (big belly) to be a PM. How could Gyane forget him, ofcourse he does not have advisors like our asis KAKA. About the table talk with Maoists, thank you for pointing out that it was Gyane who refused the table talk. I always thought it was Deuba who had offered the talk to Maoists. Now I understand it was offered to Gyane by Deuba/Maoists. I hope I got this right. Censorship of Sajha - how could you say that? Then where would we go to read your intelligent and knowledgeable posts. Communication rights of people is definitely higher priority than letting Kathmandu BURN. I mean how much property could people destroy, except few houses like those of Chiranjibi Wagle.
Login in to Rate this Post: 0

?

For all you gyane's chamchas and supporters..here you go: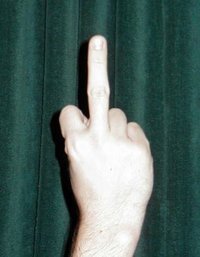 Posted on 02-06-05 11:47 AM
Reply
[Subscribe]
Login in to Rate this Post: 0

?

Thats what our problem is........f*cking Nepalese no matter where they go they cannot show any sign of unity. At this time what we can do is come together and support one form of government. We all have seen past ten years......US$ 1 was NPR 21 now you know what it is. Can you see that fools. It was well established government scholorship programs abroad.....many of you are enjoying that right now. There was free education system for poor, the cities were clean and groomed. It was more vibrant then. Also we all used to come together and support our country's pride and superstars wrecking havoc all around the world in their respective fields. Until F*ckin Chadre from came to Dasrat rangasala and provoked Nepalese of a dream that nobody could comprehend and no not even one prospective leader to lead us to that promise land. Now we are still chasing and killing each other for it and in the meantime the condition of Nepal just went from Bad to Worst. If you still don't believe it you'll never get it.......you are also one of those who beleive in Darker side of Democracy. In Nepal's condition democracy don't work, In western society and in western language its called democracy and Nepal's societ and language its called Panchayat....get it mofos. Panchayat wasn't bad it was just people who were running it was bad.....the system was good .... unless you think Bushism is good. Peace in Nepal and around the WOrld. Hail to the King........lets give him a chance and see what happens but hey listen in the mean time we need to keep our eye on our enemy trying to destroy our country. ANd to all y'all motherF@ckers if you can't call or email home.......try writing letter fools....you know you've learned it in Mahendra mala.....didn't you? YOu can have it now.
Posted on 02-06-05 2:05 PM
Reply
[Subscribe]
Login in to Rate this Post: 0

?

Your cries are acknowledged...you losers. The king is already powerful...Corrupt leaders should be stripped of all the black money they gathered.I am sure he has balls to do that.It will happen soon. He is betting his life/monarchy.He will do anything possible to control the situation, which is good for general people which makes almost 80% of the total population. Internet and phones? My a$$......80 % people don't even have electricity, forget about phone and net....They don't give a Fuk about phones and nets.
Posted on 02-06-05 2:13 PM
Reply
[Subscribe]
Login in to Rate this Post: 0

?

sakinna baba sakinna gyanendra ka abaidh santan haru sanga democratic and civilised discussion garna. Oi tero maharaj lai sajha banda garna refer gar aba.
Posted on 02-06-05 2:21 PM
Reply
[Subscribe]
Login in to Rate this Post: 0

?

SOMEBODY NOTED MY AGE...NOT MY REAL AGE OFCOURSE..BUT GLAD I SOUND YOUNG..ITS A COMPLIMENT FOR ME...:=) BUT AGE HAS NOTHING TO DO WITH PEOPLES PERCEPTIONS. ANYWAYS, LET ME REITERATE THAT DEMOCRACY IN ITSELF IS NOT A BAD SYSTEM, ONCE AGAIN!!! HOWEVER, AS SOMEBODY NOTED A WORKING DEMOCRACY IN NEPAL IS TRANSLATED INTO PANCHAYAT. NOT EVERY SYSTEM WORKS FOR EVERY COUNTRY. NEPAL IS UNIQUE NOT ONLY IN ITS CULTURE AND HERITAGE BUT IN SITUATION TOO , ESPECIALLY RIGHT NOW. SO I FEEL KING G HAS DONE THE RIGHT THING AT THE RIGHT TIME. I DOUBT HE WILL TAKE NEPAL BACK TO THE OLD CRUEL PANCHAYAT BECAUSE HE KNOWS, THE WORLD IS WATCHING OVER US, SO LETS NOT JUMP TO ANY CONCLUSIONS SO SOON. I KNOW HE INCREASED HIS OWN SALAREY AND HIRED RAMESH NATH PANDEY TWICE...AGAIN, THATS NOT THE MOST DIGNIFIED THING TO DO. BUT AT THE SAME TIME, HE IS THE KING AND HE DOES HAVE THE RIGHT TO HANDLE THE RESOURCES TO HIS WISH. AND UNFORTUNATELY EVERY AIRE GAREY...10 CLASS PASS LOOSER LEADER HAS DONE THE SAME... I AM YOUNG AND INEXPEREINCED . BUT I SUPPORT MY KING AND MY PEOPLE 100% YEAH I KNOW IT AINT ABOUT SUPPORTING MY PEOPLE. I KNOW KING G IS LIKE AN AUTOCRAT..YEAH YEAH I KNOW WHAT YA ALL THINK...I WILL LET U..I HAVE NO HOPE IN NEPALIS PEOPLE..KING IS A DIFF SOTRY..CUZ HE IS ROYAL AND THEY HAVE HUNDRED YEARS OF EXPERIENCE...NOW YOU PEOPLE WILL LIKE EXPERIENCE RIGHT..SO LEAVE HIM ALONE..HE HAS GOT HE BACKGROUND..KNOWLEGDE..EXPEREINCE TO DO THE RIGHT THING... JUST WAIT AND SEE...HE WON'T LET NEPAL DOWN UNLIKE OTHER PEOPLE AFTER ALL HE IS THE KING AND NEPAL IS HIS COUNTRY. IF THERE IS NO NEPAL THERE IS NO KING..NOR NEPALIS..MAKES SENSE... JAI NEPAL
Posted on 02-06-05 2:33 PM
Reply
[Subscribe]
Login in to Rate this Post: 0

?

i woulld like to make thing clear regarding the comment on mandale. the sajha voting shows that 65% favor the king. it does not mean these 65%are panche. if this voting were done at any time in 1990, i would agree that these guys were panche. since this voting is being done in 2005, it shows the people are tired of all bullshits politicians like girja and madhav. all they taught us in 15 years was how to fight within ourselves. these politicans are more dangerous than even maoists. they are like spywares in computer. our country has been infected with these spywares. so we need a software that removes all these spywares like girija, sushil, madhav and so on.i heard in the news that some spywares have escaped the country and have sheltered in india.and they curse the king from india. some spywares have stat until we kill these spywares, our country can not progress.
Posted on 02-06-05 6:05 PM
Reply
[Subscribe]
Login in to Rate this Post: 0

?

To remove spyware you don?t have import virus in your computer. Spyware will annoy you while using computer but virus will make you worried. If your computer gets virus then you will see different type of problems. Sometimes it is very critical and sometimes it won?t even let you browse and check your emails, which turns into communication problem, which you can see Nepal has right now. It is very worst virus, which is not removable, so you may have to format your computer.