More by dparaj
What people are reading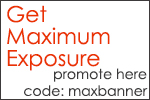 Subscribers
[Total Subscribers 0]
:: Subscribe
[VIEWED 242 TIMES]

SAVE!

for ease of future access.
Posted on 08-10-17 11:09 AM
Reply
[Subscribe]
Login in to Rate this Post: 0

?

Hello, 1BHK apartment available in Irving,TX. Close to Kroger(Belt Line Rd, Irving, TX 75062).
Contact at 972-827-8115
---
Please Log in! to be able to reply! If you don't have a login, please register here.
Within last 7 days
Recommended Popular Threads
Controvertial Threads

पिन्कुको नया काले हस्पि नाक चुचेय भाते भतुवा
To linux and devops gurus
अमेरिकामा एक नेपालीले स्वास्नीलाई खुकुरी जस्तो धारिलो हतियारबाट हत्या र सासुलाई सिकिस्त आक्रमण
Back to Monarchy ?
Out of Status: Travelling to Nepal on TPS
The price and weight of Deepika Padukone's lehenga will surprise you
Good QA/BA consultancy
inviting sister during delivery(child birth)
A question for Nepali in inter-cultural marriage
When will TPS renewal open?
To Start a IT consulting company
NOTE: The opinions here represent the opinions of the individual posters, and not of Sajha.com. It is not possible for sajha.com to monitor all the postings, since sajha.com merely seeks to provide a cyber location for discussing ideas and concerns related to Nepal and the Nepalis. Please send an email to

[email protected]

using a valid email address if you want any posting to be considered for deletion. Your request will be handled on a one to one basis. Sajha.com is a service please don't abuse it. - Thanks.