[VIEWED 20724 TIMES]

SAVE!

for ease of future access.
The postings in this thread span 2 pages,
go to PAGE 1
.
This page is only showing last 20 replies
Posted on 07-24-13 7:09 PM
Reply
[Subscribe]
Login in to Rate this Post: 2

?

Liked by
Re: Complains and concerns regarding Miss Nepal US(A) 2012
We had to remove the first post because some people were just doing personal attacks to the choreographer Sarah Gurung Tetsuka. But this was originally written by the contestants and their guardians. She is one of the witness and is supporting us.
On the behalf of the participants and their family of Miss Nepal US(A) 2012, this letter kindly invites your attention to the misconduct and the false advertisement of the Miss Nepal US(A) event in 2012. The event was poorly and unfairly executed which also includes threatening the health of the participants due to improper housing conditions, failure of accommodation of food on time and lack of immediate medical direction when needed.
Miss Nepal US(A) was not conducted as advertised to us contestants. The first false advertisement started off with the number of finalists they allowed to participate in the program. The organizers had claimed that they would only have 20 finalists; however they ended up the event with 28 finalists in order to gain the additional $8000 from the eight extra finalists. They also made a false announcement claiming to have more than 100 applicants to get the media attention but they only had 28 applicants. To our shock, despite Mr. Amit Shah (The CEO) and other organizers being aware of the fact that one of the applicants was married in Nepal, still choose to include her as one of the finalist which is absolutely against their own requirement clearly reflects the lack of integrity of the organization.
Additionally, the whole training schedules were diverted to go around places in order to advertise for the organizer sponsors instead of providing the training that were promised during the application. . The participants' were sometimes fed at a gas station and the hotel that the participants had to stay in had bed bugs.One of the contestants had to participate in the finale with a swollen face due to lack of treatment on time. Similar case also occurred to another finalist, when the second day of training, the contestants had to get their blood drawn for the life insurance policy which in fact was unnecessary for all the participants to go through as the insurance was only for the winners one of the contestant has a swollen and bruised antecubital space which wasn't addressed by the organizers until after a week.
Despite these outlined issues, each contestant considered the organizers' everyday apologies and forgave in hopes of a grand finale as promised even when some of these issues were directly affecting participants well being. Unfortunately, the Grand finale of Miss Nepal US(A) 2012 turned out to be an incomplete, poor and disastrous event to the participants as well as the audiences. However, the audacity of the organizers to advertise the event as a success highlighted the organizers lack of accountability and their intention to deceive future participants through false advertisement, which reinforces the fact that the whole pageant is nothing but a scam.
The finale was an incomplete event, which was executed poorly and unfairly. The show started more than 2 hours late and ended abruptly without completing the rounds that the participants were trained to be judged from. After the first round (cultural round), the organizers decided to change the whole time schedule for the show due to the lateness of the program. Due to this, all the work that went into practicing and perfecting the choreography was put in vain as all the rounds were cut shorter or canceled as mentioned earlier. Also due to the cancelation of certain choreographies, many of the items which were required purchase by the contestants were not put to use. But this was not the end of mismanagement; one after the other the program took a new toll. As witnessed by the event choreographer, Sarah Gurung, two members of the organizing committee, Mr Sarad Yuvraj Singh and Sailesh Shresta had taken the score sheets and manipulated it with new tallied numbers and made up a Top ten list without even adding up the scores given by the judges present.
At the same time, even though the CEO of Miss Nepal, Mr Amit Shah was aware of this, he was not concerned about the actions of the two member of the organizing committee, instead he was more concerned about finishing the show on time due to the lateness of the show. And after the top ten finalists were asked individual questions, the final winners were announced based off of 10 different individualized questions and answers. How was it even possible to choose the top 3 based on 10 different questions? Moreover, on the website it clearly states that "The winner for this beauty pageant will be chosen based on their personality, overall attitude, public speaking skills, talent and their ability to form intellectual opinions on issues of national and international concern ask by jury".
Now the main issue was that the judges were called upon the stage within minutes after the top ten questions were asked to award the winners. This raises a huge question on the authenticity of the results as it is quite impossible to do the calculations for 10 different contestants from 10 different judges in such a short period of time. They did not make this transparent at all as the score sheet was just being passed around from the judges to the organizers not in front of the audience like it should have been but behind the curtain and the winners were announced promptly.
Apart from these, there were several audiences who spent $100 dollars for their VIP ticket, which was promised to include a red carpet entrance, a meal, and on site voting for their favorite contestant but none of those actually happened. This whole event was indeed a big scam.
After the event when the participants tried contacting the CEO Mr. Amit Shah asking for clarifications, he just said how he believes that some team members took advantage of the situation and that he thinks that the mistake was in judges' selection as some of the judges had no clue. It is even worse that instead of accepting his mistakes he was blaming such respected personalities.
The Participants always respected the team members like their own family but it is disgusting to find out that one of the organizers Sailesh Shrestha whom they treated like a brother had to be taken out of one of the contestants room drunk when she complained to the choreographer and they had to use the Bikrant Shrestha's ( official photographer) help to get him out of the room. Apart from that, he called several participants and choreographer Sarah Gurung many times in the middle of the night and when he was being ignored he started calling from private numbers.
During the night before the finale, a party was organized for the contestants and the staff. Even though the organizers were well aware of the underage participants, alcoholic beverages were being served. When the event choreographer, Sarah Gurung, requested alcohol to be excluded, the event manager Sarad yuvraj Singh and Sailesh Sherestha, disputed and instead replied by saying, "we need to have alcohol and dance and put up pictures on social media to show how fun and exciting it is to be part of Miss Nepal US(A)." In other words, the party was held in order to falsely advertise the organization, even if it meant to let the underage contestants drink without parental consent.
Miss Nepal US(A) claimed to serve as a platform for youths to promote the richness of Nepali culture and reward the hidden talents. But in contrary, they used us a medium to put on a show and make money. They cared less about the effort and dedication we put into it. Even though some of us did make it to the Top 10 finalist and some of us did receive a subtitle, due to the planned out winners and title holders by the organizers, we are not fully satisfied for there were other contestants who were more deserving.
After hearing all that, we are hopeful that you have come to understand our situation. Even after all this it is a shame that the same organizing committee is yet doing another year of Miss Nepal US(A) with even more false advertisement and enticing offers and prizes. Knowing all this, our dignity and pride doesn't allow us to let this happen again and let another single fellow Nepali female go through the same road of distrust and misery that we did.
Once again, we are not against Miss Nepal US(A) or the previous winners, we do believe that it can work as a great platform to uplift Nepali culture and encourage youths if organized by the right team but we absolutely cannot trust the same organizing team that includes members like Sailesh Shrestha and Sarad Yuvraj Singh. Please boycott this event to prevent these unfortunate events and stop the ill witted people from doing the same thing and exploiting more Nepali women.
We would heartily like to thank you for your patience and lending us your ears and time all along. We are extremely hopeful that you would help us in this matter.
Also, it has come to our knowledge that they were begging some of the girls to just participate for free because they were desperately in need of participants. And some of the contestants even received calls from the organizers saying if we can get some girls to participate they will at least get a title for sure ! And not to our surprise only 16 people applied this year and they are all selected as finalists but just wanted to warn all the contestants, families and sponsors.Even after knowing all this if you still would like to participate or send your daughters we can't really do anything.
Barsha Moktan (Top 10 Finalist)
Sadikshya Silwal (Top 10 Finalist)
Srajeena Joshi (Top 10 Finalist)
Swikriti Khanal
Roshni Gurung (Subtitle- Best Dress)
( and other girls who will reveal their names if necessary)
Last edited: 25-Jul-13 10:18 AM
Last edited: 25-Jul-13 10:23 AM
The postings in this thread span 2 pages,
go to PAGE 1
.
This page is only showing last 20 replies
Posted on 07-25-13 12:40 PM
[Snapshot: 1414]
Reply
[Subscribe]
Login in to Rate this Post: 0

?

Men and women are equal .... All miss Nepal usa were
Posted on 07-25-13 12:41 PM
[Snapshot: 1379]
Reply
[Subscribe]
Login in to Rate this Post: 0

?

Here we go agin With tis tabloid talk !! Shut the fug up, We do not need this BULLSHIT !! Oh yeah your ego is a lil bruised.. hehe what the fug did you expect(going into such contest, you thought CoCo Chanel was going to pick you up as a model ? or maybe the ford Modelling agency) ? We do not need to know who did what and when.. just keep it to yourself. No need to wash your dirty laundry in public.
Posted on 07-25-13 12:45 PM
[Snapshot: 1421]
Reply
[Subscribe]
Login in to Rate this Post: 0

?

Men and women are equal. ... All miss Nepal usa should ask their men to perform cunnilingus on them and they should do the same to their men...
Posted on 07-25-13 1:24 PM
[Snapshot: 1535]
Reply
[Subscribe]
Login in to Rate this Post: 1

?

Liked by
@bathroom coffee why dnt u shut the fug of because you dnt need to wash your filthy mouth in public either.
You are probably one of a fren of them organizer so your hoping you would get free passes to the show and also meet girls whom you would have no chance of meeting ever.
Take your frustration out somewhere else brother. I know its a tough tough world out there!
Posted on 07-25-13 9:36 PM
[Snapshot: 2459]
Reply
[Subscribe]
Login in to Rate this Post: 1

?

Liked by
Hoina.. Yeuta group ijjat nai luteko jasto kura garcha ani arko chai miss world nai bajaye jasto. Khoi Ke sikey america basera yi naniharu le kunni.
Posted on 07-25-13 9:42 PM
[Snapshot: 2471]
Reply
[Subscribe]
Login in to Rate this Post: 0

?

Girls! If you really want to make it like tabloid talks. WE NEED PICS. Put each other pics here and so we can enjoy more and talk about you. Wait guys... Keep coming to this thread they will put pics soon showing each other "kartut".
Posted on 07-25-13 10:48 PM
[Snapshot: 2551]
Reply
[Subscribe]
Login in to Rate this Post: 1

?

Liked by
Your emotions and feelings are completely justified, but don't you think you're using all your energy towards this in a wrong way? Have any of you had a chance to read the profiles of the girls participating this year? Those of you who already participated, some girls this year may remind you of yourself, or that friend you made, or even your enemy from the pageant. It should also remind you of the excitement you must have been feeling to participate, the anticipation, the nervousness, etc etc. You all must have had an vague idea of the pageant from 2011, yet you still participated. Why?

Because you wanted to be in the spotlight. Pageant is every girl's dream, and it's great we have Miss Nepal US to fulfill dozen+ such dream every year. However, it's unfortunate that the wrong people seem to be organizing it. Ok, we can boycott this year's event. We MAY hurt the organizers, but we will DEFINITELY be hurting the 16 participants who must be so eagerly waiting for this event. Crushing dreams of yet another set of girls' dream, just like yours was crushed. Not such a great idea, is it?

Kunai desh ko sarkar bhrastachari bhayo bhane desh bhatkaune hoina, bhrastachar lai po hatauna tira lagna parcha.

Perhaps join them? You certainly have grabbed many people's attention by voicing your opinions, including the organizers. Ask to join the team, get in however you can. Hey, they want to save their event too and make it successful, so they will have to listen. Teach them a thing or two about organizing and fair competition. Teach them what they did wrong and what they can do right. Use your actions to heal, not hurt. Maybe there will be opposition at first, but when there's a will, there is always a way.

Focus on making the girls this year and further have better experience than you, not sabotaging the event to steal this platform from future Miss Nepal US's. Seems like the organizing team can definitely use more women, so show what woman power is all about.

Cheers!
Last edited: 25-Jul-13 10:49 PM
Last edited: 25-Jul-13 10:57 PM
Posted on 07-26-13 12:26 AM
[Snapshot: 2705]
Reply
[Subscribe]
Login in to Rate this Post: 0

?

The day is not too far when we start hearing of lawsuits...... not too far!!
The question is kun eventle chai suru garcha tyo??
Last edited: 26-Jul-13 12:28 AM
Posted on 07-26-13 11:37 AM
[Snapshot: 3018]
Reply
[Subscribe]
Login in to Rate this Post: 0

?

Dear management team (Miss Nepal USA 2013), could you please lower the entry fee so that more ladies could afford and participate in the program??
What is more surprising to me is that some of the participants of this year are seeking donation to participate in the program. They want other people to cover their expenses.
People might say dina maan lage dinu natra kina tauko dukhako???
But i couldn't understand why they are openly asking donation to pay for for their expenses. On what basis should other people donate them??? what are the reasons?? I couldn't justify their request for donation especially when there are lot of criticisms about the management team and last year's program.
Posted on 07-26-13 1:50 PM
[Snapshot: 3180]
Reply
[Subscribe]
Login in to Rate this Post: 0

?

Antimissnepalusa:
What is your argument against the organizer(s)? I really don't get it. Everything is
Hearsay.
Hearsay is information gathered by one person from another person concerning some event, condition, or thing of which the first person had no direct experience n
or can it be adequately substantiated
[

1

]
You have been
posting the
defamatory statements
towards the organizer(s) on public forum.
Defamation
is a catch-all term for
any statement that hurts someone's reputation
Remember, The Organizer, Event Planet Inc., is legally registered entity under States Law of NY. And they are organizing events next
month. All
ex-participants
should be careful posting their names on public forum.
"Please boycott this event to prevent these unfortunate events and stop the ill witted people from doing the same thing and exploiting more Nepali women".
Really !?!!!!! MissNepal USA is an "unfortunate events" organized by "ill witted people" and tryng to "exploiting more Nepali women"
Did you meant to say all these women who participated in MissNepalUSA 2012 likely to have psychological distress?
Show me what kind of harm it occured to all the participants of MissNepalUSA 2012.
Posted on 07-26-13 3:47 PM
[Snapshot: 3331]
Reply
[Subscribe]
Login in to Rate this Post: 0

?

I was also there as an audience N i was reallly disappointed with the whole show.The peagant was not only full of crap but also full of injustice. Not only the participants even the audiences were cheated.we all need to protest against this injustice and the organizer who are clearly unfair and money minded ...so that no one gets cheated off.
@antimissnepal usa. I have a huge respect to you guys for doing this N i think it will be better if you guys give it to press. I don think many people follow sajha.
Posted on 07-26-13 5:55 PM
[Snapshot: 3425]
Reply
[Subscribe]
Login in to Rate this Post: 0

?

@simplegirl......
So MISS NEPAL USA gave you the platform to reconize you Globally.....hahhahahahhahahaahaa lol. This surely tells u how dumb u r and this kind of peagant is only for DUMB people like u. I can only see one lady in their every promos and pics. Why don't they use winner instead of second runner up??? Where r the other winners of miss nepal usa 2011 and 2012 N What r they doing so far except that one lady who is BZ in promoting herself and this crap peagant????
Posted on 07-27-13 1:51 AM
[Snapshot: 3684]
Reply
[Subscribe]
Login in to Rate this Post: 0

?

come on guys... whoever wins the pageant, usle ali hausala paucha.. uslae afule afulai ma MISS NEPAL USA hu bhanera chinaucha.... first runner up, second runner up, third runner up le ta ma PUBLIC FIGURE hu bhanera afule afulai afnai akhama thulo banaera alikati atmasamman prapta gari ra cha.... some people just need this... uniharuko sapana chakna chur nagara.
if you wanna go to an event that lives upto your expectations, arkai event jau :D
Posted on 07-27-13 11:20 AM
[Snapshot: 3810]
Reply
[Subscribe]
Login in to Rate this Post: 1

?

Liked by
First of all, proud of all those girls who are protesting against this stupid show. Good job! You guys are truly a symbol for empowered women and i respect your courage to inform the general public about the last year event when you know there will be people who will point their fingers at you instead of taking accountability on their part. As I have mentioned in my earlier posts, I went to the show as an audience last year and was shocked. This year I have chosen not to go and will never ever be an audience of show organized by these team. Another thing, if there are 16 ladies who have such a poor self esteem this year and want to be part of this circus in hope to acquire anything despite being informed about last year, I would say its not the organizers fault anymore but the 16 current ladies who do not have enough respect for self and utilize their time for some thing better. Also, I was asked by 2 current participants to donate money for them, I balantly refused and directed them to this page to be better informed. They said the team are trying to improve this year and that is why they are participating...but didnt they say the same thing in 2012 after failing in 2011...I told the ladies I can not donate my hard earned money to such corrupt people and organization. Also, the quality of participants are not as great as last year, as there were well educated ....talented and aspiring girls last year. So this explains a lot....at the end I am not going to go see this show....not donating my money for them....if the girls don't value their time and money and still wants to be part of this scam ...who cares???
Last edited: 27-Jul-13 11:26 AM
Posted on 07-27-13 2:19 PM
[Snapshot: 3908]
Reply
[Subscribe]
Login in to Rate this Post: 0

?

Such a shame!
Some people never change!
Look at what ex co-ordinator for Miss Nepal USA 2013 Jyotika Shretha has to say...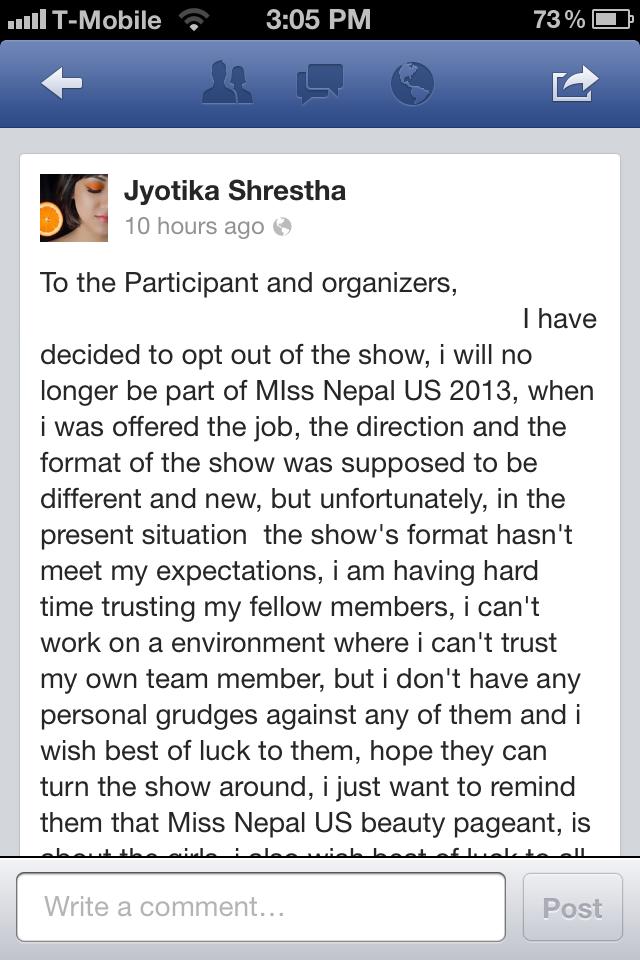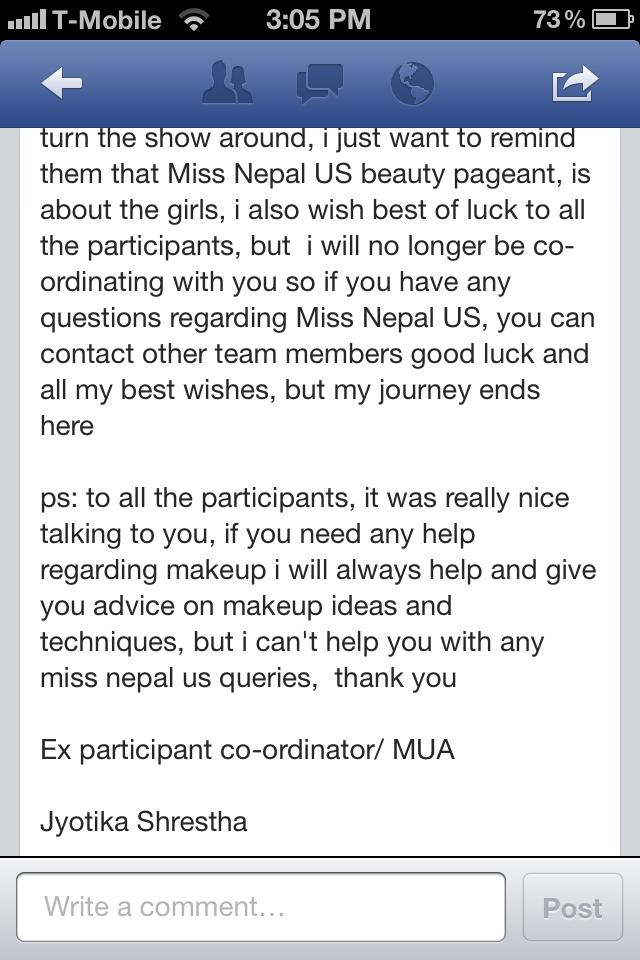 Posted on 07-28-13 2:42 AM
[Snapshot: 4149]
Reply
[Subscribe]
Login in to Rate this Post: 0

?

thaya bhayera pani kina Nepali Kti haru janchan thaya?$1000 ley baru padai ma,afnu expenses ma use gernu ni thyo ramro huncha hola baru.Attention seeker haru plus fb bata famous hune haru(hamra didi bahini) kina life ko valuable time waste garera chu timiharu,Get some Life.US ma chau Yo desh ko oppurtunity ko fayeda utau na testo CHOR M*** haru ko pachi lagera k pauchu timi haru ley??
Posted on 07-28-13 4:10 AM
[Snapshot: 4161]
Reply
[Subscribe]
Login in to Rate this Post: 0

?

why the hell those participants asking for donation? we are not their mule to help them become famous in facebook among 1200-1400 fans. There was this girl who wants us to like her page as if she so special. They want attention they better take care of themselves. Miss Nepal USA winners are not like any of those international models like Heidi Klum or Tyra Banks who can change the world. They can't even change our society and they want attention.Give up your self egocentric mind ladies and stay put. Rather than going there and participating and being used by these thugs, realizing you have been duped and considered nothing but useless, try to participate in big events globally if you think you have the potentiality.
Posted on 07-28-13 12:48 PM
[Snapshot: 4357]
Reply
[Subscribe]
Login in to Rate this Post: 2

?

Liked by
Whats up with this MISS NEPAL US... and people ripping young girls off in the name of MISS NEPAL US title which has no value or no recognition besides on FB and in couple of US events where they proclaim themselves as celebrity LOL.. and i guess MISS NEPAL US needs no audition.. DIRECT FINALISTS.. LOL and with such odd number of finalists... LOOKS like they could hardly get anyone to participate and no offence to any contestants but looks like whoever applied became finalist whithout any auditions and base... This is pathetic and also to those participants... how can you call urself MISS NEPAL US if most girls didnt even apply because its a scam.. its like being first on the class of 1 student... So participants open up ur eyes and see whats going on... everything is right infront of your eyes.. be smart not some beauty without brains.. PEACE
Posted on 07-28-13 3:44 PM
[Snapshot: 4479]
Reply
[Subscribe]
Login in to Rate this Post: 0

?

They are going this year also and we will have some heated discussion next year too. Haha
Posted on 07-29-13 2:07 AM
[Snapshot: 4691]
Reply
[Subscribe]
Login in to Rate this Post: 1

?

Liked by
yo sexi in sari and simple girl chai ko ho miss nepal USA ko support garne? organisers haru fake account banaudai comment gardai ho kya ho I'm guessing nabina ani tesko poi? haha laaj saaj navaka haru marda ko chora ho vane sari muni lukera comment gardai nabas agadi aaijo ani colorado ko tero kartut sablai thahacha credit card wala? nabina 2011 2nd runner up re ani aile samma aafno photo patrikama chapaudai aafanai badai chadai chai kina? hahhah aba nabina purano vaisaki kina ajai aafani tarif gardai hinche hahahhaha kasto laaj saaj pacheko manche haru thukkaa miss nepal usa jasari pani hataunu parcha america bata. soja saja keti harulai fasayera paisa lutna khojda raichan murkha haru.. thukaa