My Beloved Dear fellow Sajhaites,
It is with tremendous broken heart, Nas is bidding Sajha a good bye. Nas has been here in Sajha for quite many years and as many of you know that Nas has literally grown up with Sajha. Please, believe me when I say that.
In the past, I have been one hell of an obnoxious kid with my online activities in Sajha and I acknowledge it and I am truly sorry for my past behaviors. I know I might be one of the reasons why all the "good" Sajhaites are alienating themselves from this wonderful site. I am truly, deeply sorry for being the sole cause. If I could, I would turn back the hands of time and make all my wrongs right. I apologize for failing to do so as "time and tide waits for none".
I could perfectly understand the rage of my fellow Sajhaites in the past because of my "unholy" activities. Those folks were just too nice and "concerned" about the well being of this beautiful site which I was almost turning into a "porno side". But with time, I have grown past such activities or at least it's very rare now a days. I was an outcast of Sajha. Everyone looked down upon me and for a good reason.
What I utterly fail to understand is why Sajhaites hate me so much now? During these past few days, I have been loathed, vilified, maligned, slandered, attacked and all the rest of the words that fit into this category. As far as I know, I have never disrespected anyone attacking me. I have always taken any and all criticisms like a bold lad. I have never wavered from any personal attacks on me so much so that I never asked the Administration to delete any threads that was attacking me personally and dragging my family in the mess. Many of the old folks know what I am talking about. If you look into all my posts, I have always been kind, gentle and respectful to the people who have been same to me. If there are any attacks against me, I try to laugh it off with humor first. If my fellow attacks me the second time, I reply the person with some cynicism and when someone goes further, I return them the favor. I am being truthful and brutally honest, if there are any Sajhaites who have shown uber tolerance in Sajha, then I believe many of my fellow Sajhaites would agree with me or may even go little further to put me on the top of the list. I have always followed "the only major policy of sajha - that of tolerance".
My beloved gurls, Chiya, Samikshya, PeaceinHeaven, Perika, I am sorry I am unable to keep your promises but I am promising you that I will always keep in touch with you. Samikshya sweet heart, please read my private message and hope you will follow what I have encouraged you to be in Sajha, my sweet little cutie pie.
My beloved girls, your tremendous love and admiration is making me believe that you have gone beyond my "demeaning" and "dishonoring" (words of my "Pran Piyari" against me) posts on females in general and my "perverseness" depicted in many of my posts and truly got to know the person that Nas is. I am honored to have you known and to be admired and loved by such beautiful, graceful and delicate souls. You all know that Nas would not speak any fouls to any females in the real world, even if he acts stupid in this virtual world.
My beloveds, if your love has resurrected Nas, hatred has killed Nas once again.
Nas is sacrificing himself for the greater good of Sajha this time.
Lastly, If I have ever put a smile on your face, rest of my fellow Sajhaites, please bless Nas's corpse with some words and believe me my dying corpse can also take the harshest of the harshest and the filthiest of the filthiests comments !
Please remember my last dying words.
It was never personal.
It is never personal.
It will never be personal.
PS: My beautiful, my beloved and the sweetest of the sweetest chiya, I am sorry to make it public but I would like to die here in this virtual world with the token of love that you gifted me. You have tremendously poured me with your love and admiration. I know I am unworthy and undeserving of such pure and spiritual love but I am truly blessed.I could only imagine the tremendous amount of time, energy, effort and dedication you have put in making this beautiful token of your love. It reflects your purity and your innocence. I am also sorry that I would not be giving you that "surprise". It was a gift I wanted to present to you and acknowledge my gratefulness towards you by dedicating one music video which I wanted to make and share with my fellow Sajhaites. I am sorry baby ! Hope you will forgive your Nas.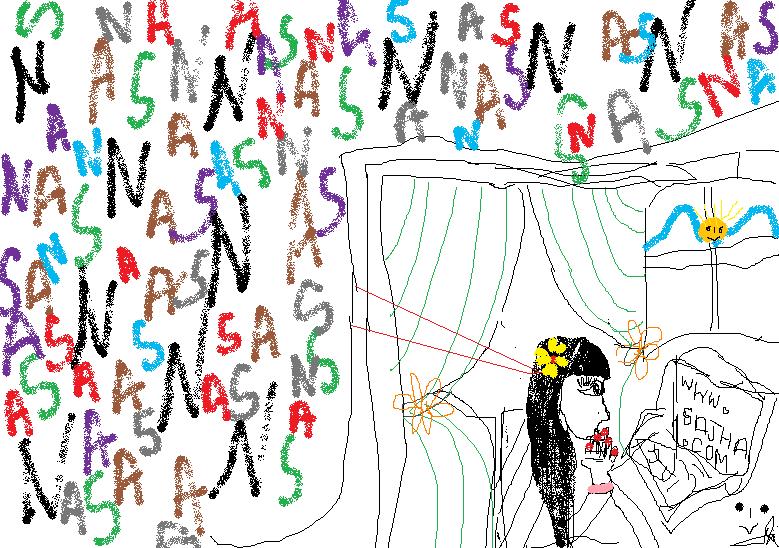 Obituaries:
"sajha without nas is like computer without internet , class without teacher, car without gas" - rajeshdai

"Nas isn't a single person, but a group of users" - chaurey

"you have invariably dared to reveal your worthless upbringing and constantly failed your parents amidst public eyes. I sympathize them. But on the other hand, I wonder if they actually had something to do to make this lecherous monster out of you" - john galt

"Nas is a once in a life phenomenon in a site like this" - YoTaBhayanaNiSom
"NAS ROCKS !" - WTF

"Reading your different posts through-out the years, I always wondered if there was a heart underneath that rude & crude machismo exterior that you like to strut around sajha. I didn't think there was anything in the world that could appeal to that heart of yours. So I am amazed, astonished, humbled to see that an emaciated body of a fellow Nepali could reduce someone like yourself to tears. I am humbled because I realize how I misjudged you."
Babaal Khate

"NAS is a guy who has a very broad knowledge of various subjects like economics, technology, entertainment, world news and politics, among many others. However, he is a fun loving and a pragmatic guy who could change himself as per the situation. Keep up your personality NAS. You are one of the gems of SAJHA". - collegefootballrocks

"No wonder, I love Nas too. He is a person with every knowledge. He talk rubbish but he is also an example of good human being, he is polluted but he can realize if he is doing mistake or not ...Nas is like chatpatey, mixture of salt, sour, spicy" - peaceinheaven

"i do accept that you're a very genious person and i do admire for your guts dude." - Pandora

"i did always love ur comments, ur humour." - crazynep

"out of thousands of Sajha Users, NAS has a unique Charater of his own..his thread headline..writing style and presentaiton..its wonderful..( like he said nothing personal)...and his own opinion..." - Sexy In Sari

"His Sajha persona comes off as a flaming pervert, eccentrically paranoid who sees conspiracy everywhere" - riten

"NAS bro is an attention seeking whore" - terrypandi

"he is a retarded bastard" - geek1

"As much as I loathe Nas when it comes to pornography and lewd remarks, I equally admire him for his creativity, profound knowledge and versatility pertaining to the threads he initiates. If you go through the content of his other threads other than the one that are porn-related, he writes and validates his arguments in such a style, it takes light years for you guys to imitate it."
Jet Favre

"SAJHA needs some pervert funny guy like you" - sirus_me

"Love you Nas Bro" - gede

"Arun Dai" - violet7

"smart---->sick---->a little psycho----> omg, is this person a guy or a girl" - violet7

"i find his personality very surprising or i can say person with multiple personality." - curious gal

"NAS bro ni Star bhai sakyo" - hate

"There is no wonder NAS is superking. Sajha needs few of them to keep it alive." - stat

"yOu aRe a LEgeNd." - meh_nepali

"Nas dai you are a legend!!!" - cajunboy


***
Nasty Nas
2003 - 2011
Forever Resting In Peace In The Sajha Virtual Grave